Well, friends, I might be premature in posting this, but succeed or fail, I thought I'd share with you my this year's experiment.

Designated: Sunflower House. 8'x12' with 24" green wire fence to keep out rabbits
...expanded this year on the east end to accommodate TPS potato transplants. Adjacent to "Haybale Row" this year planted with three varieties of seed potatoes.
Crop succession : last year's Falstaff B. sprouts, leeks, carrots, and cilantro overwintered, some garlic, Egyptian walking onions, garlic chives, clover cover crop
>> early this spring self seeded cilantro, Red Russian kale, double rows of shelling peas and fava beans
>> mid spring 2" mini blocks and 6" pots of corn transplants between existing crops and along center and end rows reserved for the purpose, and some watermelon
>> late spring to be sown melons and runner/pole beans
View from NE corner: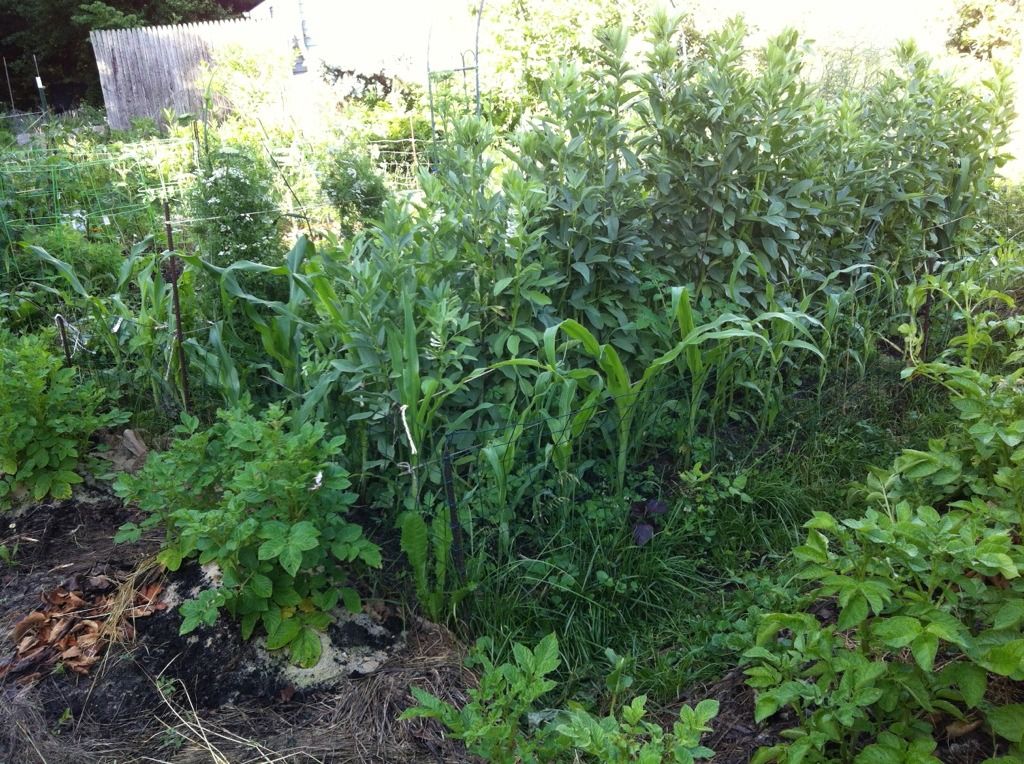 View from East side: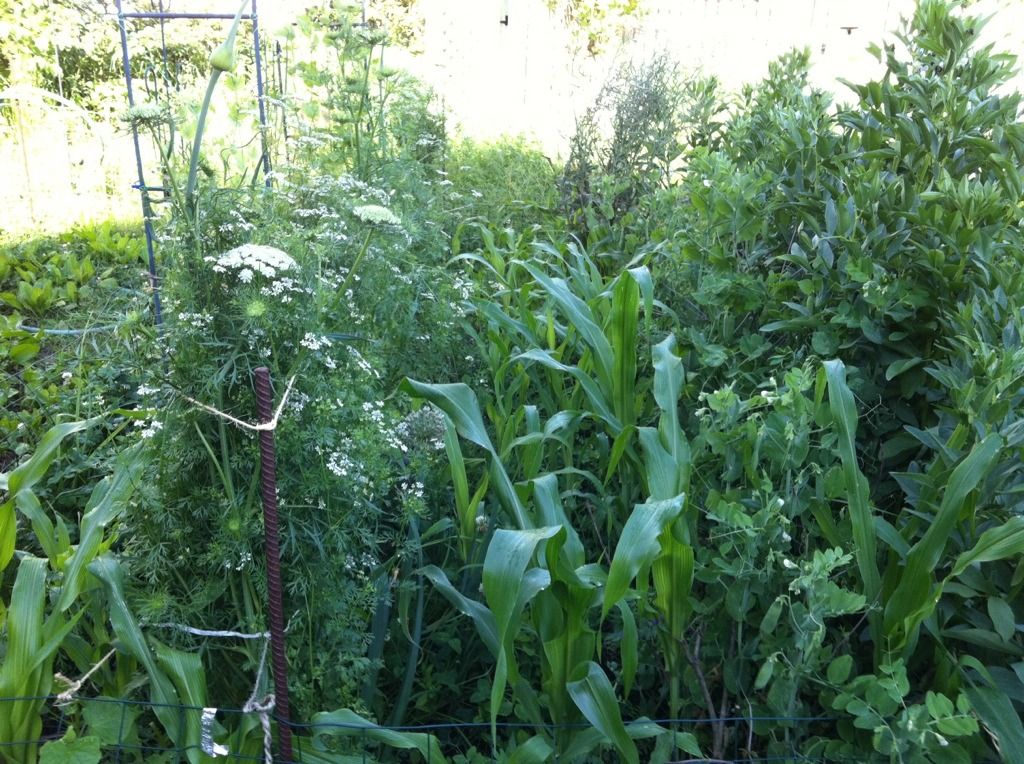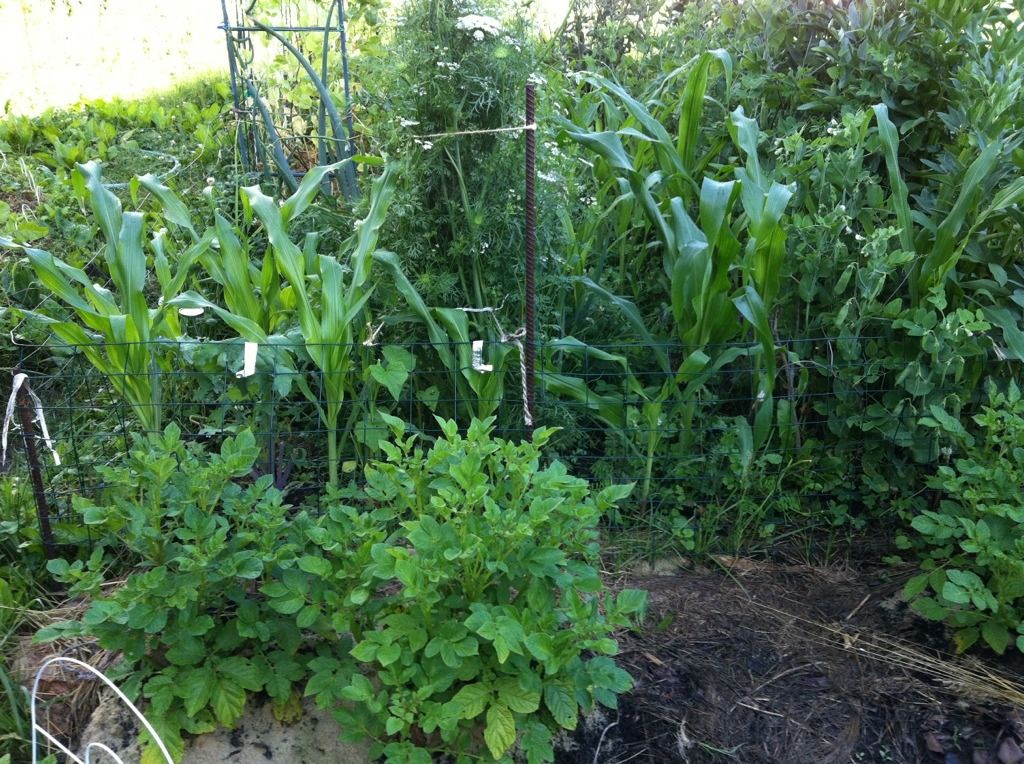 View from South side:
View from West side: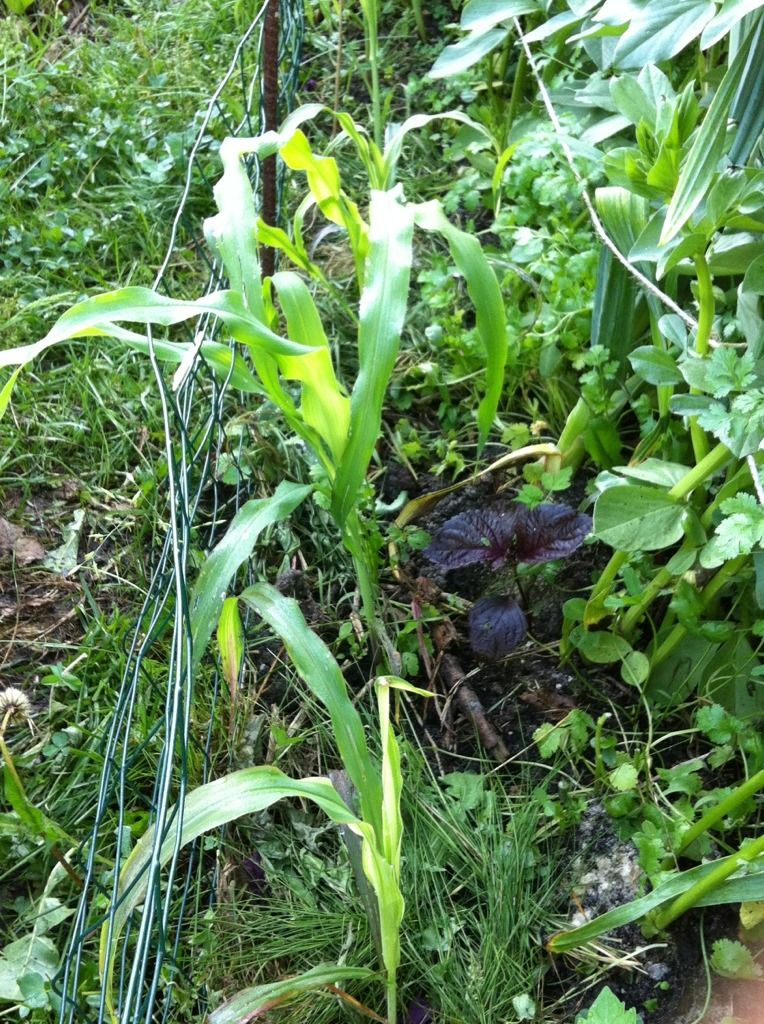 View from NW corner: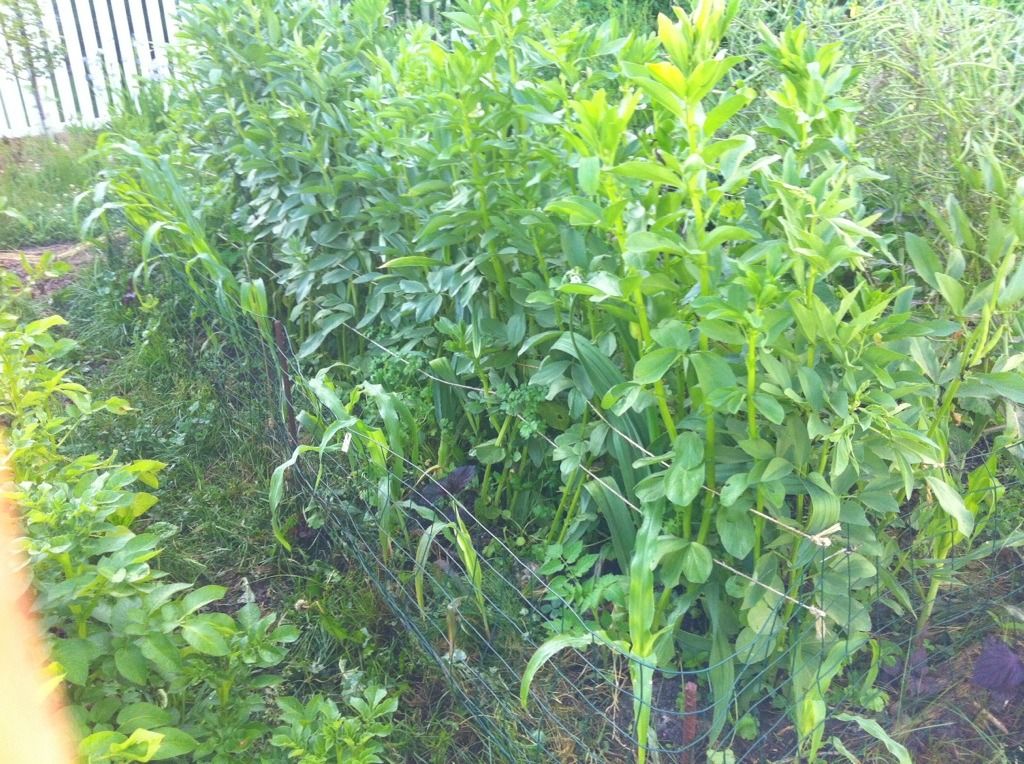 - Snow peas on the arch trellis is rapidly finishing up >> melons and beans will be sown in the next few days
- Cilantro have been harvested with several remaining allowed to bolt along with overwintered carrots to attract beneficial insects and for seeds (these can be cut as deemed necessary to make growing room)
- Leeks and garlic have sent up scapes (planning to harvest leeks/thinking to cut off garlic scapes though I think these are elephant garlic)
- Egyptian onion mother plants are growing top sets and starting to fall over
- garlic chives are being harvested
- Shelling peas are being picked every day and when finished will be cut down as mulch
- Fava beans are podding but still small. Tried eating them as edible pods but was not sure if I liked it that way. How long for to mature beans I wonder? Already solidly shading the corn in the north row. I did put up another string at about 3ft height to hold up the favas and keep from leaning/towering over the corn after taking the pic.
- One most vigorous out of four B. sprouts plant was allowed to bloom and go to seed this spring for beneficial insects and for harvesting the seeds. They are almost mature and should be ready to shatter soon, certainy within the next week or so. Then the seed stalks will be cut and entire plant will be lopped at the soil level.
- Most of the corn appear to be doing fine. There are three varieties are planted in three blocks and East-most block of "Orange Squat" was planted first, followed by Howling Mob and then Double Red Sweet in the West-most block.
Two of the watermelon have sprouted, one growing true leaf.
(That carrot will have to go....

)
-- harvesting peas by reaching over the still short corn and between the favas from the north side path: