Good day all,
So, about 3 weeks ago, I decided it would be fun to grow some mint, because summer is coming and I want to drink Mojito's. Yes, that is the sole basis of my decision, but it's a great reason.
But because I like to make things more difficult than they need to be, I decided to grow my mint from seeds. I also think it gives me a greater sense of achievement if I can pull it off.
Here is some background regarding my baby:
- The mint is Peppermint.
- The pot I use is in plastic, 27cm in diameter, and 14cm deep.
- I sprinkled all the seeds I had, but I swear I didn't have as many as what popped out of the soil... Very mysterious...
- The pot is in my room, near the window. It receives 3~4 hours of direct afternoon sunlight, and multiple more hours of indirect sunlight.
- I water it once or twice a day, depending on how hot it was that day (and therefore how dry the soil is).
- The average temperature in my room is about 28C, can go up to 30C+ during the afternoon, unless I'm here with the AC on. It is also quite humid.
- The soil I use is just some random soil, I didn't really look at the details on the bag; it had pictures of vegetables and herbs on it, so I figured "close enough", but I don't know about the actual quality. I still have the bag if it becomes something important I should check.
Here is a picture of what the pot looks like as of today (file over 4Mb, so I have to host it on Photobucket):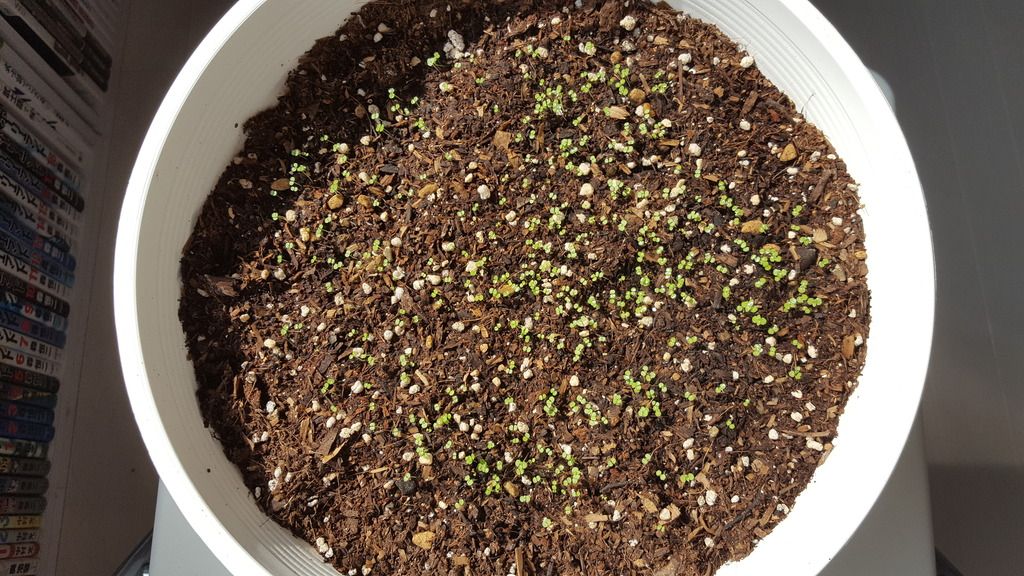 My first few questions are:
1) Is this how the mint should look like after 3 weeks since I planted the seeds?
2) Do I have to select only a few stems to keep and get rid of the rest to avoid roots getting tangled?
3) If so, how far apart should the remaining plants be, and when should I start pulling the rejects out?
4) I've been spraying water on the seeds and seedlings with a spraying bottle to avoid drowning the minuscule seeds or hurting the baby seedlings. When should I start pouring water instead?
Thank you so much for your future advice. I am completely new at this, but I am having a lot of fun.
Any pointers would be greatly appreciated.
I will be looking forward to your reply.
Sincerely,
Kami