This was supposed to be the wild offspring of a neighbor's large nut bearing tree, but so far (several years) it has provided no flower, nut or fruit...yellows sickly, then sheds all leaves a few times a year, sprouting new foliage all shiny, happy and green until the next cycle.
I'm wondering if I have a Northern variety struggling to accept a lack of seasons down here?
Does anyone have an idea what this tree is and what I can do for it?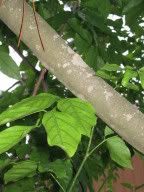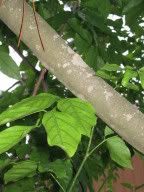 (I have other pictures, but don't want to bog down the site with slow-loading)