[img]http://i1100.photobucket.com/albums/g413/Boomslang131/Garden2.jpg
[img]http://i1100.photobucket.com/albums/g413/Boomslang131/Garden1.jpg
[img]http://i1100.photobucket.com/albums/g413/Boomslang131/06010116
[IMG]http://i1100.photobucket.com/albums/g413/Boomslang131/Maters2.jpg
[IMG]http://i1100.photobucket.com/albums/g413/Boomslang131/01220113522.j
[IMG]http://i1100.photobucket.com/albums/g413/Boomslang131/Picture074.jpg
[/img]pg[/IMG][/IMG]202.jpg[/IMG]/IMG][img]
http://i1100.photobucket.com/albums/g41 ... ure074.jpg
[/img][img]
http://i1100.photobucket.com/albums/g41 ... ure068.jpg
[/img][img]
http://i1100.photobucket.com/albums/g41 ... ure067.jpg
[/img][img]
http://i1100.photobucket.com/albums/g41 ... ure065.jpg
[/img][img]
http://i1100.photobucket.com/albums/g41 ... ure075.jpg
[img]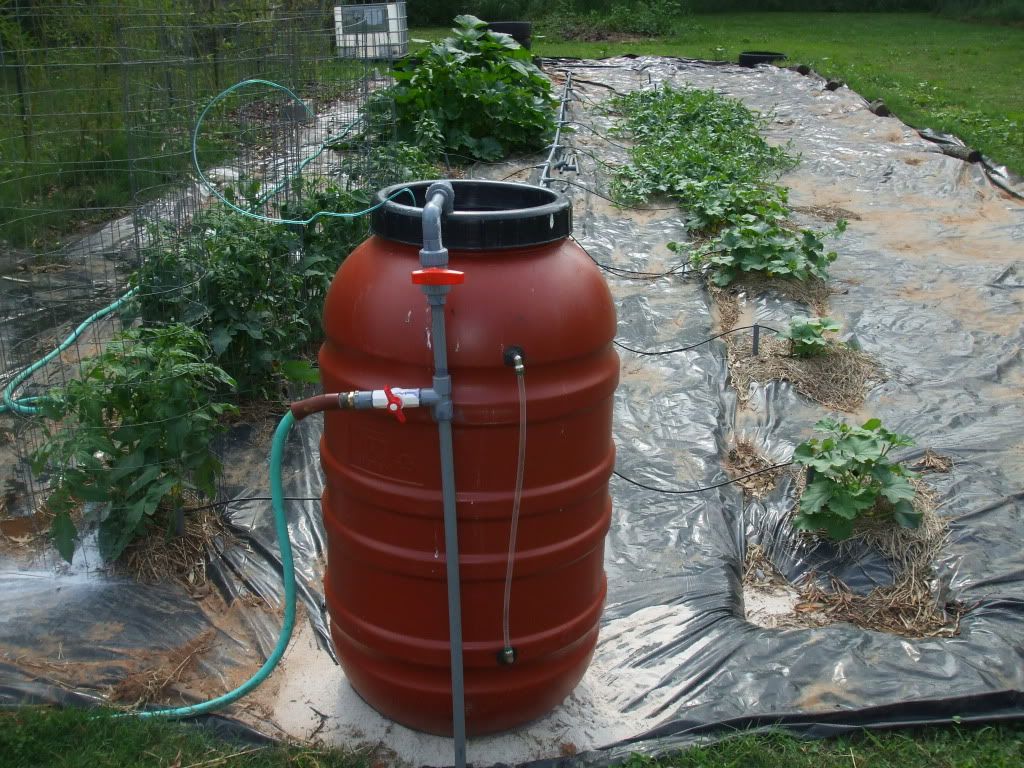 Hope I did this right with the pics. They are kinda mixed up........sorry.
Anyway, the two main changes I did this year to my garden was the use of Black Plastic for weed control. I also installed a drip irrigation system. I used a 35 gallon Olive barrel as my main reservoir. I plumbed it into my main water line and installed a float valve to keep it from overfilling. I used 1/2" pvc as my main line through the middle of the garden. From that main line I simply used 1/4" black tubing with a .50 gph emittier going to each plant. These pics were all post-actual vegetable growth. My new system worked great. Well................. in the beginning. That is until July came around and really started baking the whole state of Alabama.
The black plastic held so much heat, you couldn't even walk on it without on. The watermelons and Cantaloupes did fine until they were almost full grown and I noticed just about everyone of them started busting open. Some were not even half grown. Maybe a combination of too much water and the heat generated from the black plastic caused too much pressure to build up inside of them? I was just about sick when this started happening. The melon leaves would wilt in the heat of the day due to the temp. even though the ground was moist at the main root system.
Then my tomatoes started coming in. The plants were almost 6 ft tall and beautiful, the tomatoes themselves soon started developing "canker sores " and rotting from the blossom end. Some were even splitting like my melons. I was thinking maybe a combination of too much water and the plastic never letting the ground dry out enough between watering?
There is also a pic of my little grape vines that I planted. They did really nice and covered the trellis I made out of cattle panels. That is until those $%@*&!!! Japanese Beetles came along!!!

Anyways, I learned a few things from this garden. I don't think I will use the black plastic next year. I will however, build an even more awesome drip irrigation system. I plan on my garden being a lot bigger next year.[/img]