Hello. My name is Adam. I've dreamt of owning enough land to plant up a small orchard and garden since I was a teenager (24 now) and it is finally happening.. I am the proud new owner of 1.5 acres of woodland just outside the city limits. My gardening experience doesn't go much past a compost pile and growing tomatoes, peppers, and herbs here in the city.. So bear with me, I'm learning as I go!
Right now, it is 100% wooded, level, with no driveway or clearings. Now is the time to make plans for this winter/spring, so I'm trying to get on the ball. I have no desire to clear the whole lot.. I've had to push mow 3/5 acre before.. The idea of twice that is just crazy.. Plus I want to make my impact as minimal as possible on the landscape.
Before I get ahead of myself, first things first.. The plan is to clear 1/3 acre in the middle of the property, oriented in such a manner to maximize sunshine getting through to the ground during the growing season. The surrounding forest is pretty tall, so it is going to cast a long shadow over the property.. I'm trying to keep this to a minimum.
My understanding of those charts showing the suns course throughout the seasons has always been lacking. I photo shopped a quick sketch, assuming I want as much south-facing real estate as possible.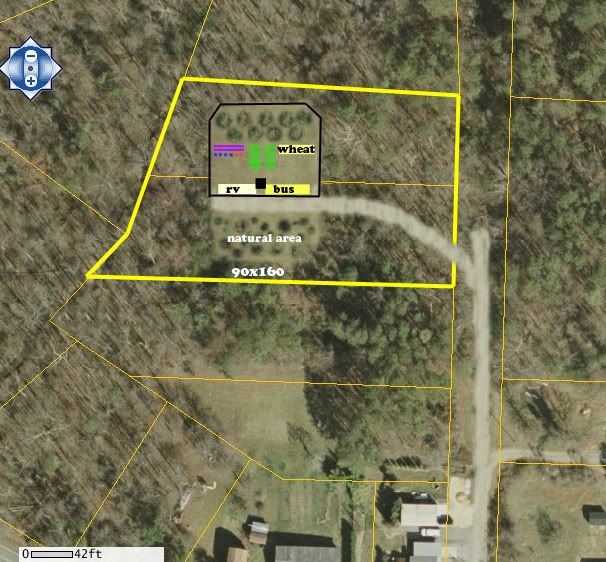 I think it is pretty self explanatory.. Orchard, grapes, blue/raspberries, raised beds, maybe a little strip of wheat or oats, and room for expansion if/when the time comes.
The natural area would be cleared out, too, under the assumption that having so many tall trees at such a close proximity to the south would cast a shadow over the entire clearing. My thought: Maybe if the tree line were pushed further towards the southern property line, that shadow would only cover the natural area.. which would be planted with native trees, bushes, fruit trees for wildlife to forage, etc.. Minimal maintenance, and it would never get tall enough to block out the sun.
I want that top half of the clearing to have maximum sunshine.. I just suspect my current orientation is completely wrong. Luckily, I could flip that 1/3 acre clearing 360 degrees in any direction and still be well within the property bounds.
Any advice? Criticism? I'm at step one, hopefully i've still got time to get it right.

Thanks everybody!
Adam