My man is an organic gardener, he bought me my very own worm factory for Christmas and has now built me a compost tumbler and my first raised bed. The tumbler only costed about $100 and is built to last a long time. With the exception of the wood, hinges, latches and the turning rods, everything else is recycled.
We used a 55 gallon plastic drum with an aluminum pole. We painted the barrel black to draw the sun and heat it up, drilled air holes and put in numerous steel bolts to make spikes on the inside to help aerate the compost. The frame looks very tall, but that is so it will fit over my raised bed. Once my compost is done, all I have to do is open the wide aluminum door and dump it into my raised bed, rotate it around and load it up again. He is so inventive; we had a flat piece of aluminum but needed it to be curved to fit the barrel correctly. Here's the secret: we put two 4x4's in the yard and laid the door across them. He then lined the pickup truck up and rolled over it. He had to run over four times, but now it is the perfect curvature to fit the barrel.
Once the tumbler is empty and the bed is full, it can be moved to the next bed and start a new batch.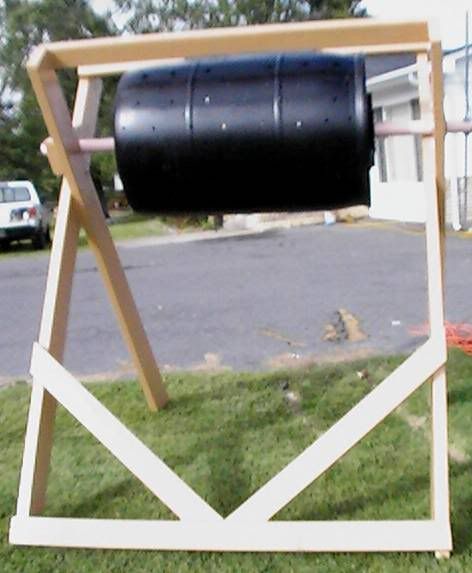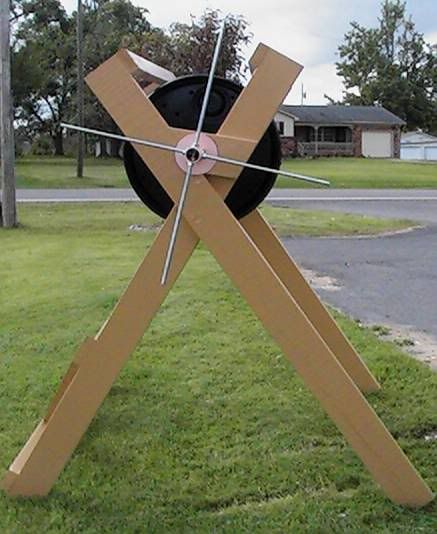 ]
These long rods on the end make it easy to turn.
Pieces of wood on the inside and outside of the 55 gallon plastic drum make it stronger.
Long steel bolts make spikes on the inside to help work the compost when I turn the barrel.
The large aluminum door makes it easy to load and dump.