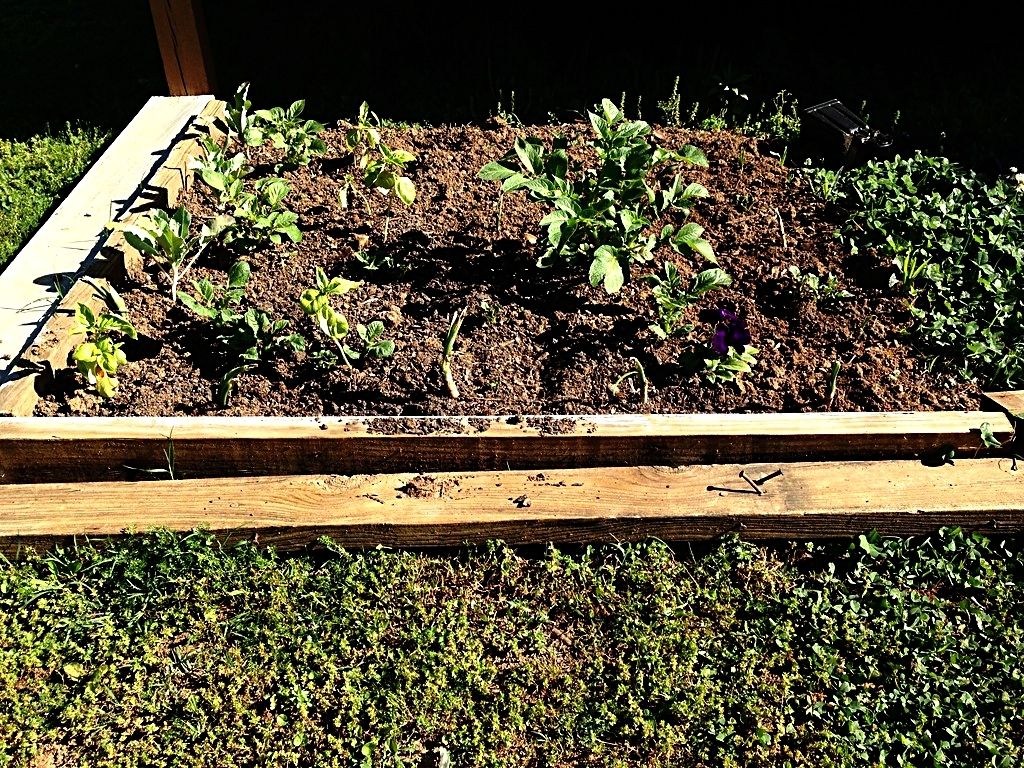 So this is my little 4'x4' potato patch. I'm going to keep adding to the bed... there's space there to make it more like 10x4. It may be too late to keep planting potatoes though?
In the meantime that patch has ten potato plants, ten onion sets, four basil plants, three cabbages and a petunia, a marigold, and a couple nasturtiums.
I know the ten potatoes is too many, but I didn't know how many would sprout (and it took them forever). So when a few of them get little baby potatoes on them, I will pull them, plant and all, so the others can get bigger.
But my take on crowding is that crowding a spot with a bunch of one thing (like the ten potato plants) doesn't do them any favors. But crowding by putting in a bunch of different stuff is different. The different things have different needs for what they take from the soil, they have different timing (by the time the potato plants are really getting big and need more space, the cabbages will be done) etc. The onions and basil help keep insects away from the cabbage and potato. The potato plants will provide some shade for the cabbages when it is getting too hot for them. And the petunia is good for nothing, except woman cannot live by bread (and potatoes) alone! I just love those purple petunias.
Here's from a companion planting guide:
Beans, cabbage, corn, and horseradish all help potatoes grow better and improve the flavor of your potatoes when grown together.
Tansy, nasturtium, coriander, and catnip planted nearby repel Colorado potato beetle.
https://organicgardening.about.com/od/ve ... anions.htm
And of course planting like this is efficient in making use of what still feels like limited space. (Currently I have about 220 sq feet of garden beds, eventually it should be close to 450 sq feet, but whatever it is, it always feels limited compared to all the things I might want to grow!

)
Obviously I am still working on getting all the garden beds mulched....