Snowy day today... I decided to count how many seedling
To
ma
to
e
s
I have so far....
1 extra tall fast and big Pineapple Pig in a 30oz super large drink cup plus 18 in 3-1/2" approx 20 oz recycled soda and large drink cups =19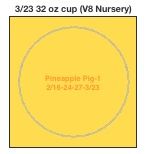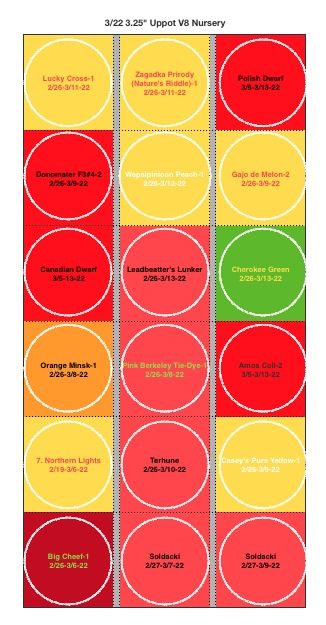 Plus 8x3=24 tallest 2" miniblocks and 30+40 permatray 2" miniblocks = 113 but subtract non-tomato basil and the 3 marigolds as well as that defective Victorian Dwarf = 108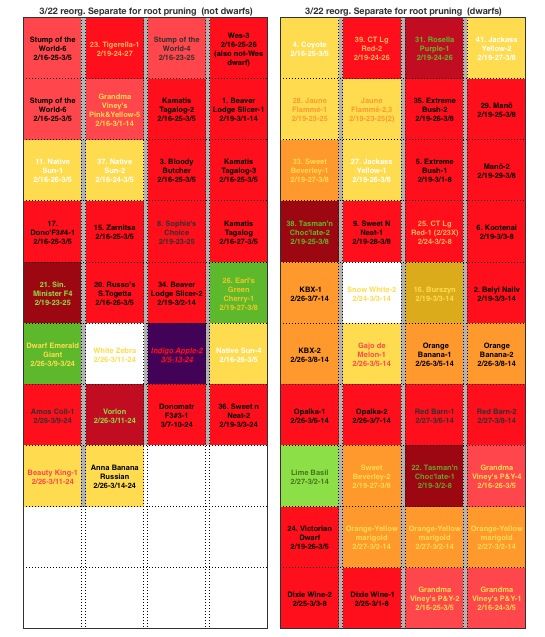 Plus 34 seedlings in 3/4" microblock Main tray and 2 more sprouted in the seed germination tray (marked with a diamond) = 144

Quite a few seeds didn't germinate (Too hot? Too wet?)

Microblocks marked with stars are seeds that I was thinking about re-seeding since they are very early to mid season varieties and I might still have time to grow them. I did decide to give up on most 2nds (labeled -2) for which I already have a seedling and late season varieties that haven't germinated by this time... But New Big Dwarf and Variegated are Late to Very Late varieties that I'm still thinking about trying to get at least one of each to grow....

...update...
When I moved the two sprouted seedlings in the germination tray to the main tray, I found that
Japanese
Black
Trifele
and
Blondköfchen
had sprouted since this morning, along with one of the Lovage. So the current total is now 146

...another update...
Melon Ball
was up this (Tues) morning (SO glad because I definitely wanted to try this one

==> 147

Also, Gixx recommended I definitely re-seed New Big Dwarf and Malachite Box.