Here are some photos from my garden:
8' diameter keyhole-style Kitchen Garden: A clock-wise jumble (not nearly as clearly defined as last year) of self-seeded Cilantro, Red Acre Cabbage, Purple Vienna Kohlrabi, (not in photo Moskvich tomato), Tin Tin Baby Romaine, Pansy, Lemon Balm, Windsor Broad Beans, Sugar Ann snap peas, (Yellow Bell tomato), self-seeded Chamomile, Chinese leeks, overwintered Raddichio, self-seeded Calendula, Red Russian Kale, Garlic, Thyme, Wild Mustard, Carrots, Japanese Black Trifele tomato, Radish, Mullein, Potato Cranberry Red, Onions and a shallot, more Cilantro, Mache, Tin Tin lettuce, Red Cross lettuce, Rosemary. In the center in containers - Strawberries, onions, radish, Burgundy Red okra to sprout, Blue Vine Milkweed seedlings, Parsley, Nasturtiums, Anise Hyssop, a maple and an elm for possible bonsai. And, of course, Mr. T in his bath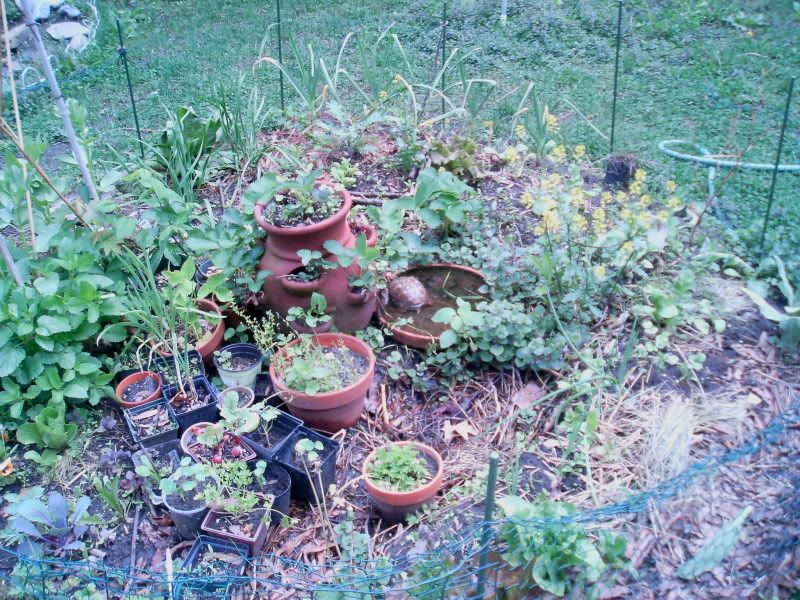 June Update - overgrown JUNGLE!

8'x12' former Sunflower House: Tall Telephone peas along near fence with onions. Double Red Sweet corn in between. Watermelon in the corner (not sprouted), Cauliflower, then Garlic along left with another Chinese leeks, a few onion seedlings, Red Russian Kale, Windsor Broad beans, some more on the other side of entry, volunteer Purple Podded Pole beans, scattering of Dill, Spinach, Carrots, more Double Red Sweet corn, Parsley, Lincoln peas along right edge under bamboo support, Caraflex cabbage, Cauliflower, Red Acre cabbage, Red Russian Kale under the row tunnel along with a few Lincoln peas, and spinach. Planning to plant peanuts and Delicata squash here later. Onion. A cotton plant is hardening off under the tunnel to be planted in the near-right corner.
-- June Update from the same viewpoint. Tallest peas are 6'+.
-- July 16 Update -- the peas have been cut down to be used as mulch. As you can see, the corn didn't do very well here -- too close to the peas, and this turned out to be not very vigorous variety (Double Red Sweet). I knew I was pushing it though, and I have the same corn planted elsewhere, so I'll be satisfied if I can get some decent seed corn for next year: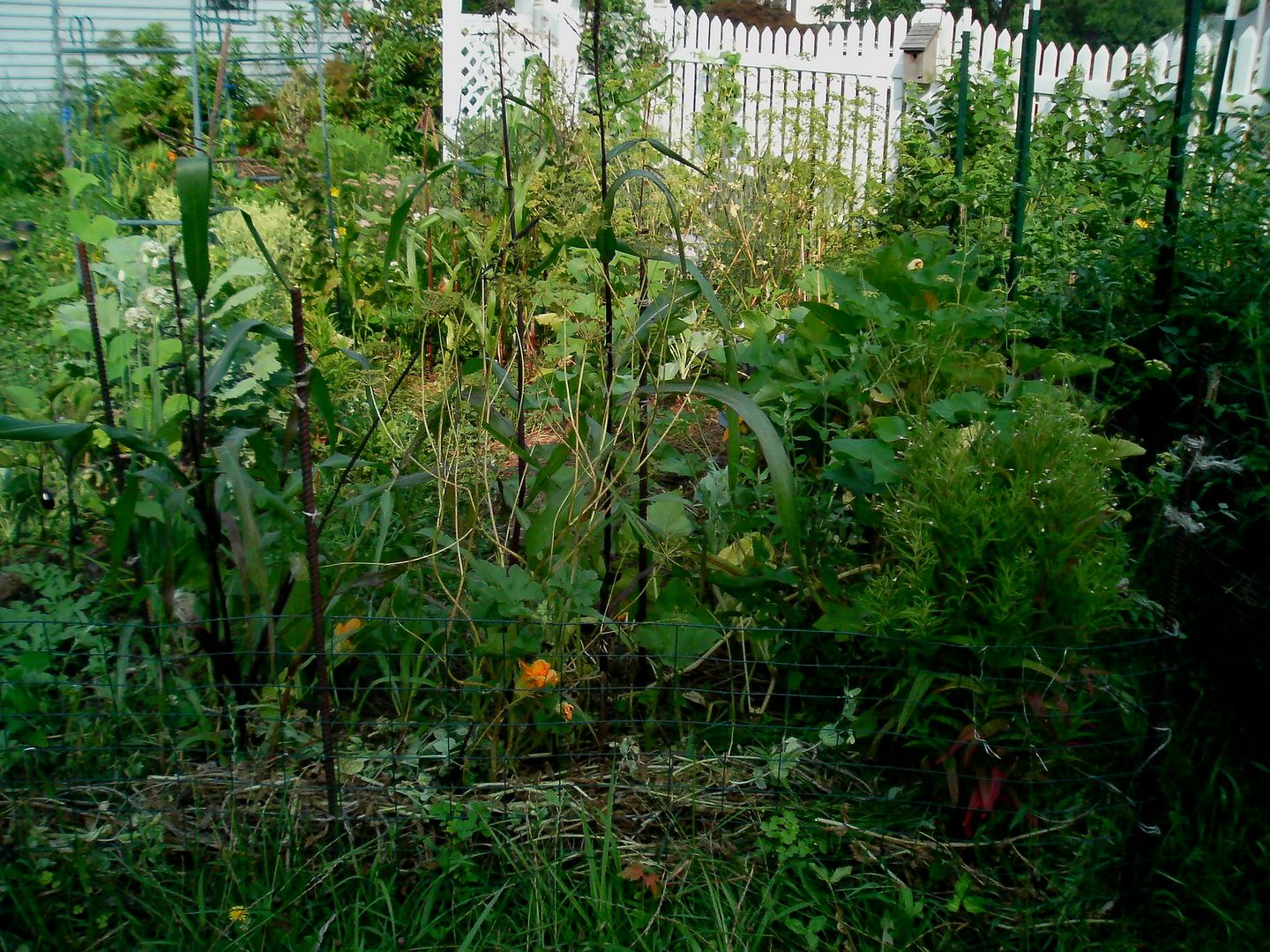 I found a bag of blue seed potatoes sprouting in the fridge. I've no idea if they're still viable (the shoots and roots look fresh), but I've nowhere else to plant them, so I tucked them under the pea mulch. If they manage to establish and sprout, I'll pile some compost and hay over them.
****
My "tropicals" grown from seeds and tops: Two kinds of Pineapples, Mango, Avocado, and Pomegranates. Citrus collection is elsewhere.
-- July 11 update: Mango is growing another set of leaves....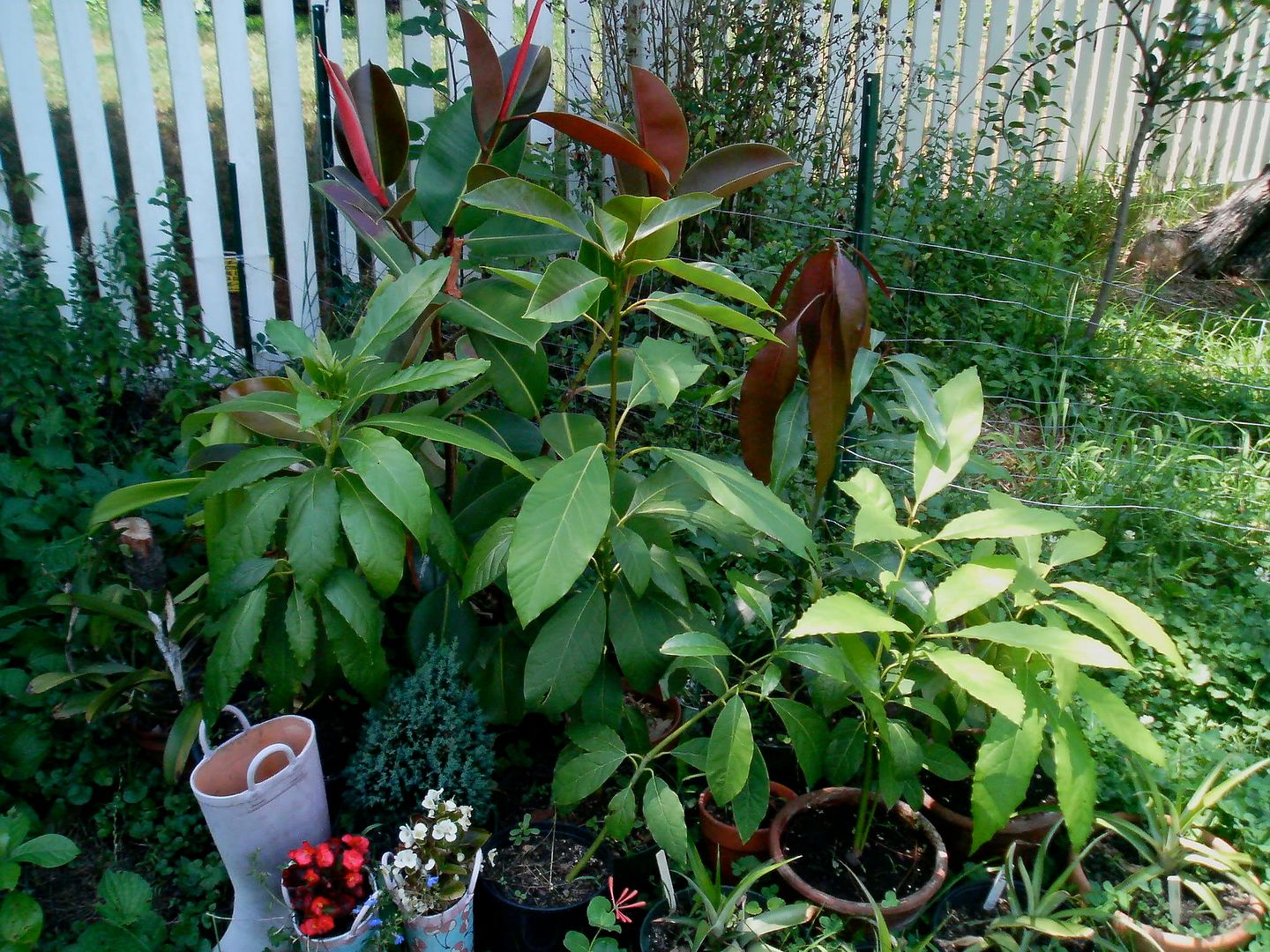 Kiwi Gold raspberries:
Triple Crown blackberries: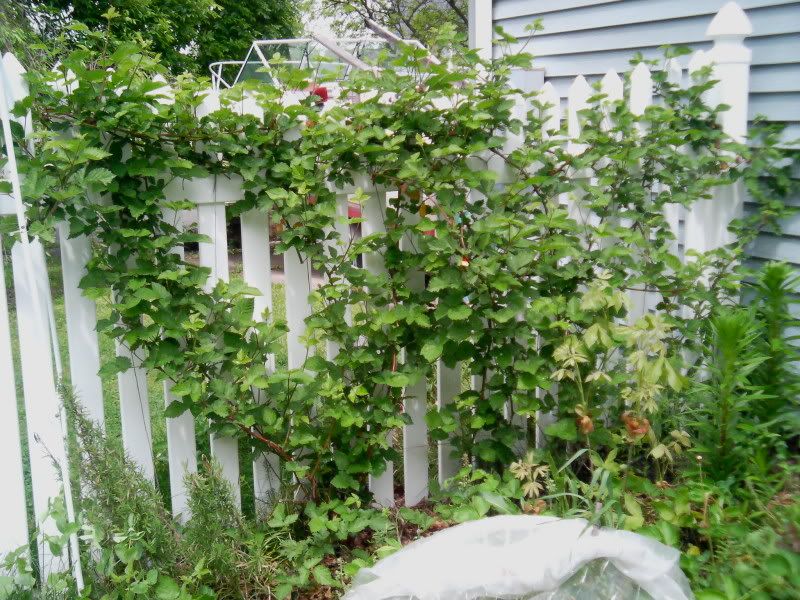 Some of my espalier:
Pristine apple (I know, I know, that lower right branch needs to go.... I just can't bring myself to cut it

). Underplanted with Nodding onion, Red clover, Egyptian onion: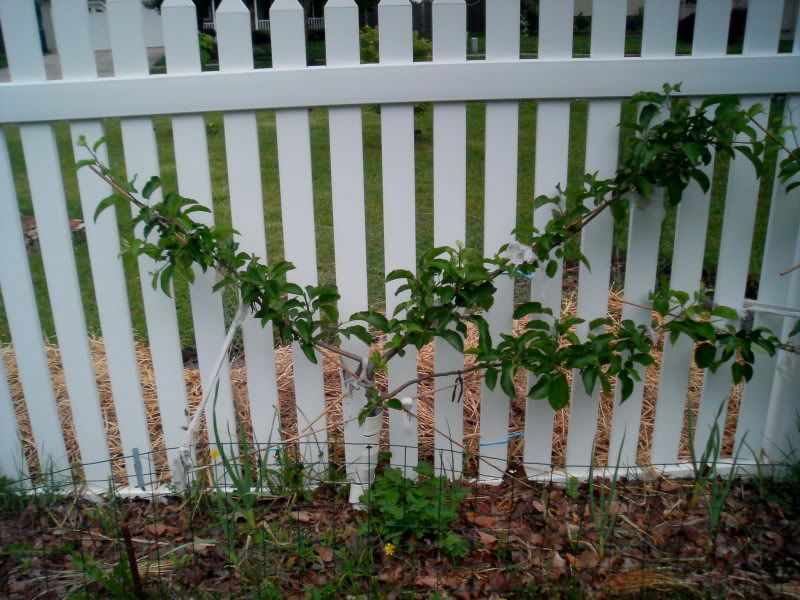 June Update:
Overloaded with fruits -- forgot to thin them so little bite sized apples, the front one is ready to pick: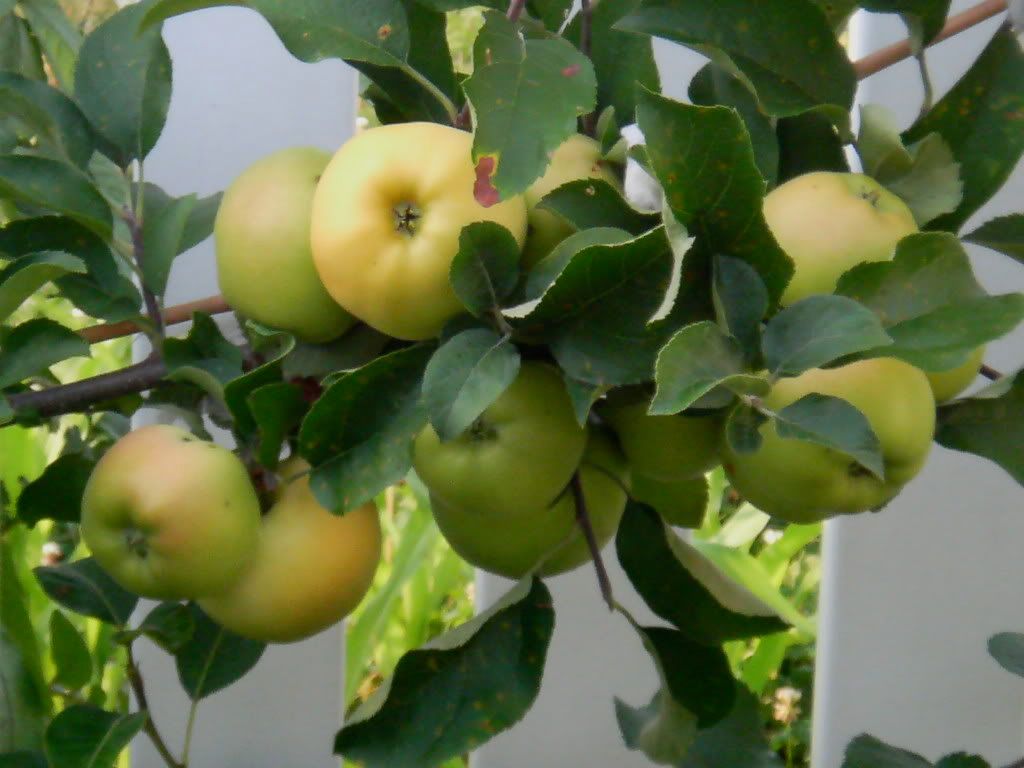 Magness pear. Underplanted with garlic and potato onions, Red clover:
June Update - no fruits this year due to Seckel being too young to flower and Tyler loss to fire blight:
Arkansas Black apple. Underplanted with Nodding onion and garlic and a mystery volunteer plant:
June Update - hard to see in the foliage but there are 4 fruits:
Rumex crispus and dandelion are growing in the espalier fence row as dynamic accumulator and mulch plants. Grass along the fence is cut and used as mulch as well.
All along the OTHER side of the fence -- California black-eyed peas.