I know, I KNOW!

But I did say SIGNIFICANT and this is pretty significant:
!!! SHIITAKE MUSHROOMS !!!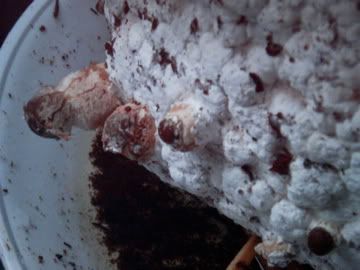 I swear these weren't there last night. And the first ones to pop out were totally not the ones I've been looking at. More blackheads like the one to the bottom right are scattered around the block too. Now I'm going to have to photo every likely bump EVERY DAY!

I soaked the colonized spawn block from last Thursday evening to Friday evening, so it's been 6-1/2 days since setting up the patch. Pretty darn amazing
and
gratifying.
Also, OYSTERS -- In addition to the rice straw, 2 out of the 3 coffee ground pots are getting a wash of white like frost on the surface. I still don't see anything on the 3rd coffee ground pot and the paper pot. (I raised the thermostat by 1ºF yesterday, I wonder if that had any bearing or if it's just coincidental timing) BTW, I can *see* (pun intended) the advantage in growing in clear bags: bursts of white mycelium growing inside are visible in the corncob/stick/brown rice substrate in canning jars.

I decided that if I get enough spawn incubated/colonized, I'm going to try an experiment with cotton rags (old T-shirts, jeans, towels) substrate.


ETA:


Came across instructions for growing Oyster Mushrooms on a roll of toilet paper.

Field and Forest sells kits
with everything you need. It looks like F&F kits come with grain spawn. But I've found several instructions on-line. (I'll post links if anyone's interested.) I believe removal of the center core is not strictly necessary and there are ways around that. The core would probably provide more nutrients than the paper, but the mycelium might colonize more quickly without it.
It sounds like a funky Christmas present,
doesn't it?

Time line is about 2 wks to colonize the TP, 3 days (or more) in the fridge to stimulate fruiting, and about 2 wks to grow and harvest. I guess the easiest thing to do would be to inoculate the TP around 2 weeks before presenting them and provide instructions to refrigerate and grow. Some of my friends and family may end up with TP mushrooms this year....