I was a Lowes looking for Bee plants. I had Russian sage in mind. It was on a big table all clumped together. Next to it was Walkers Low Catmint in a big clump which I had never heard of. There were 5 honeybees and a few carpenter bees working the Catmint but none on the Russian Sage. I bought a Catmint and planted it by new hive last night. This morning one was already working it. The lady at Lowes told be hers 4 ft tall and blooms from spring til frost.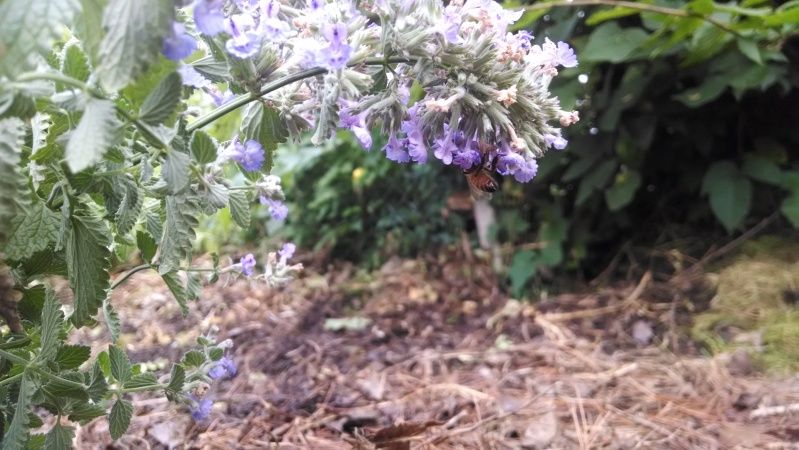 I have decided to turn my small back yard (approx 25x45) into a bee paradise. I think clumps of 2 to 5 ft tall plants would be nice. Stuff that can be controlled/contained with little maintenance and wandering out of it's space. I have already started by covering the grass/weeds with fresh cut grass for greens about 3 in deep, watered and packed down. Then I plan on 3 plus inches of leaves and pine needles for browns.
I want a mix of colors and keep it on the cheap side by starting most from seed. I will also collect some from road side, riverbank, friends and family. There are a mix of daisies and other white, yellow and blues all in bloom right now. I want mostly perennials or annuals that reseeds easily.
Here are some of the plants I'm thinking;
Aster
Catmint
Russian sage
Borage
Columbine (I have lots of seeds but they seem invasive at my moms)
Hyssop
Goldenrod
Milkweed
Echium
Lemon Balm
Poppy
Cone flower
Zinnias
Sunflowers
This area is on the West side of the house. My house used to be the general store back in the 50's so it was all grave back there. It grows weeds better than grass. It gets good sun on most of it in the summer but only late afternoon sun in the winter.
Here is the space
This is growing along the river bank and I need ID
Another on river bank and need ID
I don't have any experience with this type of garden or most of these plants so help would be appreciated. Let me know if they are invasive and hard to control.