Soil suggested we have a big pepper thread, and I think it's an excellent idea. I kind of modified the idea, though, turning it into a contest. Anyone who is interested in getting a piece of the action, please tell us about your plants and post progress photos here.
This year, I am growing Hybrid Big Chile II's, a Gurney's offering that was discontinued from 7 to 12 years ago. I stumbled on an old unopened packet of these seeds last year when digging for something to replace some NuMex Big Jim seedlings my dog ate. I fell in love with one particular Hybrid Big Chile II plant, calling it "Frankenchile" because it was extremely odd from germination to harvest. (See photo below.)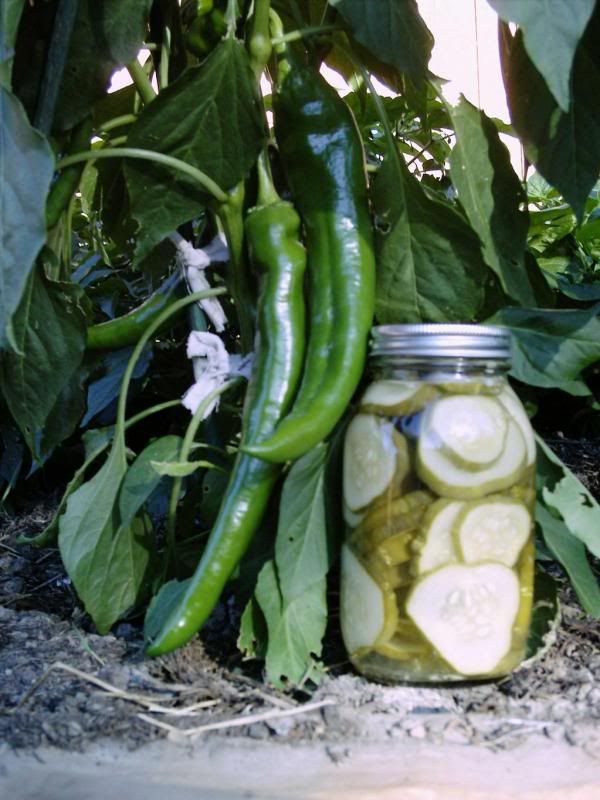 This year I am growing second-generation Frankenchilies. Three of my plants are from seeds from the left pepper (11.5") in the photo, and two are from the right pepper (11.75"). Two other 2011 plants are from a third Frankenchile pepper, a 10-incher at the back of the plant, and one 2011 plant (amazingly) is from a completely different 2010 HBC II that was in a bed far removed from all of the other peppers.
I am pretty confident that this last one bred true. It was separated from all the other peppers by about 15' and a thick wall of several rows of rabidly blossoming snow peas. I won't know about the other seven plants until they produce. They are just now starting to develop blossoms. When you make peppers that big, you need some serious height before you begin production

I still have some of the original Frankenchile seeds left. They're anywhere from 7 to 12 years old now. If these second-generation HBC II's don't make the cut, I'll try those again next year.
BTW, the world record, set by a NuMex Big Jim, is 13.5". (Those are, I believe, descendents of native New Mexican peppers that are no longer around.) That's our goal. I'm throwing my Frankenchile's hat into the ring in this competition. Soil has some extemely interesting second-generation roadstand Anaheim types. (Soil, you will need to give these a name. "Second-generation Roadstand Anaheim Type" is a lot to say all at once.)
So, here's the deal: Post your progress photos here. (It will be a while for me.) At the end, we post photos of the harvested peppers lying next to a measuring device. The winner has to give the losers seeds from the winning pepper

Even if you don't want to compete, post your big pepper photos and progress updates here. We are fans and always on the outlook for fresh ideas.