My parents seem to have a problem area in their foundation bed. The front of their house has a concrete path that leads from the driveway to the front steps and this path has garden space on either side of it. The area that seems to be a problem is the space between the foundation of the house and this path. It's maybe around 8' deep and 15' wide… total estimate here! The back of the bed has healthy nandina and a holly bush (that I'm hoping to take out for them at some point and replace with a camellia). There's also some variegated loriope that does fine there. I've included a sketch to give you a better picture of the space.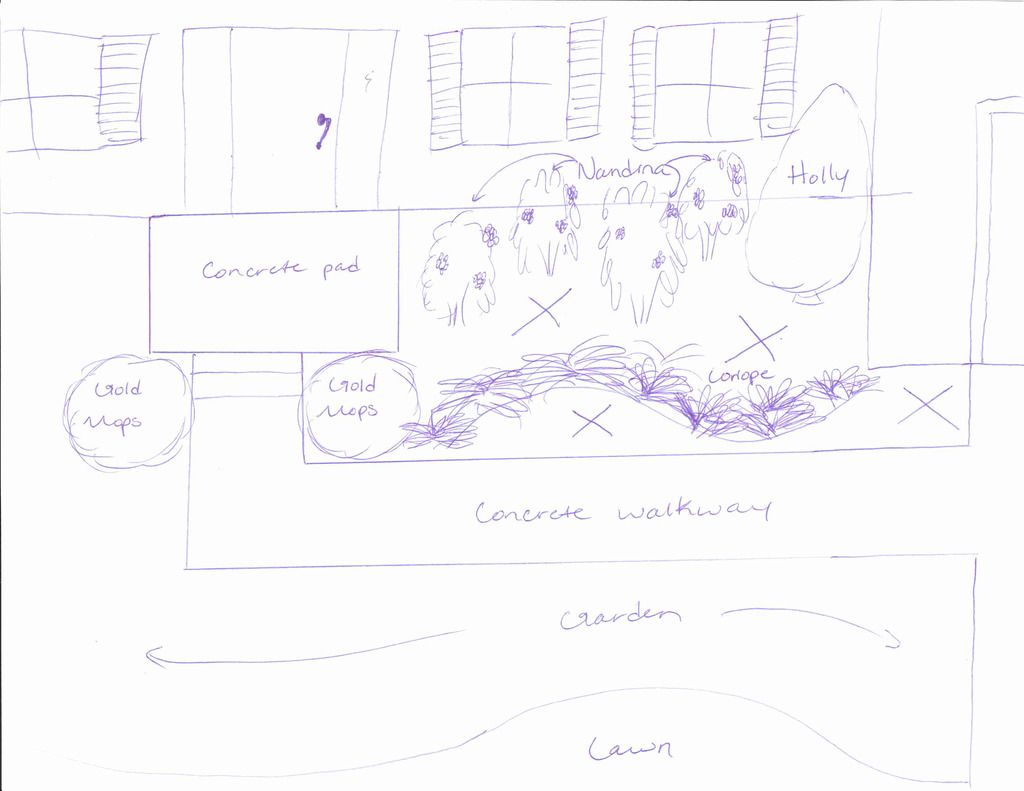 My mom has planted various annuals and perennials in the zones marked with an "X" and none have done very well. The annuals always get eaten by bunnies and deer, which are a huge problem for her garden! The deer eat all her autumn joy sedum and bee balm on the other side of the path so neither ever get a chance to bloom  Anyway, that's a whole different problem. She has a number of bachelor buttons that did well there at one point but now they do nothing but put out a few pathetic leaves. In the past couple of years she's tried delphinium, cone flowers, obedient plant, Japanese anemone… and probably a number of other things I'm now forgetting. The cone flowers are still there but looked pretty sad all season.
The flowers on the other side of the walkway seem to do much better. She has yarrow, silver mounds, Russian sage, mums, perennial salvia, bee balm, and coreopsis in that area among some juniper, Japanese maple, and another holly bush. The house is East facing so this bed gets morning sun and against the house where the problem area gets some shade in the afternoon as the shadow of the house grows forward. She waters both garden areas equally.
Basically, it seems as though maybe there's something wrong with the soil. That's pretty much the only thing I can think of at this point. To have seen the obedient plant fail here pretty much affirmed this since it has grown like mad pretty much anywhere I've stuck it in my own garden. Anything that has come back either doesn't bloom or looks kind of scorched despite my mom's watering efforts. This makes me think possible nutrient deficiency. Could it be alkaline due to all the surrounding cement? Would that cause the problem I've described?
I've often seen a soil test recommended on the forum but I'm wondering what we should specifically be looking for. Any thoughts on what may be wrong? My parents mulch this area every spring with cedar if that matters. I don't believe the soil has ever really been amended or fertilized in any way. Maybe they just need some good compost mixed in? Anyway, before my mom wastes any more money on plants next spring, I thought it might make sense to look into getting a soil test done.
Any thoughts would be appreciated!