They looked so gorgeous I had to snap a picture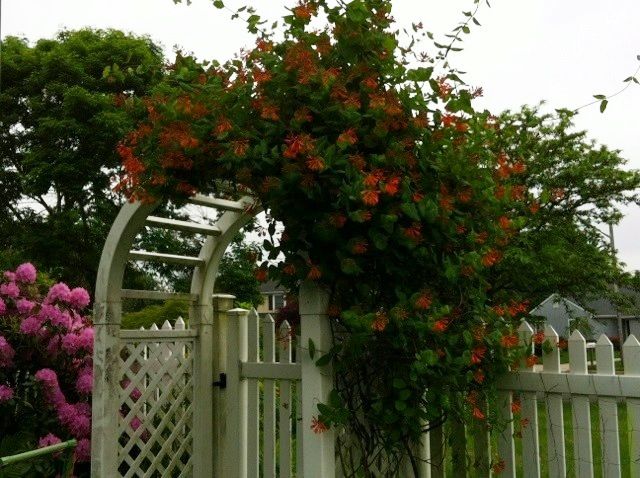 ...a question though: I did prune back the honey suckle, but it grew at an amazing rate this spring, and now the gate arbor looks kind of lopsided. Later on, Honeyvine Milkweed, which dies to the ground, will grow up from the other side, but I'm concerned that the heavy honeysuckle may be putting too much stress on the PVC arbor.
What do you think? Would it be better to cut these back? ...maybe as much as by 1/2? Sort give it a "haircut" so the vines are evenly hugging the arbor?
For future reference, what is the best way to prune the vine (time of the year, what to cut back and how much?)
Hey, way cool -- when I took that 2nd photo from the upstairs window, a hummingbird zipped in to take sips. I was thinking that since the honeysuckles are blooming, they should be coming back soon.

No way you can see it, but there's a mourning dove's nest in there. They land on top of the arbor arch, walk across one of the spans, then make their way into the vines. Last year, robins made a nest in there too.
(p.s. OMG The arbor needs a good cleaning! I'll probably go out and scrub it today -- the perfect rainy day project

)