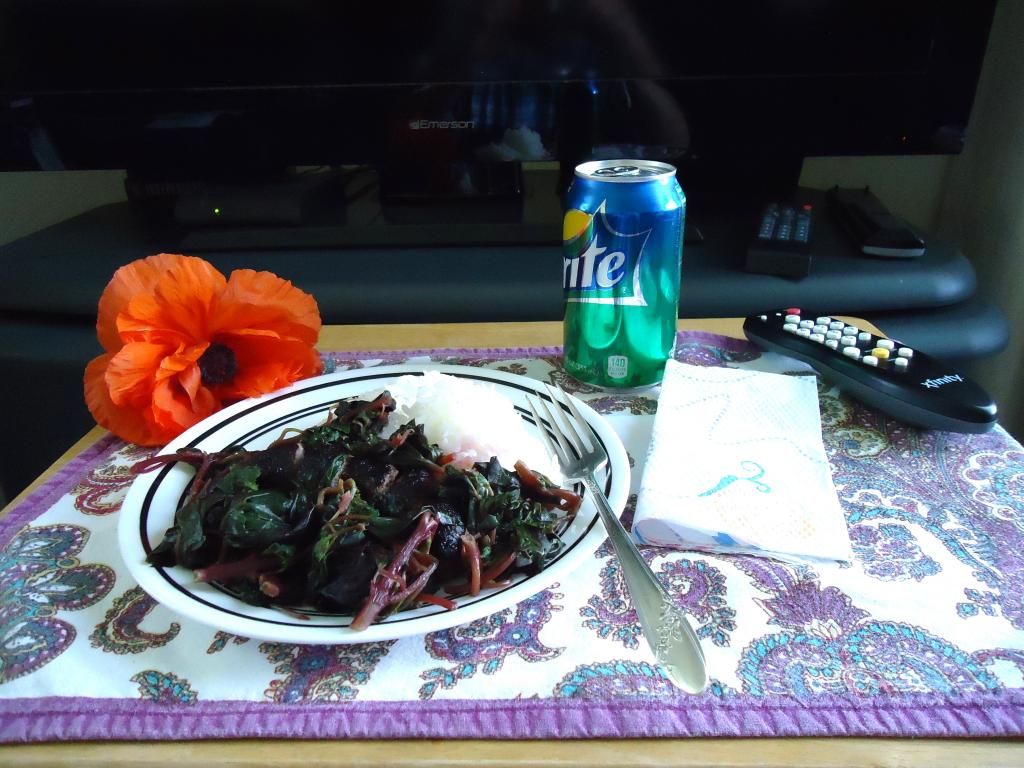 Italian sausage bedded in Purple Orache, with rice ~ lunch today, JayPoc

.
DW tried to give me more rice, which was soon purple itself, I resisted. Usually, there is a little bacon in the greens but today, an entire Italian sausage! I did finish the orache in the serving bowl.
Orache could be replaced as a spring crop by spinach, overwintered - I suppose. I haven't done that, altho' the spring-sown spinach will soon be ready for harvest. An entire month of "greens" that were self-seeded from a mother plant in 2013. I do a little
moving
of the young plants and have to compost quite a few that grow where they shouldn't. Also, one has to be saved to go to seed. Otherwise, orache growing is entirely trouble free.
Let's see, today I transplanted some marigolds and gomphrena globosa (of all things

). In the veggie garden, about 40 tomato plants were set out and some kohlrabi . . . now there's something that looks like it's from outer space! My very own veggie flying saucers, kohlrabi - they go
"eurrrrrr!"
digitS'
uh, oh. Photobucket says it is "down for routine maintenance" right after I put that photo up! Tried to edit in picture thru HG but may not be able to do that! I'll have that picture back on here sometime! . . . later, pb still down, let's see if this works.