When setting up my hydroponics to grow herbs in, as I always do for the off-season, I realized that I was going to run out of space (only 10 pots in two 7 gal. DW systems). So I decided to make another, and started looking for another container that would support the plexiglass to hold all of the pots, and it wasn't easy to find! Most of those containers are now the flimsy ones, and had nothing to support it, so I went to the Container Store! LOL It took a while, even in there, but I found one that was black - perfect for what I am making!
Here is the empty container with the plexiglass, with the holes drilled: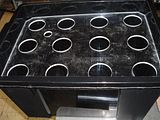 And here is the setup, with the plexiglass spray-painted with white Krylon
Fusion
paint, which has adhered for over 3 years on one of the other setups, with no peeling. The only plant in it at this time was a Thai basil, from one of the other pots, so I could see if the different nutrients made a difference: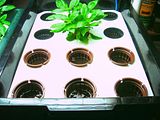 In all of these setups I use things from my aquariums to keep them circulating and clean. I have an airstone in each (normal in these), but I also have a powerhead, the kind used on undergravel filters, and I use a sponge filer on this, which gives a large surface area for the biological filter to set up. This works great, and I go for many weeks w/o changing any of the water (something I think is pushed by the nutrient manufacturers, to sell their products!). I just keep an eye on the EC and the pH...and keep harvesting!