This was my first repotting attempt EVER, so I was very nervous about it.
Before I started, I had to buy everything needed...
Brand new pot
Bonsai soil
Root hook
Root rake
Wire
Screen covers for the pot
And other basic bonsai tools
I also bought Superthrive because I read a lot great things about it, and figured it won't hurt to invest in some, and figure out for myself if I like it or not.
So in the time that it took me to gather all the supplies, I did some research, and I was nervous but ready...
Then in one of my books I read that brand new pots need to be soaked in clean water for a while, which makes sense, so while the pot was soaking it gave me a chance to research a bit more.
A short background on the tree.... I bought it at wal mart beginning of Feb, of course it's in the wrong soil. But since I've had it, it seems to be very happy 3-7 new flowers on daily basis, and most of the branches with 2 new leaves on it. The tree wasn't watered for a while (wrong soil made me not water for a while anyway).
So I got everything setup, my soil ready (50/50), everything ready...
I had all my tools laid out just in case, but I didn't use all of them
Measured the wire
And wired the pot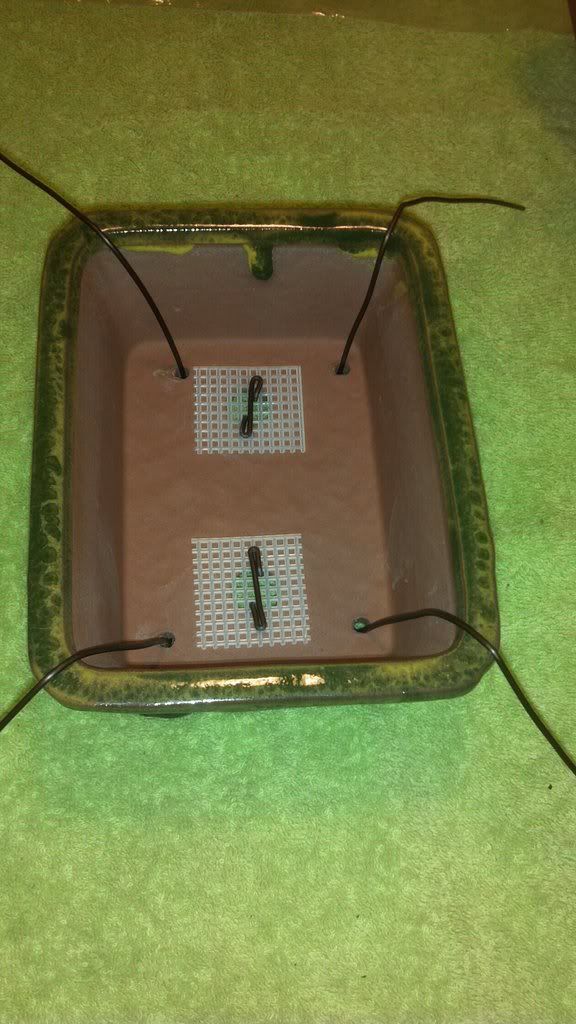 I cut all the flowers and blooms off, that way
a. It's less energy the tree has to use after a repot and
b. Once the flowers start growing back I know the tree is ok.
It took me all spring to cut the flowers (there were a lot) and by that I mean the entire spring part of Vivaldi Four Seasons


. I had it playing in the background figured that couldn't hurt either

Once all the flowers were removed, I cut around the edge of the pot, but of course this mallsai wasn't wired or anything into its old pot, so it came out fairly easy. But there was an area where the root's were GLUED to the pot, I'm guessing from where the glue ran down the sides after the stupid stones were glued on top before it was placed in the store(I did remove them immediately after purchase).
Since all the soil was pretty dry it was fairly easy to rake out and remove most of it.
I didn't cut much of the roots, and I believe the tree was made by air layering from a bigger one. There were no big roots, just small feeder roots, so that's another reason I didn't mess with them much, I only cut 2 long strands
And then I put the tree into Superthrive and let it sit there for 10-15 minutes.
Then the hardest part came....wiring the tree into the pot.
As it was my first time doing it I think I didn't do a good job. I should have practiced first, but I didn't. So now I have a crooked tree that's wired well into the pot. I left it as is, since it's not going anywhere, so I think it can stay crooked for a while, I can always fix it later.
Once the tree was wired in, I filled up the rest of the pot with soil, used chopsticks to fill in air pockets, and then I watered the tree with the Superthrive water it was sitting in, and 15 minutes later I watered it again.
The first night after repot, 2 small/young leaves fell off.
Day 1. No more leaves were lost. The tree seems fine although every time I see it out of the corner of my eye it seems like the leaves are droopy, which they're not, it just seems that way because of how the tree sits in the pot.
Day 2. The leaves are starting to look less droopy, I guess they're starting to straighten out and reach towards the light, it still does not need to be watered, the soil has cork chips in it, and it seems to hold decent amount of water.
Also, blooms are starting to be visible, although I think they are just the blooms that were TOO SMALL for me to cut off and are now growing

Day 3. No leaves have fallen, and the tree needs to be watered

and small blooms are getting bigger.
Day 4. New green areas are appearing on some branches.
Day 5. Few new leaves are growing, they look like sticks because they haven't opened up yet. But they are definitely new leaves that have grown in the last few days, also there are new blooms coming up on most branches, and the tree will need to be watered again today!
Overall, I think the repot went well, I probably even could have moved and re positioned the tree, but I didn't know it would handle, now I do, and next repot will go better. It's all a learning process anyway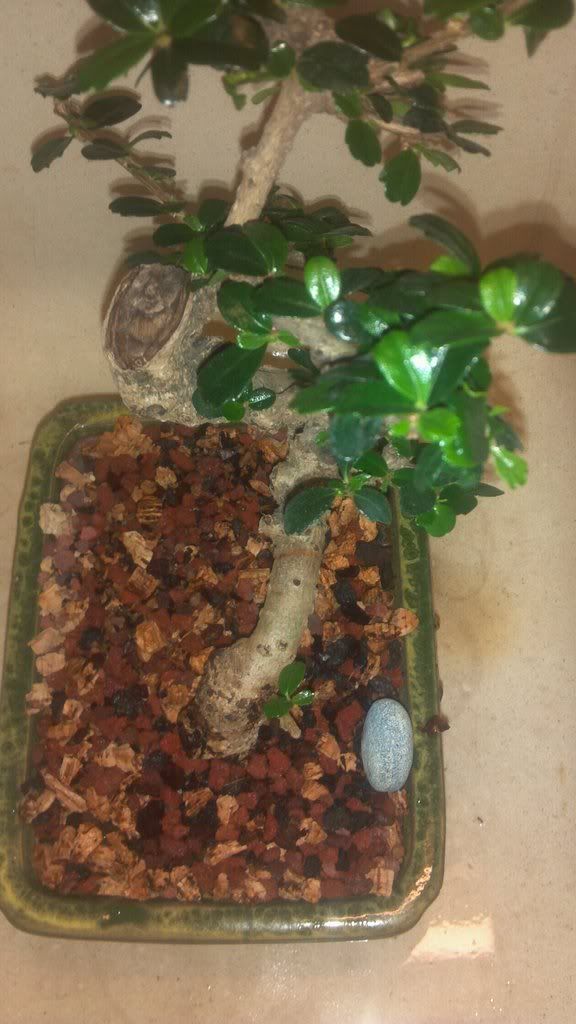 that's just a view from above of young leaves and the soil.
My one question is...
When should I fertilize? i've read several things, one month seems to be most common "time frame".
The fertilizer i use on my other plants is Bonsai Pro 7-9-5
All comments and suggestions are welcome!