Is it this guy:
This is the larval/ nymph stage of the Colorado potato beetle
"Larvae: The small, cyphosomatic (dorsal and ventral surfaces distinctly nonparallel), reddish larvae of the Colorado potato beetle are 1/2 inch long when mature. The larvae typically have two rows of black spots down the sides. The larvae are very plump and the abdomen is strongly convex. Larvae bear a terminal proleg at the tip of the abdomen as well as three pairs of thoracic legs."
http://entnemdept.ufl.edu/creatures/veg ... eetles.htm
The adults look like this: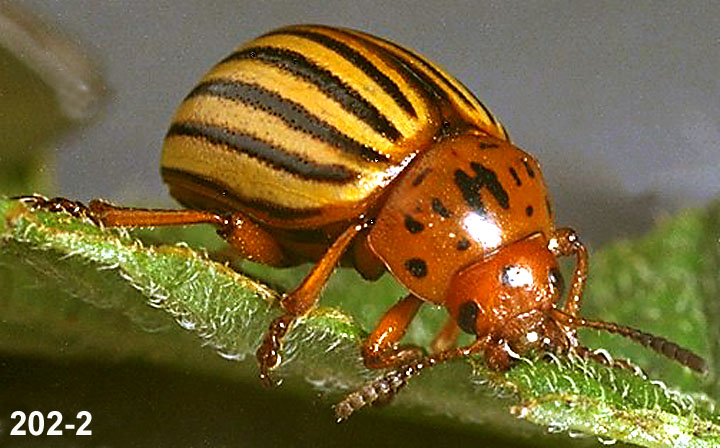 potato beetle, very destructive. It will also eat tomatoes, eggplants, peppers, and petunias.
Rodales says a heavy layer of straw mulch around your plants inhibits them. Lady bugs and lacewings eat the eggs and larvae.
You may also want to Plant coriander, dill, sweet alyssum, fennel, and cosmos around your potato patch to attract the beneficial insects. Also try planting potato varieties that mature before pest populations reach their height in early summer, such as Caribe, Superior, and Yukon Gold.

Surrounding your potato patch with a plastic-lined, V-shaped trench can also reduce the number of adults that reach your plants in spring. As they emerge from the soil and head for the plants, they'll fall into the trench, where they can't get out, and you can destroy them.
https://www.rodalesorganiclife.com/gard ... le-control