Two days ago I harvested all of my garlic and shallots; a couple could have stayed in a little longer, but I am off this week, and it was supposed to rain last night, and more likely tonight, and almost definite Wed., so I had to do it while it was sort of dry (no rain in the last 4 days! LOL). Turns out, it didn't rain either of the last two days!
I lost most of my Metechi this last winter, I assume from the intense cold, though I thought that those, and most hardneck seeds are grown in Canada, so how could NJ be colder? The Music and Estonian Red did fine, with only about 5% loss, if that. ER could have stayed in another week or so, but they still look great. I only found 4 Metechi in the row they were in.
The shallots were 3 different types...I think! LOL The ones I know - Holland Red - had totally turned browned, and were ready to dig. The other two were things I planted from the Asian market, and one flowered, so it is a cross, and could have stayed in the ground much longer, as it was just starting to turn. The other looked almost like a French shallot variety I grew years ago, with small, long cloves, which worried me, as that one got infested with some sort of underground beetle - the only shallot of mine that this ever happened with. I looked closely, and nothing on these, so that was good. Strange though, as nothing I planted looked like these - just normal looking shallots.
Estonian Red: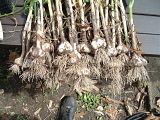 Music: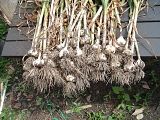 Holland Red shallots: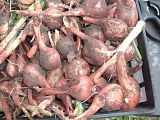 Cross: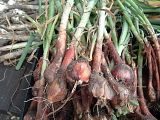 French cross?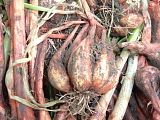 Surprisingly, I have a number of heads of garlic and some shallots left from last year, so I have to use them up soon!