I tried this last year, and I admit it didn't work out too well. But it may have been the location which was shadier than I had anticipated. Also, I got sick and wasn't able to keep up with the mulching and watering during June-July critical timeframe, AND was still recovering my strength during what would have been harvest time, so I had to let them go. Also, last year's spot was my worst compacted clay with thin to no topsoil unworked bed.
This year's new location is a raised bed row that grew peas and beans last year, as well as winter covercrop of... um some kind of small grain -- Rye? Spelt? Triticale?... Drawing a blank right now... And some vetch. I also fall planted some beets to overwinter, but they didn't sprout well and what sprouted didnt grow well, which leads me to think this area is a bit too acidic -- should be good for potatoes though. I couldn't use this location for potatoes last year because this was my sauce tomato bed a few years back and I didn't think it was ready for solanacea rotation yet.
Cutting the covercrop short and leaving as mulch:
Scattered organic fertilizer, then covered with corrugated (picnic table's shipping carton turned out to be perfect size) Cut X's, folded back to make holes and dropped in the seed potatoes... Then used old cornstalks to weigh down the cardbord:
7-8-7 seed potatoes of Gold Rush, German Butterball, and Purple
Viking.
Covered with wet leaves from winter's leafpile and pine tree duff mulch: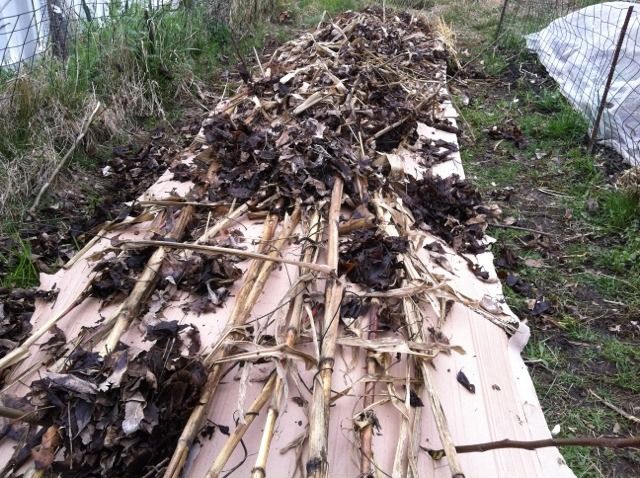 Finished for now: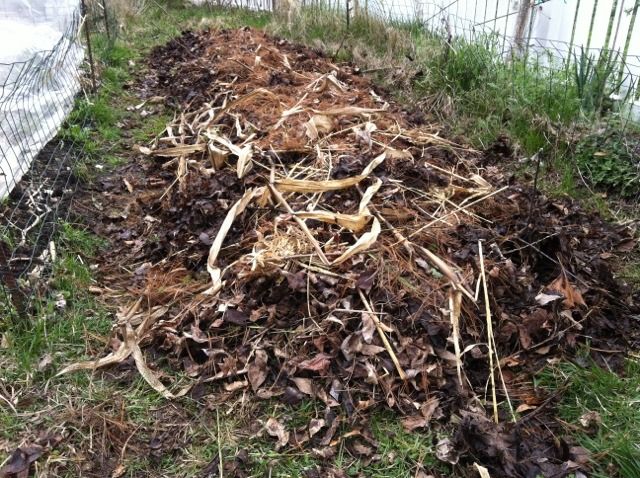 ...wondering now if I was overly enthusiastic with the corntalk/leaf mulch.... I hope they will grow. (I really should have mulched first, then pulled back the mulch to expose the cardboard to plant into) I have to get some straw and hay to add to the pile really soon... Before the leaves dry up and blow away. I'm also prepping a new area for planting by smothering the area with the straw/hay bales (or flakes if I don't have enough bales)
...it's supposed to pour on Friday which will help to contour the cardboard, then I can go back and pull back the mulch some. Normally, I would wet down the cardboard with the water from the hose, but I still have to inspect my garden hoses and set them up in working order.
...I haven't had the chance to give my compost piles their first turn of the spring yet. When I do, I'll have some finished compost to hill the potato bed with. I want to use a mixture of compost, sand, straw/hay, pine duff, and leaves.