Well, this is meant to be a long post, sorry. I wanted someone to see the plants that I transplanted not long ago in this sort of terrace that we have in the back yard. They have done incredibly good (for being new in all this I think I haven't done it so bad..) but I have had some issues that I would like to show you because I don't know if it's something to be worried about or not. I think I have figured out why some things have happened, but others remain a mystery for me.
This is the terrace in which I have tomatoes, bell peppers, chillies, rockmelon, cucumber, corn and basil (and some marygold seedlings growing)
You'll see there are some plants still in pots, this is because I have to find another place to transplant them, I think if they grow full size they won't all fit in that space.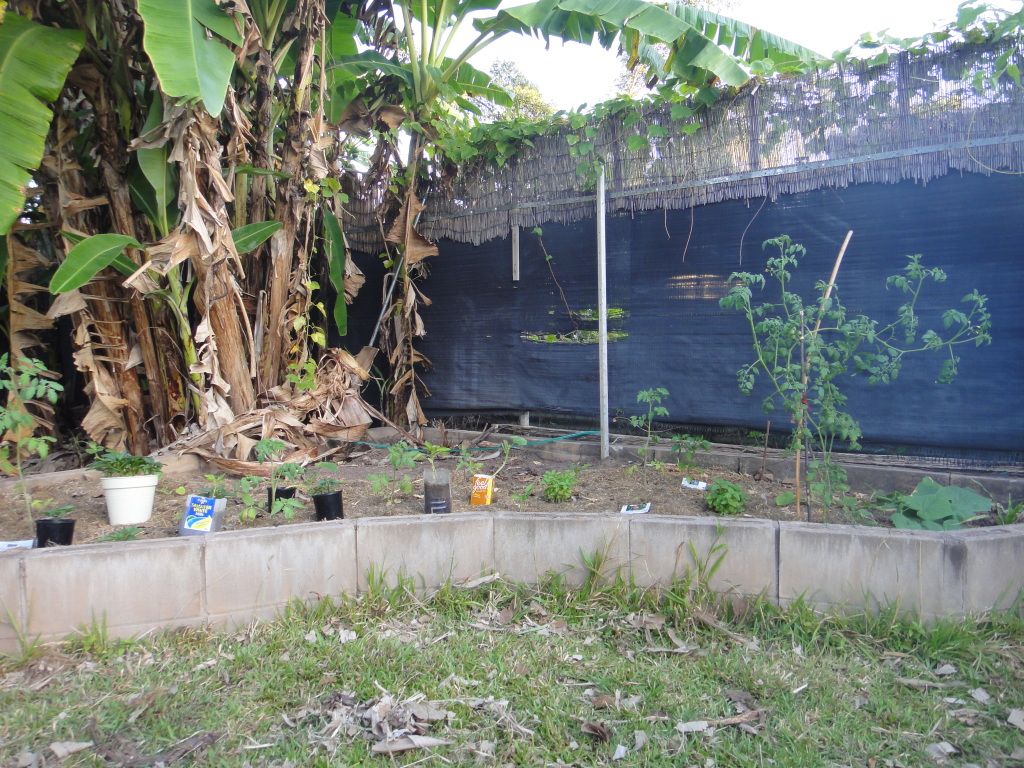 When I transplanted the plants to the garden bed I thought I had to water them more because they were in an open space. I did the same with the ones that remained in the pots, I thought they were getting bigger and started to give them more water. Every day. I am pretty sure this is the reason why some plants have reacted by curling leaves, yellowing, getting leaf edges burnt. This is the case of my tomatoes, rockmelon and chillies and bell pepper (still a seedling). I am trying to get better at this

This is a pumpkin seedling (planted somewhere else), but i think i let it take too much sun and gave too much water, and that is the result (The same happened with all the pumpkin seedlings; one is recovering, tho)
The difference of colour in 2 rockmelons...
Holes everywhere... I've killed some chewing larvae, but to be honest, in some plants I haven't found anything, so to me, this is one of the unsolved mysteries...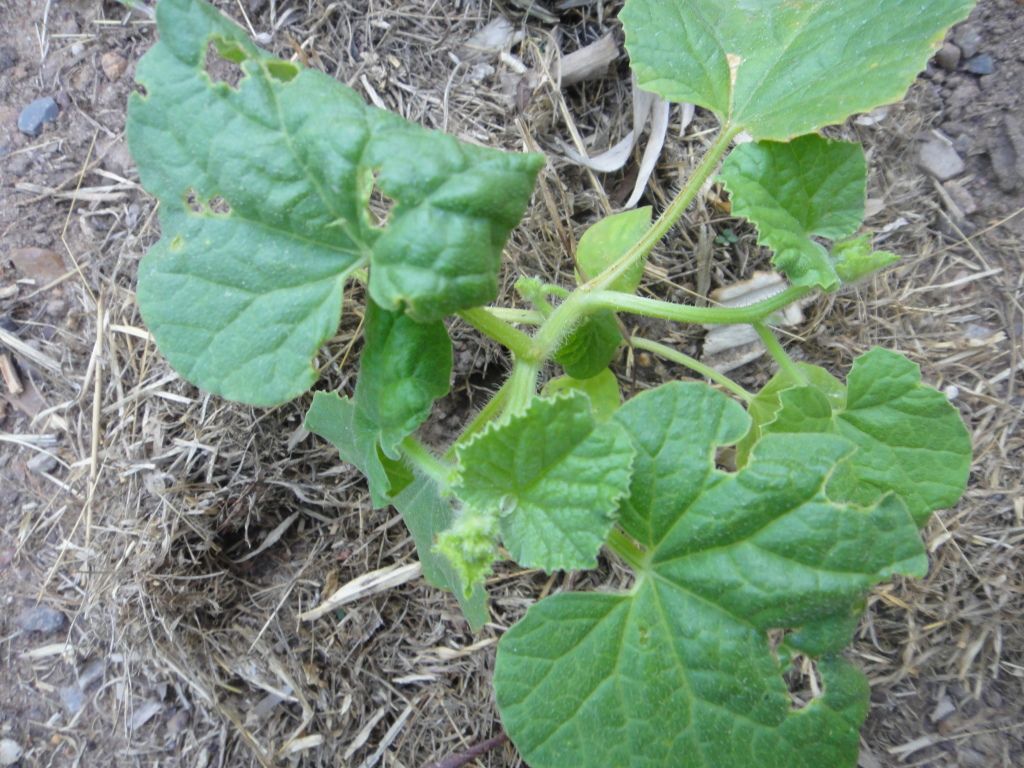 My basil leaves disappear from one day to another... and now they are also getting this white freckles...
I know you are going to blame it on the slugs and snails, but i've tried the beer thing and nothing!!! Should I remove the leaves??? Another thing, I grew this basil in a tray, when it got bushy, i divider it into 2 parts and planted in the garden bed. I don't know if this is going to be a problem for the roots and I should have every plant separated...
I am super proud of my only survivor of cucumber seeds, I think it's doing great but now it's getting sort of chewed by the "invisible" thing. I think it's a minor proble and I don't have to worry... unless you tell me otherwise...
My corn is the worst!!! It was doing super good in pots and as soon as i transplanted it, it started to get devoured.... I haven't neen anything, just my friend the spider. Should I pull it off??
This is "The Spider". It's everywhere... It's actually in every plant with holes. I don't see anything cheawing the plants, not during the day, not during the night... only them. Thye don't eat the plant either, they just hop around.
Not everything is wrong....
My cherry tomatoes: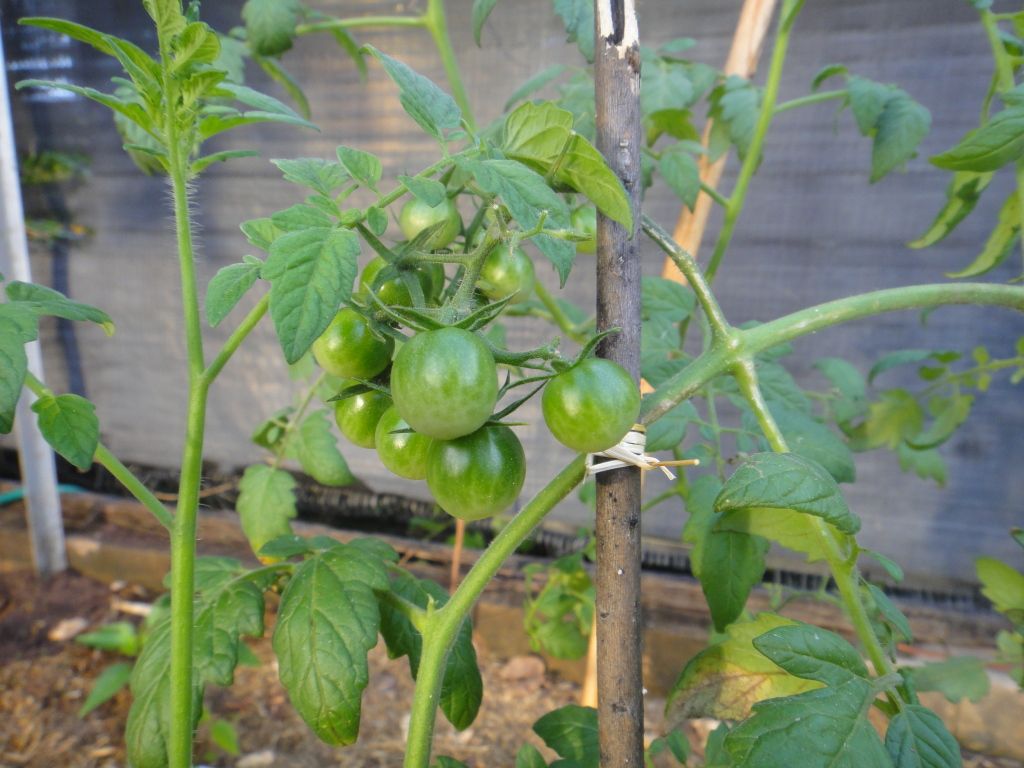 My jalapeños: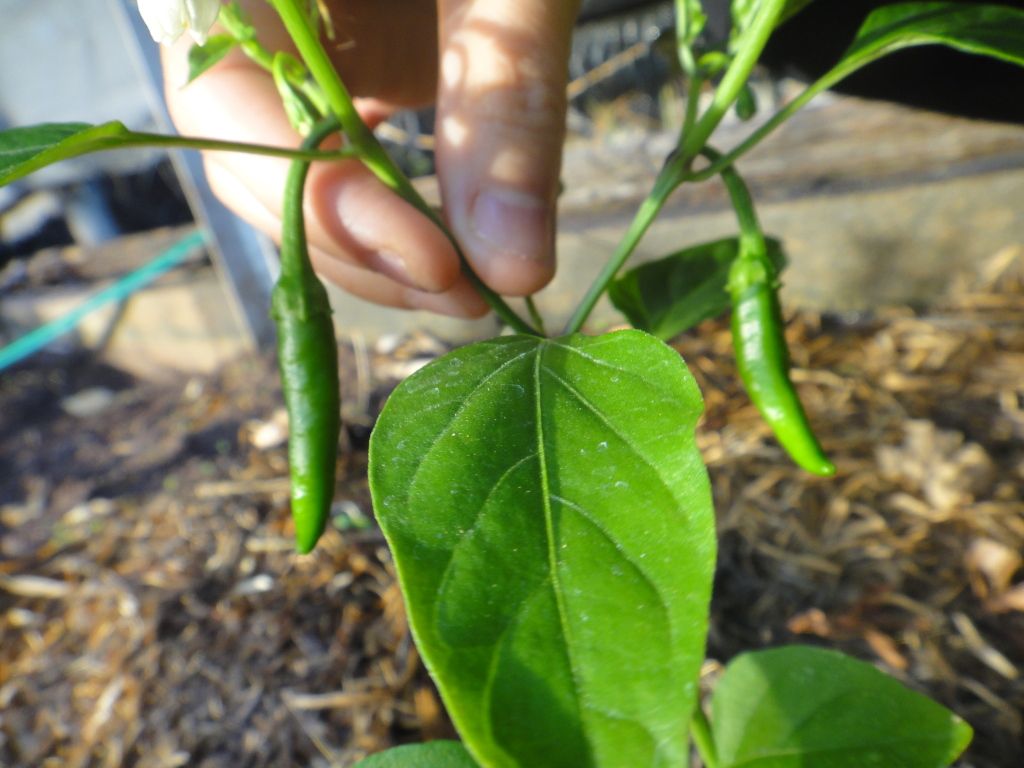 What do you think? All kinds of comments appreciated