It has been quite a project, so far I am pretty happy. I wasn't able to fill all of the barrels with the 100% composted horse manure compost I was going to try, so I had to buy a few yards of 50-50 compost soil mix from a landscaping place at $28 a yard, not too bad of a price I don't think. Of the plants that I put in the 100% compost, some like it some don't. The beans, garlic, and onions seem to like it just fine. The lettuce is more bitter (probably because of the higher nitrogen content) and also have more aphids. But it is growing just fine. The cukes don't seem to like it at all so I had to start some more in a different place. The no-dig potatoes are popping up nicely now, about a month and a half after I planted them. (that took a lot longer than I thought!) I know some people didn't really agree with the aesthetics of so much plastic in the garden, but ou know what DOES lok nice?? A bunch of veggies growing with no weeds for me to pick! So far that aspect of it has been fantastic!! Heres some pics...

Here are the first ladies of my little urban mini-farm. They should be laying by the end of the month. we hope...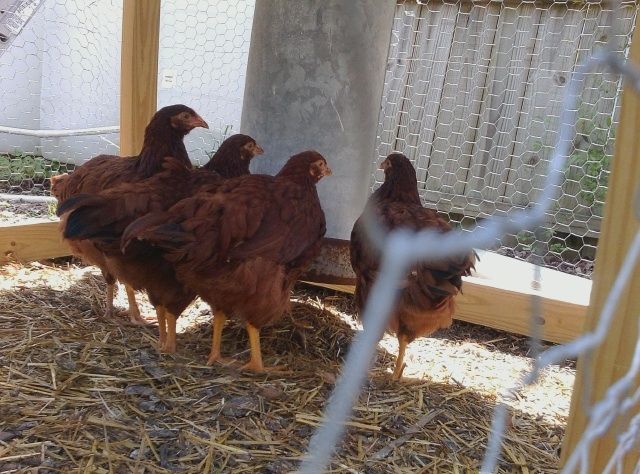 Here's a view of a nice head of black seeded simpson I have going, the can is just there for size reference.
These are the beans growing up to one side of the trellis and a close up of the lettuces in the foreground.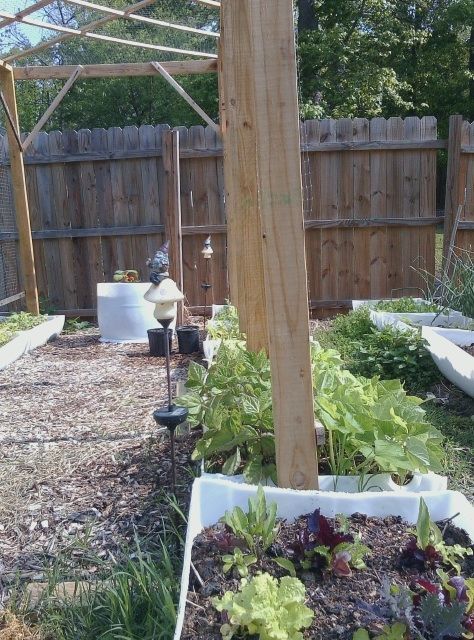 Onions in the foregrund, garlic in the back 2 barrels, and blackberry growing up behind it all.
Egyptian walking onion. I had one left and really needed it to make babies this year. Looks like I'm in luck! Checking every day on the progress of those little shoots!

Here's most of the tomatoes. Mainly San Marzanos for sauce, as well as mortgage lifters, german johnsons, cherokee purple (last try with these trouble makers), and sweet 100's. Also some believe it r nots and a few others (not pictured).
Lastly here's two top views covering everything. The no dig potatoes and corn plot are in the bottom pic on the right as well as a few extra rows I made for lettuce to donate.