Hi everyone! I'm new here.

I've planted container veggies and herbs for years with moderate success, but this year decided to build and plant a raised bed in my tiny front yard. The yard is lined with some yarrow and a lot of sedum, which love the extreme summer heat. We'll see about the veggies! I'm pretty proud of what I've fit into this tiny space. I've also got some large containers, so I'll be planting another tomato (container choice), zucchini (bush baby), and peppers and herbs in those and squeezing them in on my front steps, window ledge, etc.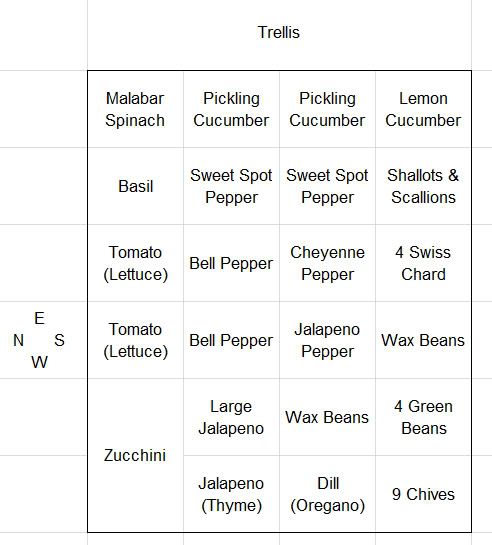 As you can see, this is a square foot garden, so I've really crammed things in. I used bamboo poles, zipties, and strips of metal "tack tape" to build my removable square foot grid and mixed good quality potting soil, peat moss, and free city compost to fill it. I also installed a simple drip irrigation system and timer from irrigationdirect.com. Hopefully that will take the guesswork out of watering--I think I over-watered in previous years.
I'm currently having issues with stray cats pooping in my garden, thus the prolific BBQ sticks. I've also got a few aphids, so I have some ladybugs on the way to help with that. I've got some rather nasty neighbors who don't seem to like my gardening efforts, so I'm just waiting for an "accidental" football or whatever getting tossed into the yard. But I guess everyone has their own gardening enemies!

Suggestions are welcome! I am really new to planting stuff into the ground, so I can use all the help I can get.