I posted months ago that I started a indoor garden where all plants were solely relying on artificial light and keeping the soil healthy with food and fertilizer. With a few tips from some of you and a green house caretaker for a university that is a friend of mine, I have mainlining 3 plants.
One of the three plants is a tomato plant. The goals of the tomato and the other two plants are to keep them alive and healthy, and continue to have them flower and produce veggies and fruit.
The three plants I am growing are a cherry tomato plant, a Habanaro, and a Basil. The images are explained below.
The first above image is my indoor growing area. The only light these three plants are getting is from 5 CFL daylight bulbs.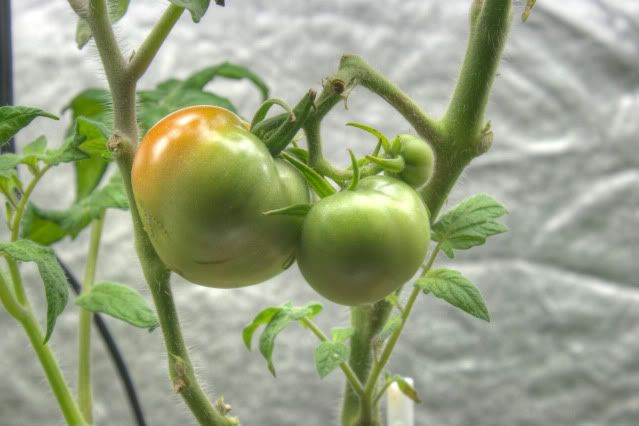 The next two images are two clusters of cherry tomatoes that are growing. I bought this plant in July and the label said it was a Cherry tomato plant. Usually this plant has been producing three tomatoes per branch with the biggest being about the size of a golf ball. I have been noticing that these almost appear to be a beef master type because some of them have a pumpkin type form.
This above image is the other two plants a Habanro and Basil. Both these plants have been growing well and I recently had to trim back the Habanaro plant because the canopy of it was getting huge.
This last image is of the habanero peppers I have been getting from it. Good peppers and obviously hot.
The tomato plant has been getting a organic plant food called Tomatoes Alive (6-2-2) The other two plants get a Miracle Grow liquid plant food where I use a medicine dropper and put 3 to 4 drops per a full indoor watering can. The yellow plastic has a sticky chemical on it to trap the gnats, (I was told that their larvae can damage the roots. ) Hopefully I can get all the plants to stay alive and thrive through the winter and into the spring. I will post updates in this thread through the winter.
[/img]