Hello - I've got something peculiar and completely unexpected growing in my garden, I think I know how and why it happened but I don't know if it will breed true. This is the story on it:
Last year (2009) I got some plants from a local WALMART store, they were "Bonney" brand seedlings, that much I'm sure of. Some of them were Early Yellow Crooked Neck Summer Squash, the others were Zuchini. They grew normally, I had them side by side in the same area, the summer squashes averaged about 6 inches in length. The Zuchini did seem a bit big, but then I let them grow just to see if they would change color or if anything else might happen.
I never did get savable seeds from the summer squash - they didn't look or feel as if they had developed to a hardness that might dry out well. The zuchini seeds I saved and dried were also a bit of a worry - but I kept some and planted them outdoors and they seem to have done very well. But the plants from them have produced fruit that is absolutely odd...
Now; keep in mind that the seeds were taken from an end of season fully grown zuchini, and that the zuchini I saved them from looked completely ordinary in every obvious way. With me so far?
1) Green skin
2) Smooth
3) Quite large
4) A fairly thick skin, consistent with normal zuchini squashes
The plants those seeds sprouted in the 2010 season (THIS YEAR)
have produced Zuchini sized and proportioned VERY LARGE squashes, that in every other respect resemble nothing on earth but YELLOW SUMMER SQUASH

1) They are destinctively bright YELLOW
2) The texture of the skin is "Knobbly"
3) The skins are fairly soft
4) They reach over two feet (0.66 meters) in length
5) They tend not to be bent, as 'Crooked Neck Squash' is known for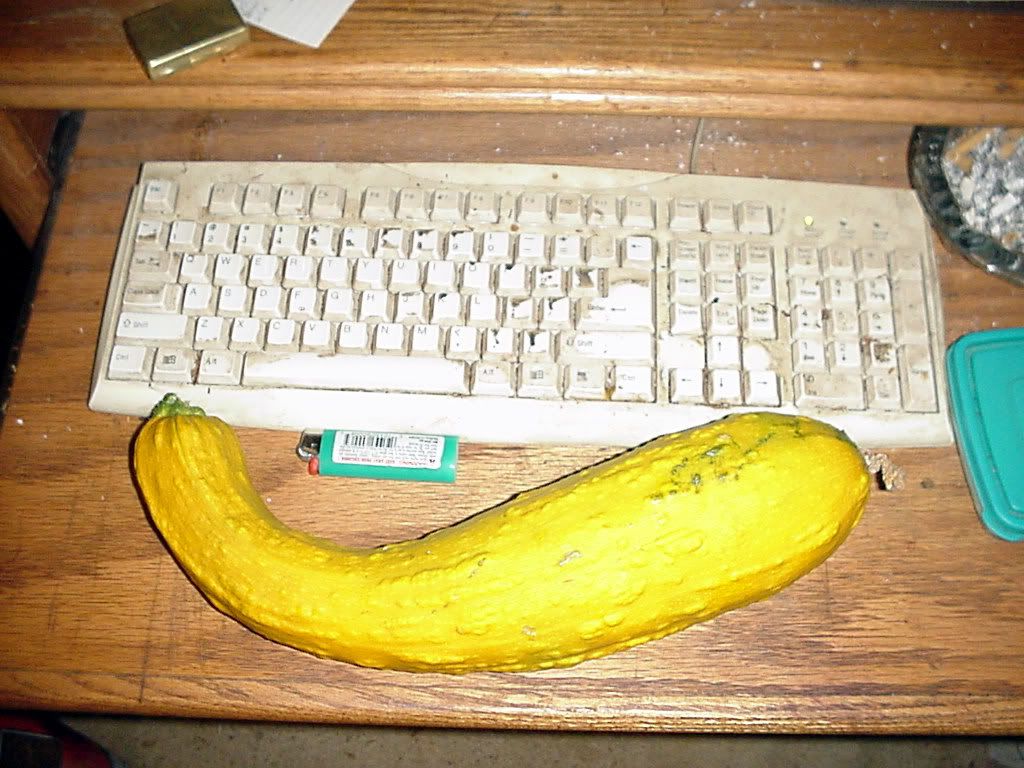 I'm totally serious! They must have cross-bred. And yet, you couldn't tell any difference between the zuchini I saved the seeds out of from any of the others at all...
I have a fair amount of seeds left. If you'd like to grow some and see if the same result happens, send an SASE to:
138 Barton Rd.
Drummonds, TN
38023
I will happily drop ten or so seeds in there, and you can see for yourself. I'd frankly like to see if the whole bunch of them prove out.
I DON'T KNOW if seeds saved from plants grown on those vines (from those seeds) will do the same. For all I know they might get bigger, smaller, or who knows what in succeeding generations...
I hardly expect you to believe just any fool who pipes up on the internet - so I am hoping to attach a picture of one of them laying next to my keyboard here, so you can see just how big they've gotten. The one image I have now still has a streak or two of green about it, as though it were not quite entirely mature.
Note that I don't ask any shipping or handling rip-off charges. Trust me that I am not collecting peoples address for some strange reason: If I wanted that I'd just go get a free telephone book from whatever town I was interested in...
~I can well imagine that there are far better ways to gather information about people or spy on them - than to knock on their front door and alert them to the fact that you are doing something like that. Please credit me with having a bit more tact than a BULLDOZER rolling down the middle of mainstreet...
This is just plain suprising, and I wonder if it's something worth having.
The only thing at all I would ask from the whole thing if it does turn out to be something that everyone decides that they want is that the name I thought of for them be stuck on them as a Hybrid Variety:
"SASQUASHES"
Just that, nothing else. Why should I CARE about credit? I generally DO KNOW what I have done...
*The picture above was taken at approximately 8:30PM CST, just north of Memphis Tennessee, on Tuesday - the 8th of June, 2010