A little pictorial of whats going on in my neck of the wood.
My newer bed with lettuce that is going very slow due t the heat. there is also onions, garlic, Brussels sprouts, broccoli, Arugula and cilantro
Here are few of my tomatoes so far
Hard to see but here are carrots both direct seeded and transplanted along with onions the same transplanted by me seed and direct seeded. In the foreground there is spinach struggling to make an appearance as well.
My meager row of potatoes, You can also see what look to be weeds in this and all the pics but they are more than likely radishes that I broadcast over the beds.
My new compost bin I just put together, it doesn't have the front on it yet I ran out of wire.
These are potatoes and onions in buckets kind of an experiment to see if they will grow well in buckets
2 Spirodonovskie tomatoes in pots (Thanks DV) and some random flower and lettuce seedlings in flats. The toms will make it over with the other pots soon.
Some more tomatoes etc getting some sun.
Again hard to see but on the far left is more potatoes to the right of that is more onions and to the right of that is a few more tomatoes (Black From Tula)
3 different variety of peas, also in my other bed along the fence line are peas along the whole fence.
My starting grid finally getting a little more empty. Still some more tomato seedling and plants as well as pepper and eggplant seedlings and plants
My newly renovated front flower garden. It was just filled in yesterday. Among the plants you see there are several flowers I have grown from seed and some more seed I put in including swiss chard and basil etc. It's not much yet but hoping for the best. 2 more Spriodonovskie's on the patio.
Another outcropping again not so much now. Just planted some flowers and borage in here. On either end are some ornamental grasses that are just now coming up.
The base of my Maple, dig the flowers.

and yes that is a ring of onions around the tree, and yes I am a little nuts.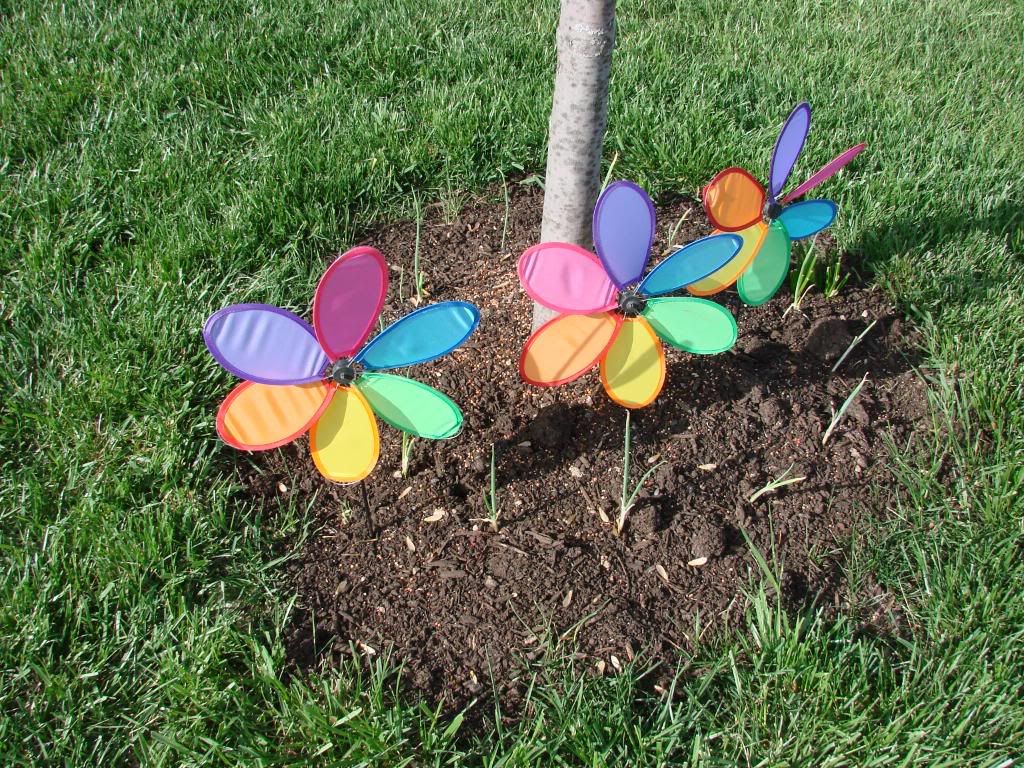 Yet another outcropping, again with some flowers just planted I grew from seed. And more ornamental grasses that do a good job of covering up the phone box there.
My bushes 3
Okay one more. these are knockout roses, and what else more onions and garlic, go figure. Oh and some Nasturtiums as well.
Not the greatest of pics but everything is still in it's infancy. I can't wait till everything is in full swing especially the plants I have started. It should be pretty cool. Oh and you better believe I will keep adding things cause I'm crazy like that.
Hope you enjoyed my gardening journey even if it is a bit bland as of right now.
See ya all around.