I have a rather small garden out back, so I won't have enough room for ALL of the seedlings that I started. Also.. I realize I put WAY too many seeds in some of the cups. This is only my second year having a garden to grow things in, last year I just did pumpkins and rhubarb. So, I have a few questions..
How should I thin my seedlings out (how to choose who goes and who stays?)?
How big should they be before I pot them up?
Where can I buy compost since I don't have my own?
I've been setting a fan to blow across the tops of them for a few hours during the day, I read this will make their stems stronger?
Here are some pictures of the seedlings I have currently: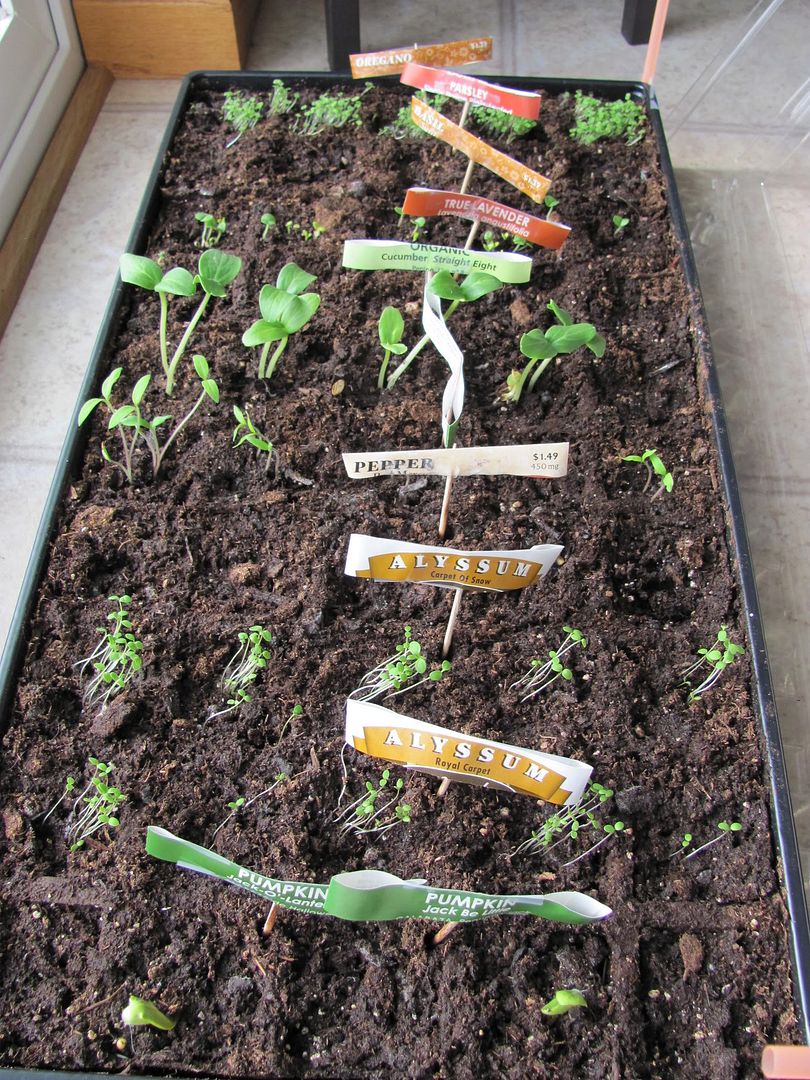 The pumpkins are in the front there just barely starting to come up.
Behind those are my Alyssums, both the white and purple kind.. I think I really need to thin those pots out.
Behind those are the red bell peppers, they haven't come up yet.

After that is the Tomatoes, they are Roma tomatoes.
The next ones are the Cucumbers. How many of those should I have in the garden? I don't really know how big they get.
Behind those are the lavender seeds, they have not come up yet either

Then the Basil.
The Parsley is second to last, just barely starting to come up.. I can see one or two little green shoots.
The last one is the Oregano.. REALLY needs thinning. Planted way too many of those.
So, suggestions? How do I do this?
Also, what should I add to my garden soil this year? Last year we just started it.. it is a raised bed garden because our yard is all clay. We dug out the clay about 1' down and then built it up another 1', and filled it in with 'garden soil' and peat moss. I want to find some compost to buy somewhere and add that this year. Last year I just fertilized with Miracle grow, the regular blue stuff.
One more thing. Because my garden is so small, if I don't have quite enough room for everything, what would do best in a pot?? Tomatoes?
Thanks for any help!