Two weeks in, everything was transplanted into paper pots five days ago:
The ground cherry's are growing slowly. I was told they where slow.
Mountian Princess Tomato (45-50 day), two in this pot.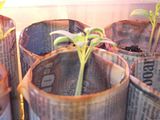 Huckleberry plants:
My paper pot setup, the plastic tub as $1 at the dollar store, so far I really like the newspaper pots!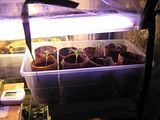 You can really see the difference in the two types of lights, the front is a $10 "grow light" from Wally world, behind you can see the CFL.