These would've been great harvest: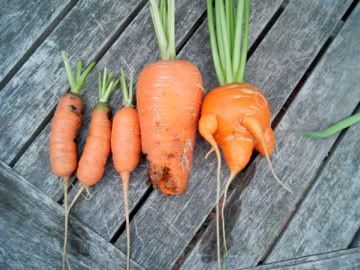 ... except they look like this on the other side: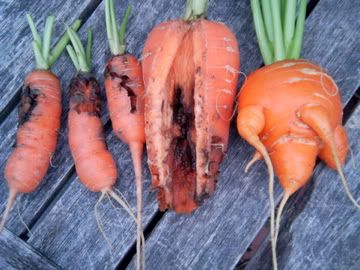 Part of the damage was caused by wireworms. Are the blackened entry from the base of the greens caused by black carrot flies?
The large one that split and rotted was a HUGE disappointment. This is a variety called "Healthmaster" and needed 140 days to mature. Something seems to have nibbled on the end of it too. The other funny-shaped, but otherwise OK one is a Healthmaster as well -- don't know what happened there. Both were grown in an 12" raised bed in direct contact with sheet-mulched lawn prepped last year. The 6" raised bed next to it that was prepped at the same time last year is loose ground to 1-1/2 depth of a garden fork.
I have others carrots that were perfect -- kids enjoyed them all (*I* never get to eat carrots out of the garden

In fact, DD10 ate the multi-legged carrot) but I thought I'd share these photos with you.
At least I got good carrot tops out of them -- I chopped them up and put them in a ratatouille.