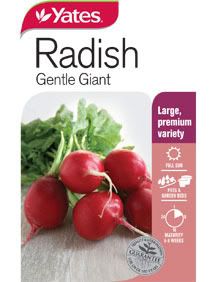 Radish
What: Seed (Yates Radish - Gentle Giant).
Where: Square self watering planter, large black pot around Shiso.
When: 25 August 2009.
Sown in: Used Seed Raising Potting Mix.
Fertiliser: Thin layer of RICHGROW: Organic Blood and Bone + Trace Elements & Sulphate of Potash 100mm below surface. Weekly application of YATES: Multi-Nutrient Plant Food with Seaweed at 5ml/L.
Advertised Germination: 5-8 days.
Actual Germination: 4 days.
Advertised Maturity: 6 - 8 weeks.
Actual Maturity: 4 weeks.
Just over a month after planting and harvest time!
A couple of these got a little on the big side and are quite hot to eat as a result…
I planted another 12 seeds around the Shiso plant and left 1 plant in a corner of the square container to see just how big it can get.