Here are a few pictures of my gardens. I will post more as it progresses.
The first is a view from the end of my sweet corn patch. Five rows 150' long, one row about 60' long because I ran out of seed. I will plant something to finish the row out.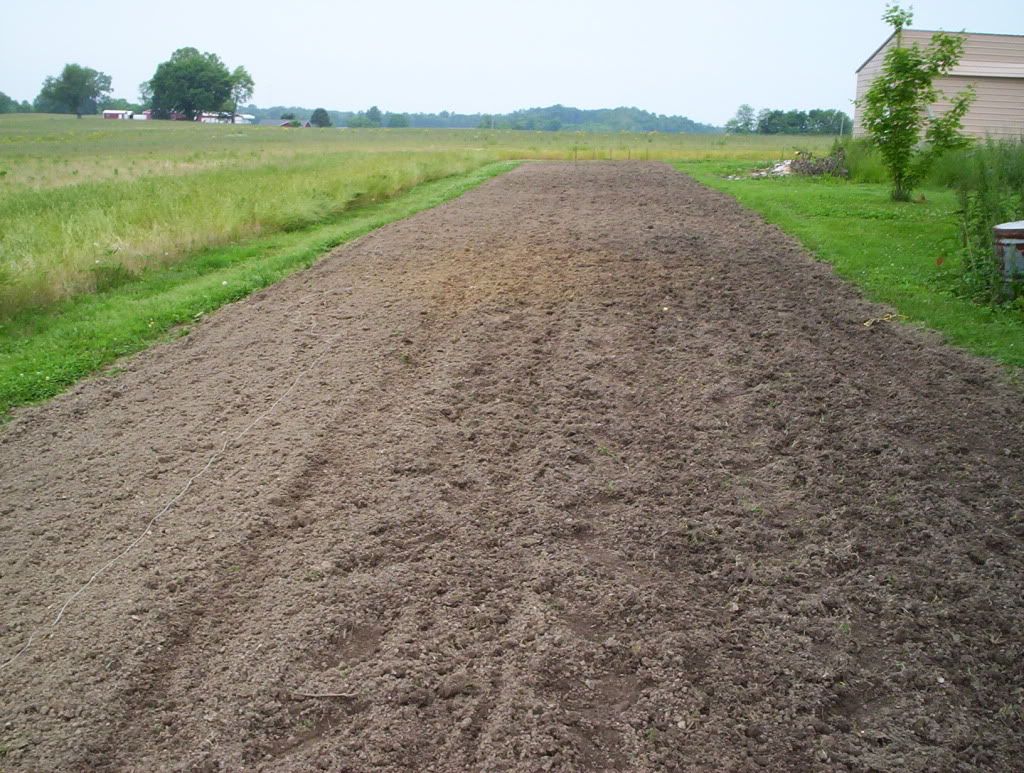 Next is a view of one side of my variety garden.
On the left is a row of green beans that were just planted. Next to them is a row of strawberries. Twentynine plants set out a couple weeks ago. To the right are some peas and two double rows of green beans also just planted. At the far end are some beets and cucumbers. Where the strawberries are is where we had a patch a few years ago. The fourth year after we set out 75 plants, we harvested
80 gallons
of strawberries.

That was a lot of picking.
This is the other side.
On the left is a few potato plants and 5 rows of sweet corn planted in 3 stages. The row on the right has tomato and zucchini plants. At the far end is a raspberry patch. It needs to be weeded badly, but it still produces quite a few berries.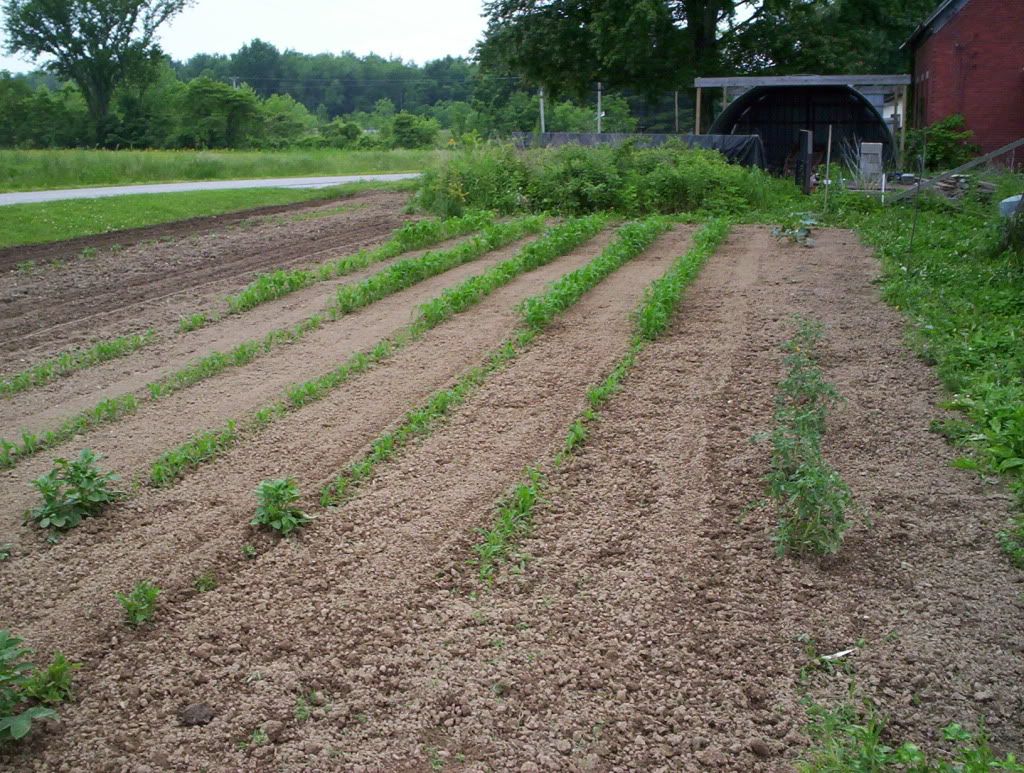 5/25/09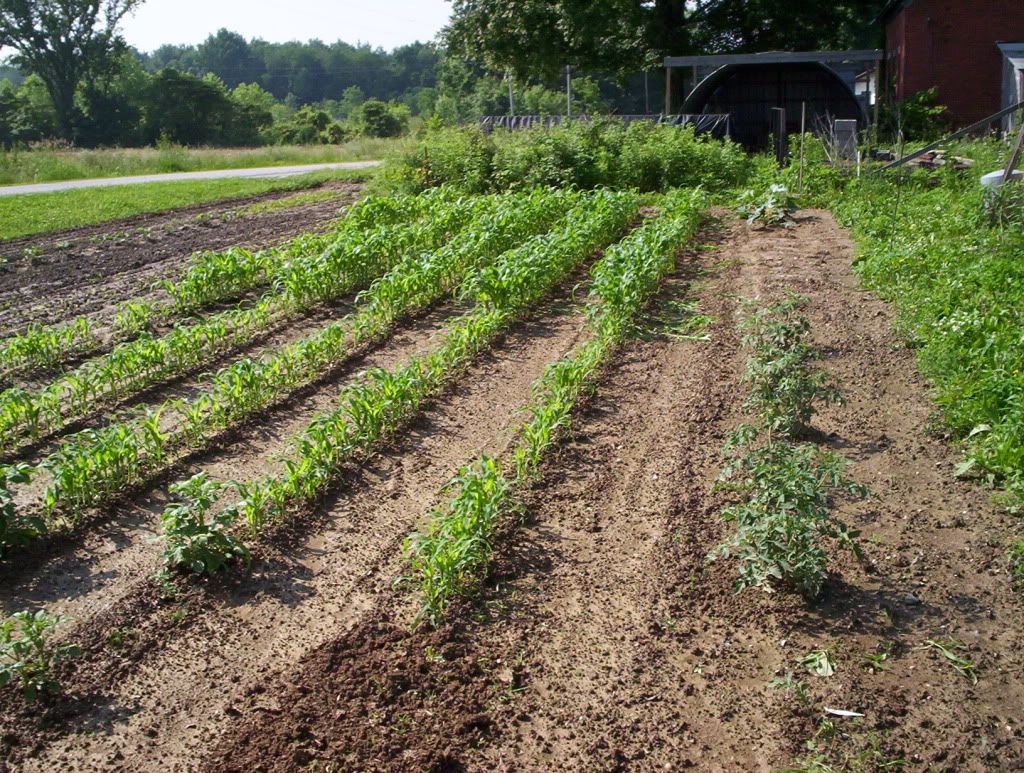 5/30/09 The corn recieved a heavy dose of 32-8-8 fertilizer on 5/29. I use urea (46-0-0) and 6-24-24 and mix my own ratios.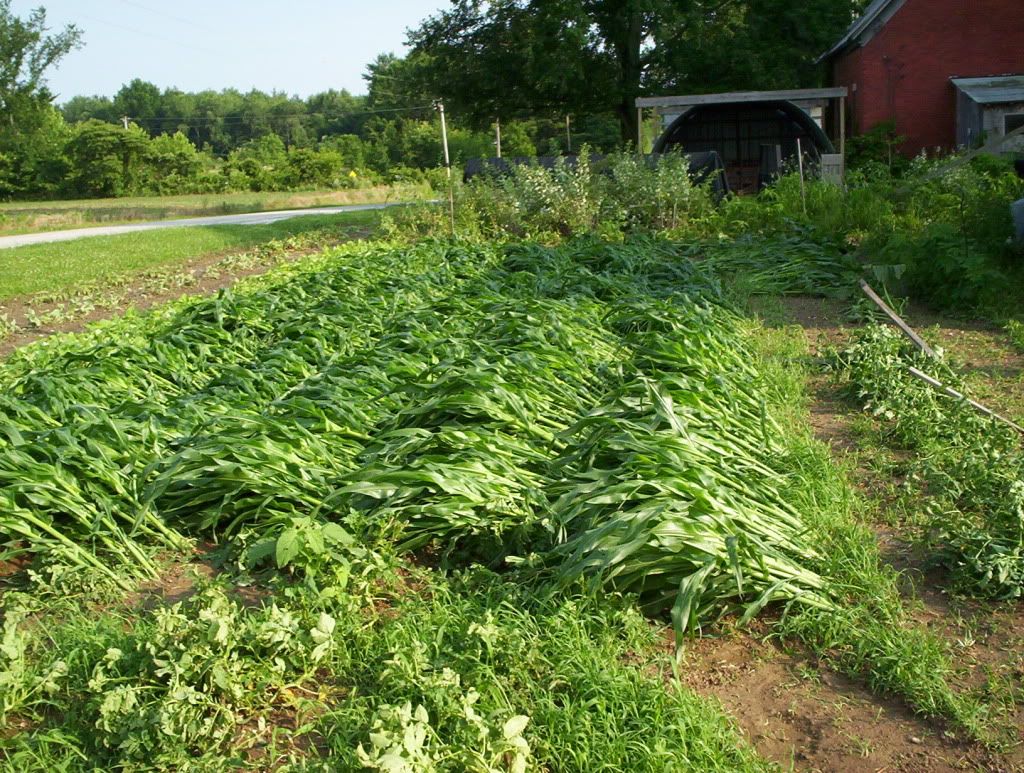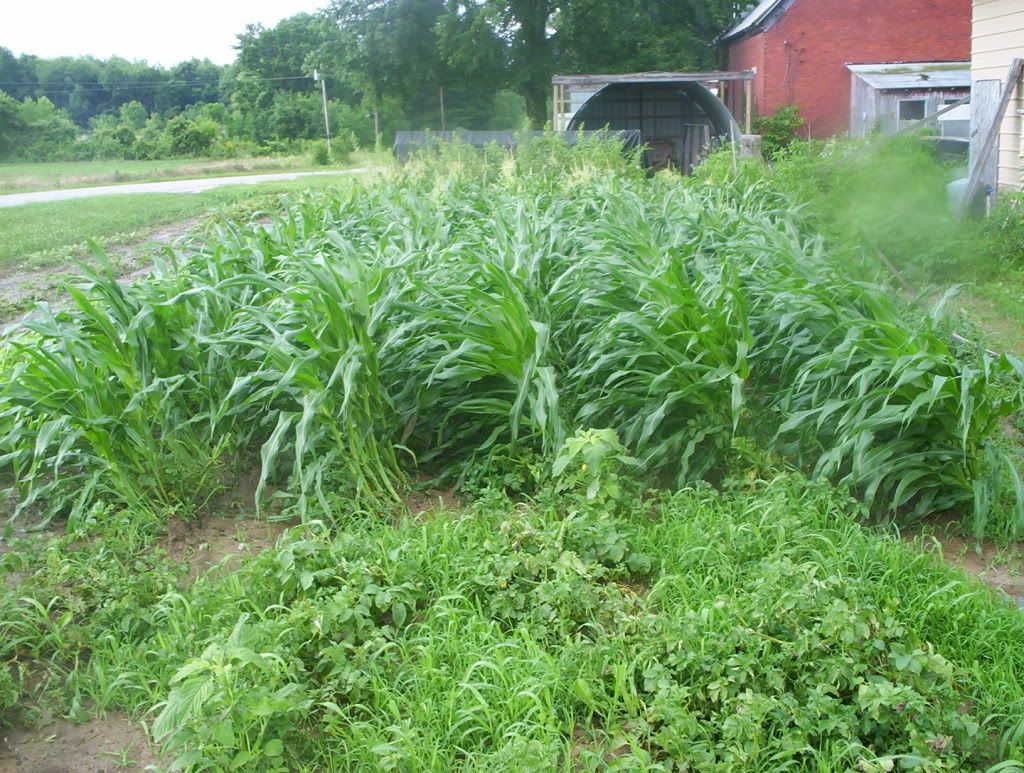 A big storm came through on the morning of 6/18/09. The picture on the left side was taken on that afternoon. The picture on the right was taken on 6/20/09 in the morning. The original corn will be fine, but I was experimenting by planting a second planting 6" away from the first 5 rows. I don't think that will do anything now. It wasn't looking very good before the storm. I think it just wasn't getting enough sun.
Here is what I planted almost all of the seed that went into the ground. I bought it at an auction for $5. It isn't perfect but it saves a lot of work and time. I am hoping to either improve on this one or completely build a new one for next year.
This is not the 2 row I mentioned in another thread.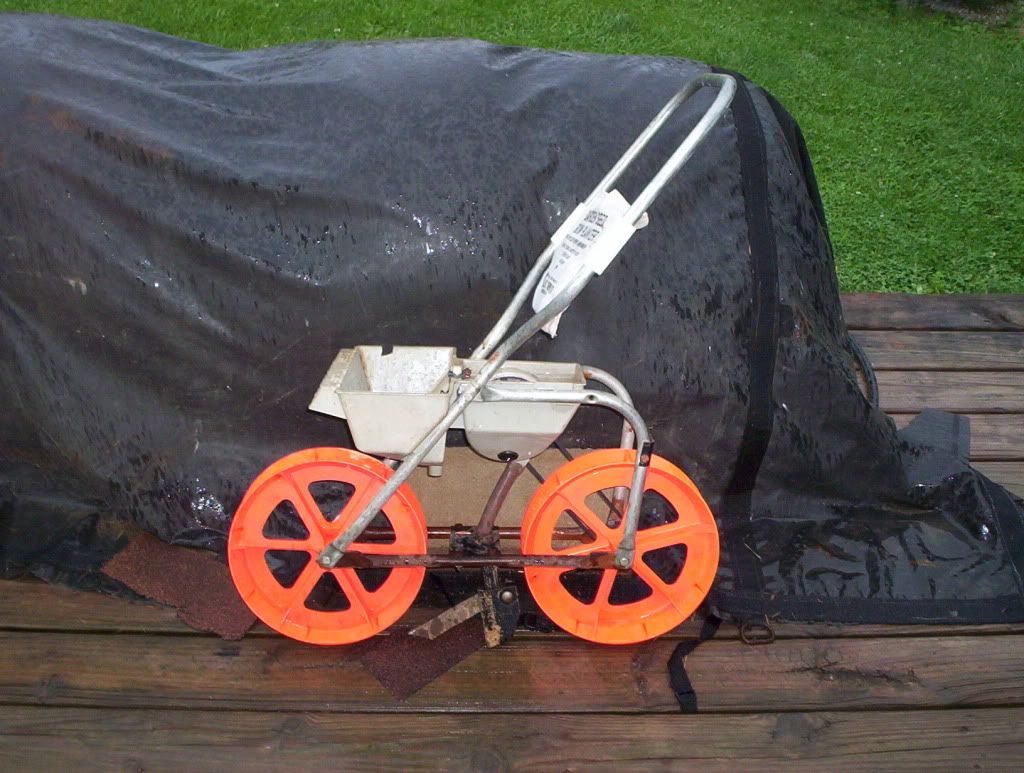 This is my workhorse. I bought it 17 years ago and have worn out one set of tines. It runs great. I have only had to do very minor repairs. It does a super job of preparing a seedbed and is a real time/work saver. Clay soil is notorious for compaction problems, but the churning action of the tines allows me to work ground that is much too wet to work with a tractor and tillage machinery or even a shovel as you can see below.
One sidenote; MTD bought Troybilt a few years back and have cheapened them to the point that the new tillers are basically junk. Mine came with a lifetime guarantee and is built like a tank.
Here is how muddy it was this morning, 5/30/09. You can see my footprint at the bottom of the picture where I sank almost 3". I tilled the surface to open up the ground so it could dry. It had dried enough by the end of the day for me to plant 1 1/2 lbs of green beans. I love my tiller.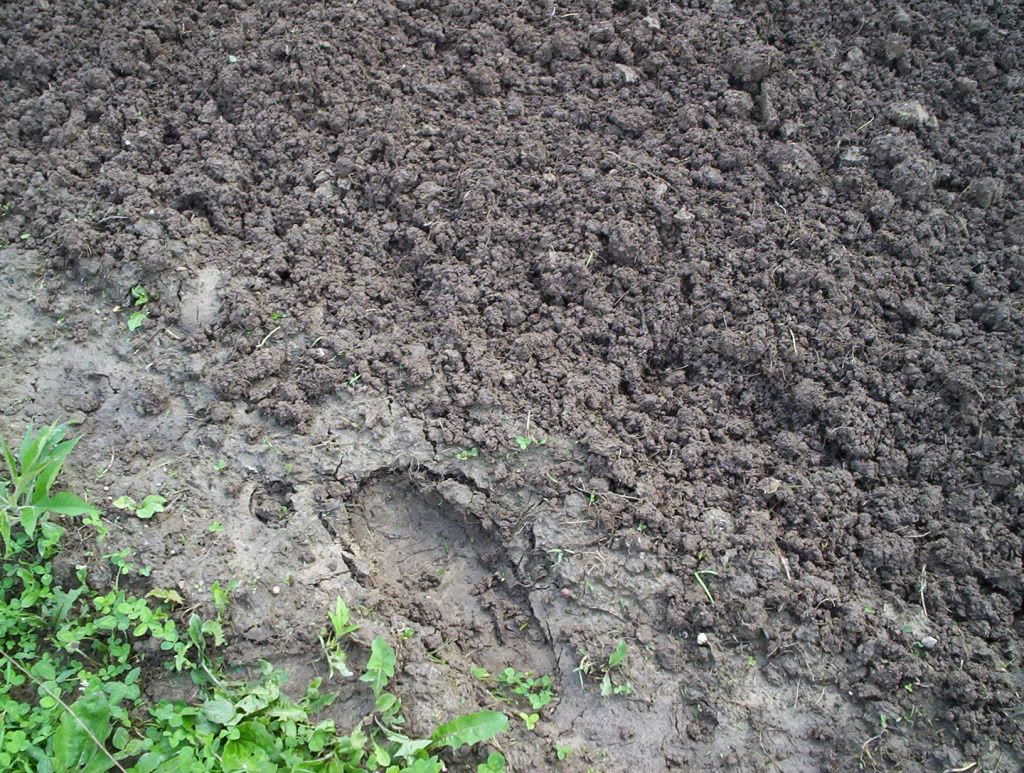 In another thread, I mentioned an old 2 row planter I may fix up if I expand my gowing area. Below is one just like it except mine is a little more worn. Mine is not easily accessable at the moment. It is a John Deere 290. They were made about 50 years ago.
Gerrie wrote:I like that farm planter, how does it work? Is there an equipment blog? I'd love to see what everyone favors most for gardening tools.
I could get into a long explanation, but basically both of my planters have ground driven seed plates that drop the seed down a tube into the ground.
I changed the title of my thread because I grow vegetables on a large scale. I thought some people might be interested in the differences between a small home garden and a commercial type of garden.