Hi everyone! Thanks in advance for reading and for your replies. I am new to this forum and to gardening. We are enjoying our first vegetable garden this year and are starting to make plans for next year.
Our garden is 12x14ft with 6 ft corner posts and metal chicken wire around all sides (open top). We have 6" tall raised beds. This is a photo before everything started growing, so you can see what the construction looks like (not sure if I'm attaching this photo properly):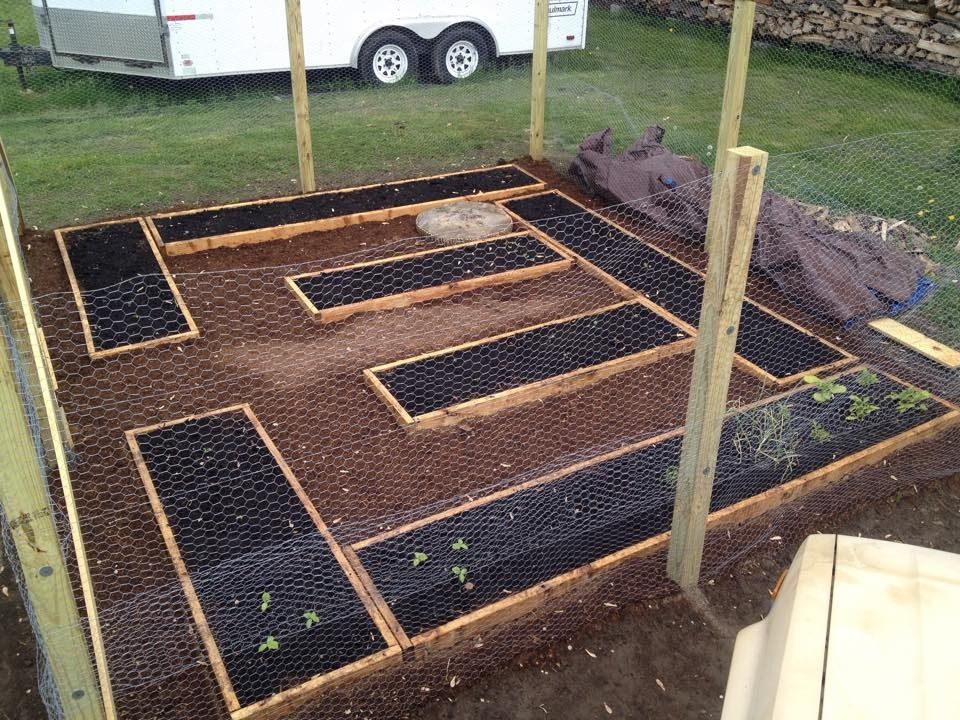 We are having issues with cabbage moths and aphids on broccoli, kale and cauliflower, flea beetles on potatoes and cucumber mosaic virus. We also believe we have cutworms or possibly slugs as we lost a lot of carrot tops, some tomato limbs and an entire pepper seedling which was cut off at the base. Any plant leaves left strewn about in the garden get pulled partly under the dirt and left there. Our garlic tops consistently got pulled under the dirt (I would have to pull them back out almost every day, even after twist tying them up to skewers).
We are considering netting off the entire garden with some sort of mesh tulle as opposed to just covering the affected plants so that we can still easily walk into the garden and access everything. We understand that this would create a greenhouse-like effect and are concerned about pollination among other things.
I have done some brief research on hand pollination and it sounds like this is possible with some plants, but certain crops require bees unless you buy special seeds (which I would rather not do as I have many left over from this year that I would like to use). My other concerns are: Will rain get through it easily? Will it hold up through the entire season? Will this block aphids? The main concern is the cabbage moths, but the aphids seem to be becoming more of a problem now and all of our cucumbers have the mosaic virus, so I would like to block any insect that might be transmitting it. I'm assuming there would be no way to block the cutworms if they travel underground? I have read the slugs will not cross copper, so I may try that if it seems they are a problem. I am not sure if it will block flea beetles, but I am planning on companion planting to hopefully remediate that issue.
I don't want to block beneficial insects from the entire garden, but it just seems like a pain to have covers over certain plants that need to be opened up somehow in order to access them to harvest and hand pollinate. We tried pretty much every organic deterrent out there (with the exception of BT, though, I did spray with neem) for the cabbage moths and even the cutworms and nothing worked, so this is our last hope.
Hopefully I covered everything (no pun intended). I will post recent photos if necessary. Thanks everyone!
Leanne (and Ben)