I want to start composting again, but I'm having a problem finding the right composter to suit my needs. In the past, I have used open piles, simple wire bins, which I made myself, and a simple tumbling bin (no crank) made of a 50-gallon plastic drum on a frame. I am no longer strong enough to use any of those methods.
Here's my situation: I have a type of osteoporosis referred to as 'soft bone disease'. Because I must limit my activity to avoid broken bones, I've lost much of my muscle strength, so any composter I buy
must
be
very
easy to turn.
Other important info:
1. I don't have a lot of kitchen waste ... one 32-gal trash can every 2 weeks, most of which is stuff my garbage hauler won't accept for recycling -- I'm big on recycling.
2. There won't be a lot of grass clippings, because my new landscape design has removed most of my lawn. There will be other yard waste, because the lawn has been replaced with lots of trees, shrubs and perennials.
3. I am not in any great hurry to produce finished compost, unless there's some advantage that I'm unaware of that results from creating it rapidly.
Here are the ones I think would be good, but I'm very unsure:
This one is small, but that doesn't mean I'd necessarily be able to turn the drum when it was full:
This one is a bit larger and has a crank, which
might
make the difference in being able to turn the thing ... or maybe not:
This one is motorized and completely automatic, which I find very interesting ... but I can't imagine it handling yard waste, even if the material was first put through a chipper/shredder: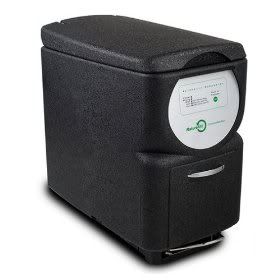 Any
advice would be most gratefully appreciated. Indecision has me pretty well immobilized on this project.