Hello everyone firstly thanks for checking out my topic. As mentioned I am new to lawn care and so far I have good results but I also have some bad results forming.
This is year 1 with this yard....I started out it was horrible. 10% grass rest was mostly dead space (dirt) and weeds. So I made a lot of progress within 1 year. I am using Kentucky 31 grass which after 3 weeks of 100F weather sadly is going brown and I can't seem to green it up so bout ready to stop trying and focus more on killing the stuff I dislike for the next year. I was told it wasn't dying it was simply going into "conserving" mode and that long as I water 15m a location every other day it would recover when it cooled down. Is this true? Any tricks to getting it green again?
Please note I didn't fertilize this year due to the state of the yard...I also ran into some 46/0/0 50 pound bags Urea Fertilizer for free recently....is pure nitrogen good enough or should I look for a better blend?
I have this grass/weed I can't ID....could someone aid me here? Also I want to kill it before December as I don't like it and it is slowly taking over my yard but I want to make sure my seeds can germinate when its time. (will cool down around December maybe sooner)
Pictures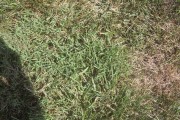 My watering schedule is bad as I can't water in the morning (got school @ 4am to 1pm and I barley get out of bed as it is) so I have been watering from 5pm (parts that are shaded) to 9pm. I use a typical walmart sprinkler on a "tripod" 4 feet off the ground.
My spinkler head looks likes this (mind you this is not my version I use a cheap 25 cent tripod in a garage sale and zip tied my sprinkler to it

)
Front yard = 6 spots and back yard = 2 spots.
Front yard
Front 1 - 30m (180)
Front 2 - 1 hour (360 spin)
Left Side - 30m (180)
Right Side 1 30m (180)
Right Side 2 - 10m (60 degrees (small 4F wide side)
Right Side 3 - 10m (60 degrees (small 4F wide side)
Back yard
Back 1 - 1 hour (360)
Back 2 - 30m (half moon)
This is how I water. I usually start @ 5:30pm - 6pm and I always start in the areas with shade to prevent the sun from baking it. Our water pressure is low as well (can't power 2 sprinklers 1 loses 80% pressure if you try)
The reason I give you this information is 1. For techniques/advices/warnings and 2. for the picture below. I was yanking that un-ided grass/weed and I saw this.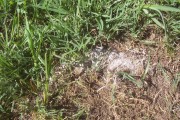 Is that mold/disease or is it simply decay from grass clippings? I also noticed a few weeds/grass with white spots on them (thought my girlfriend was spray painting again outside)
Thanks for any tips/help...I am happy with what I done this year but kinda disappointed at the same time as I can't keep my yard happy. I am currently using a 50FT soaker hose to "deep water" the dry spots to revive them but I might cut my loses and keep to a normal water schedule till this heat goes down some and next year look into better watering methods.
Thank you.