Hi everyone,
My name is Ryan, I live in Glendora, California, 8b. I have some different fruit-bearing plants that I bought at the local nursery growing on my balcony and the color/life that they add to the place inspired me to learn more about gardening.
I'll write a little about the plants on my balcony and then some more on my plans for the future, (in regards to gardening of course). I have not had any deaths, etc. for the month since I brought them to the balcony. I watered them twice a day initially, but I have cut back after sensing a change in the odor of the potting soul. I noticed about two weeks in that I had a serious aphid issue. I took a carum cutting and ate it, went to pick and eat my next....only to notice they were as much aphid as plant.
I turned to a handy organic insecticide I had used indoors; the ingredients were two types of essential oils so I coated all the plants liberally. Of course, one of the two oils was cinnamon oil. You can guess what happened. These pictures are two weeks post-torture and everything seems to be doing pretty decently. I bought some liquid fish fertilizer and diluted it to a lower ratio than recommended. Each established plant took in a handful or two and they seem to be doing really well.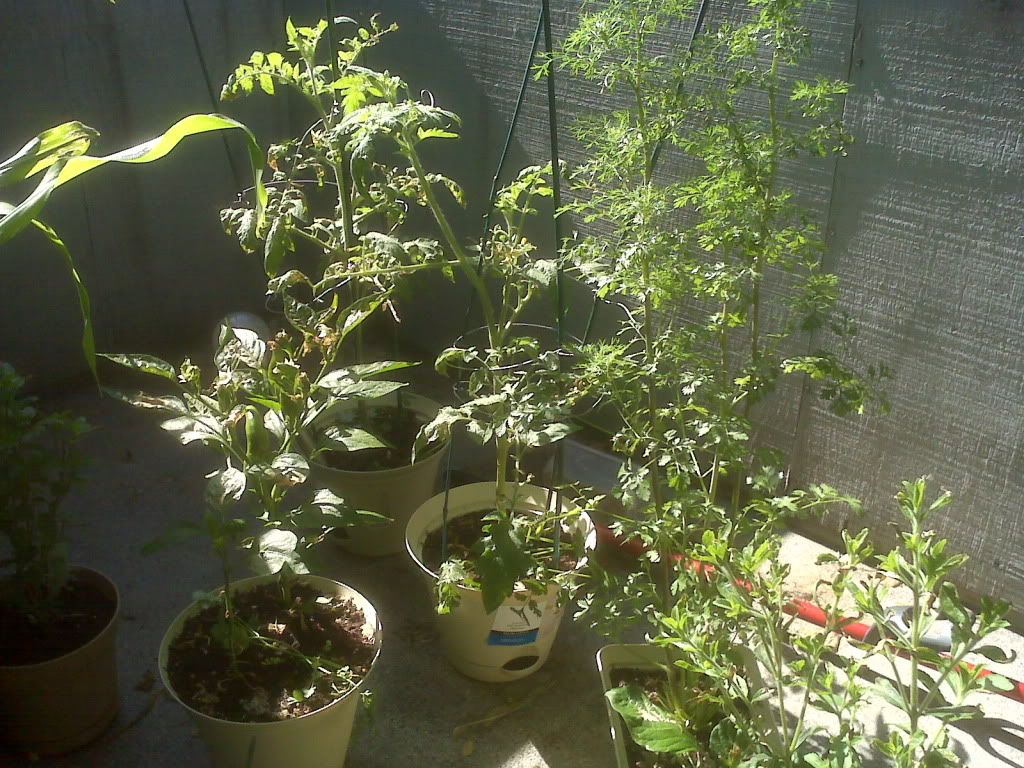 I cannot remember what variety of tomatoes these are but I do know I'll have to do better than my slipshod wire trellises. The cilantro and stevia are growing with abandon. In the picture you can also see my jalapeno plant, more pictures on him later!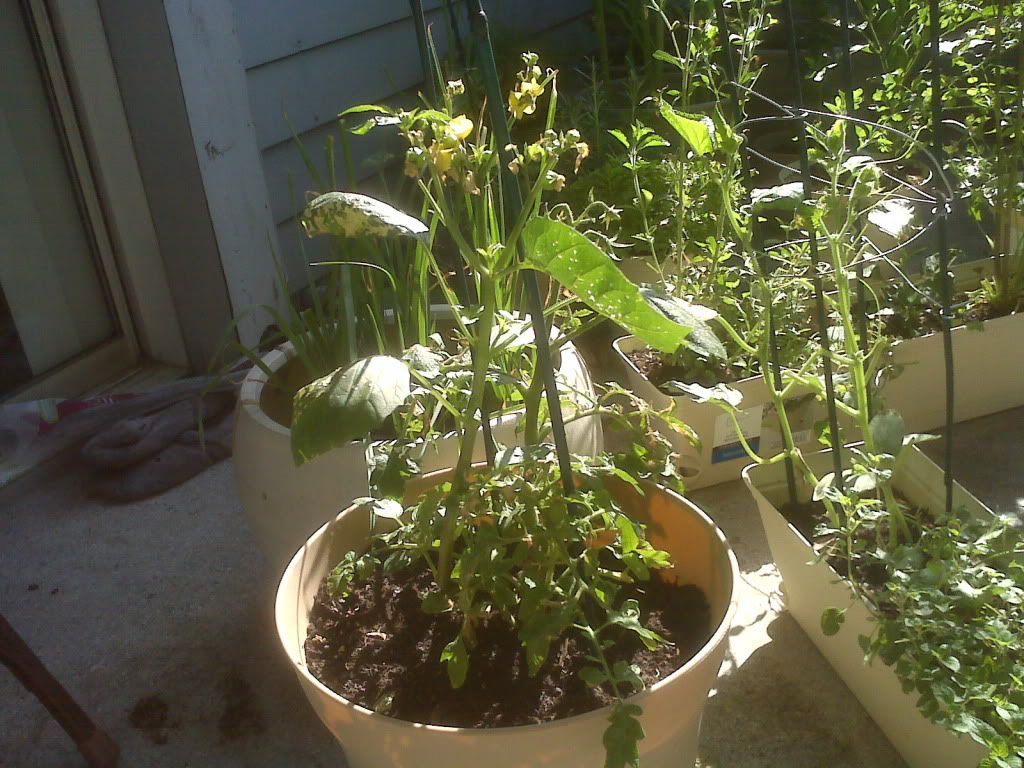 That's a jubilee and some green variety of tomatillo. I do not know how good or bad an idea it was to plant them together but I will find out soon enough. That vine plant is either a squash or cucumber, I cannot remember >_<.
Ok, I'm pretty sure I made a mistake potting some of these like this but the cats have been eating the corn so I don't mind if it wont fruit in such conditions. I don't know if that pot is big enough for the blood orange and I may or may not have an issue with my blueberry plant, I'll have a closer pic later.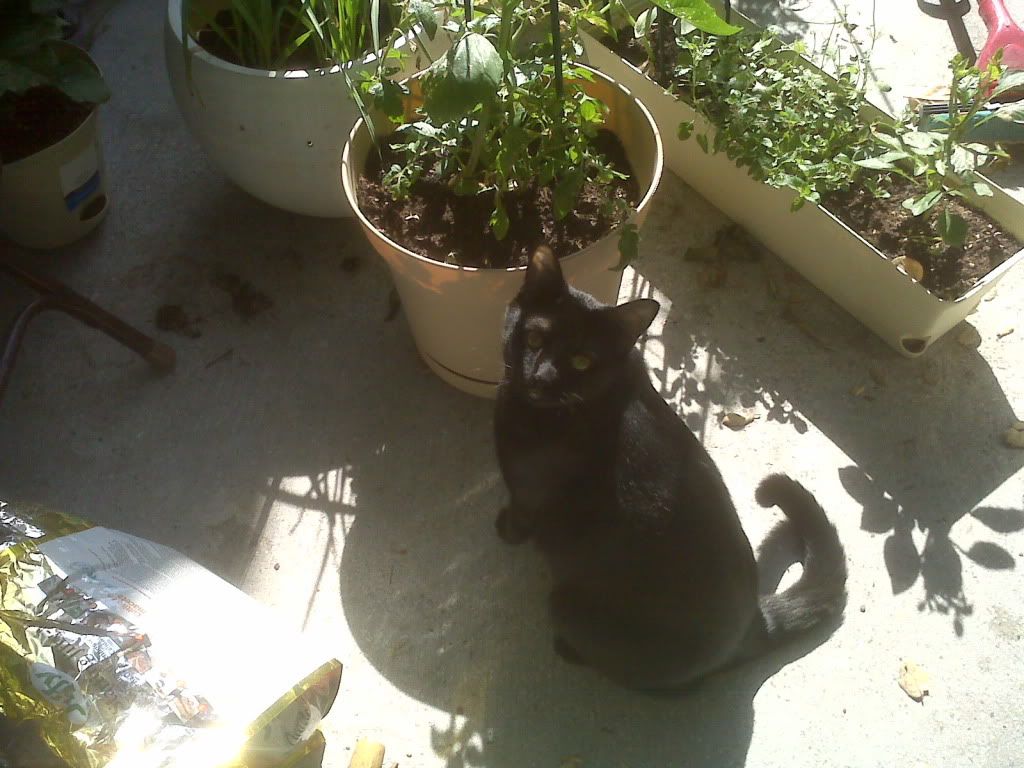 I grow cats and plants now! Maybe is my pride and joy.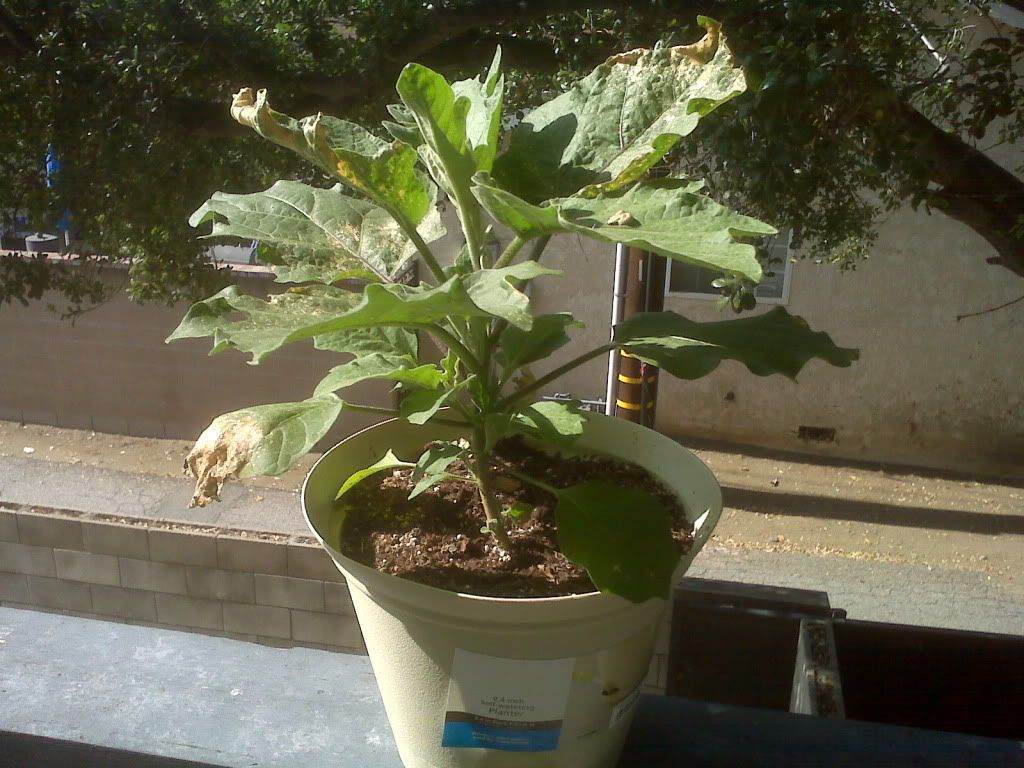 This is my eggplant. Can you please give me some tips? It looks like its doing well but I'm concerned that the pot might be too small. I found the red aphids on this guy and gave em what for with my garlic sun tea but I don't know how effective my treatment will be.
My first seedling. I bag germinated it and planted it in that container. I think its doing well, pretty sure it's a green bush bean.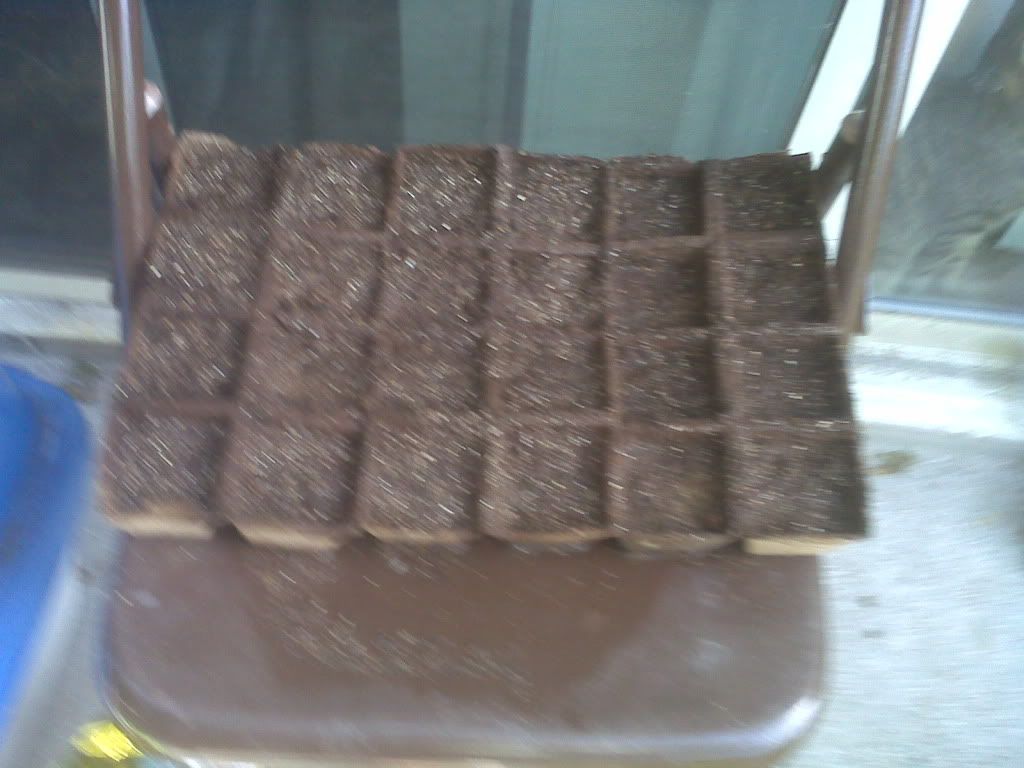 This is my next experiment. I have a 7x14 foot and a 7x27 foot planter here at my complex. I am planting these in an attempt to raise a garden to feed myself, my neighbors, and passerbys. I don't know how successful I'll be but I do know that I will learn more. Heres what I have so far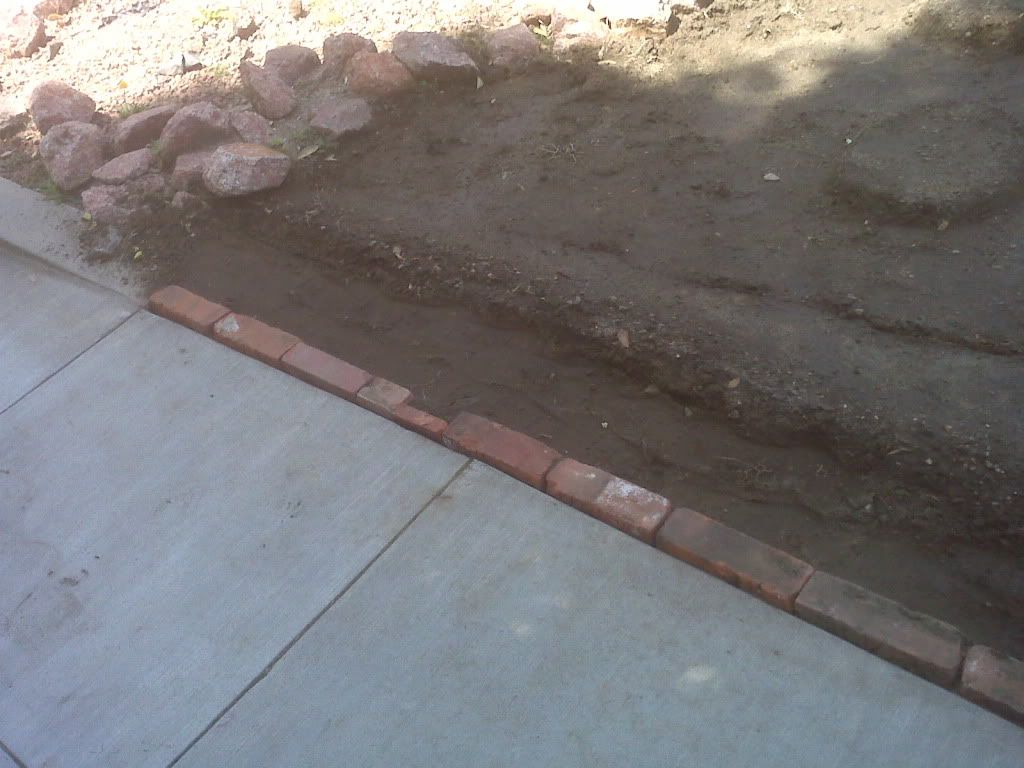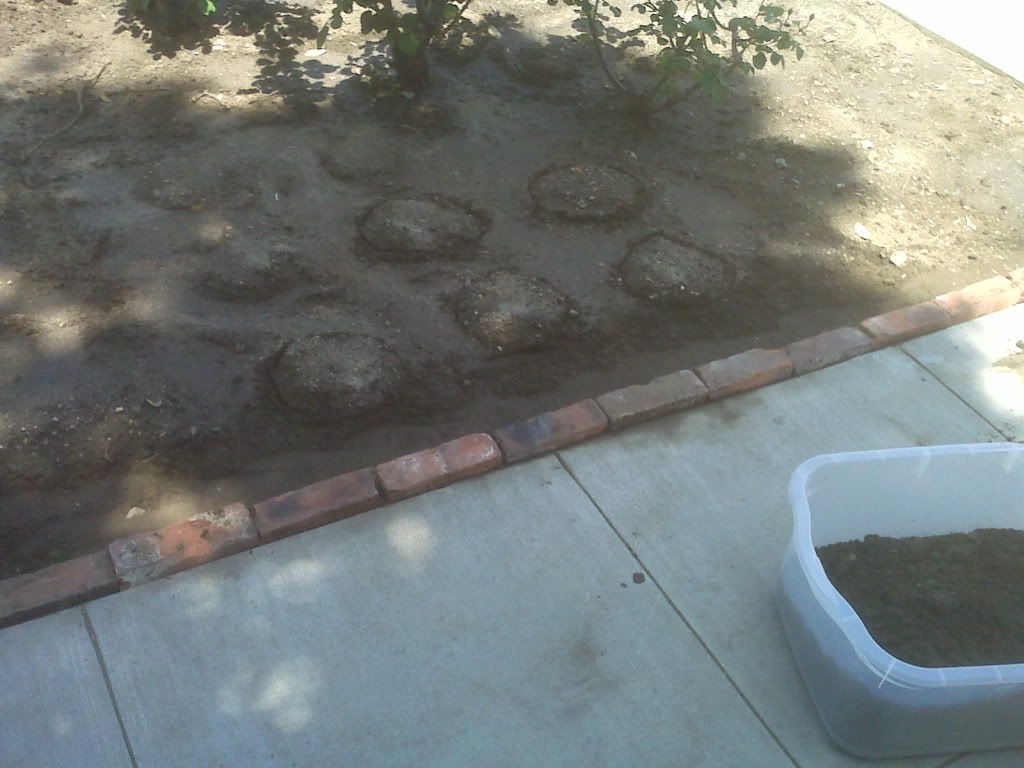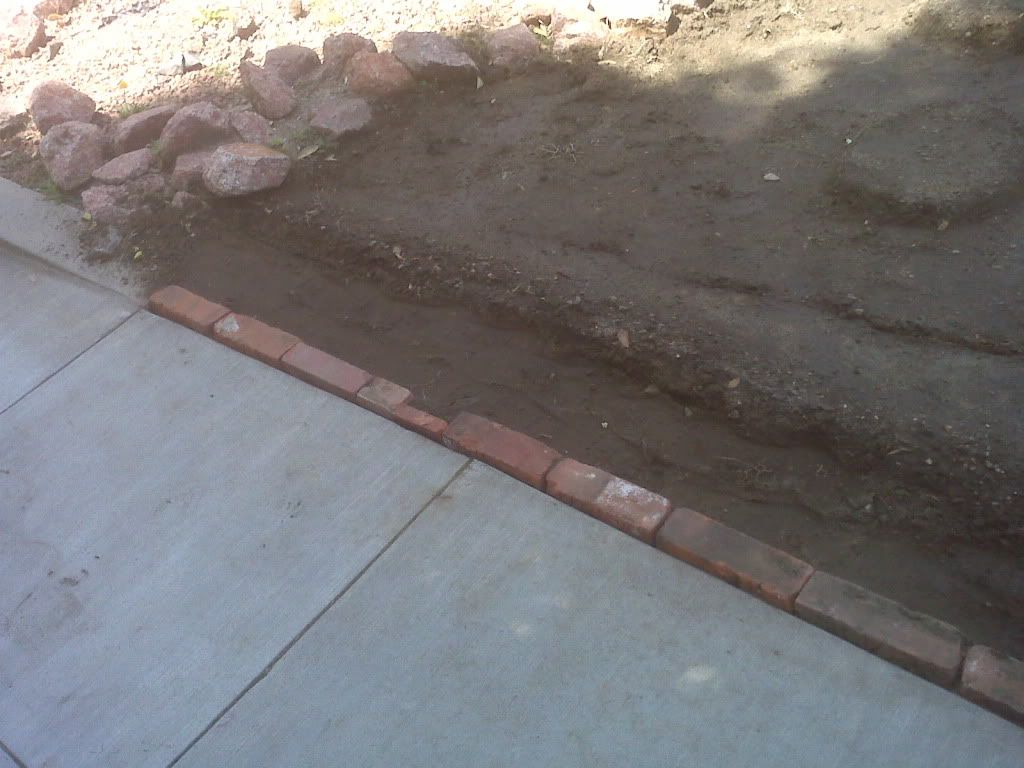 That is planted with yellow summer squash, marketmore 76, contender beans, yellow wax beans, scarlet nantes, and over fifteen variety of sweet and spicy peppers. In the pic showing my trays I have Contender bush beans, Yellow Straight Neck Squash, Super Sugar Snaps, and sixteen Sweet 100s. The soil is loose up to four inches down where it becomes more clay like. The upper level is dry and sandy. Well, this has waxed long. Hello, and I look forward to being a member of HG.