Hi,
I'm new to this forum and new to gardening. i currently live in the netherlands. i recently went out to eat with a friend of mine where we were served lampionplant fruit (Lampionplant (Physalis)) as garnish on our plates. my friend suggested i take it home and plant it so it could grow. i had my doubts, as i've not gotten anything to grow like that. plus we were visiting her out of town and still had a 2 hour train ride to get home, and i had to hand carry the lampion fruit home with me in the hot sun, after spending a night in the hotel. i was sure the thing wouldn't grow at all. surprisingly 3-4 weeks later, it has begun to sprout this week! the sprouts are rather crowded and clumped together and there's quite a few of them.
so my question is, when do i transplant them to larger indivitual containers? since they're all clumped together i don't want the roots to get too intertwined.
here's a picture from earlier this week, but there are probably 3 times more plants now with the whole area in the center being filled in by sprouts.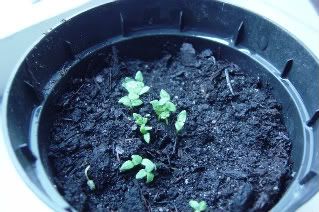 http://nl.wikipedia.org/wiki/Lampionplant