Have the first of 8 down. It it a SIP or something else? Still need to add the fill pipe and paint them a light color. Want to just this one squared away before I start on the rest. Will 6, unidentified, ever bearing strawberry plants do okay in it?
What did I do wrong and what can be improved?
1/4" drain hole on each end.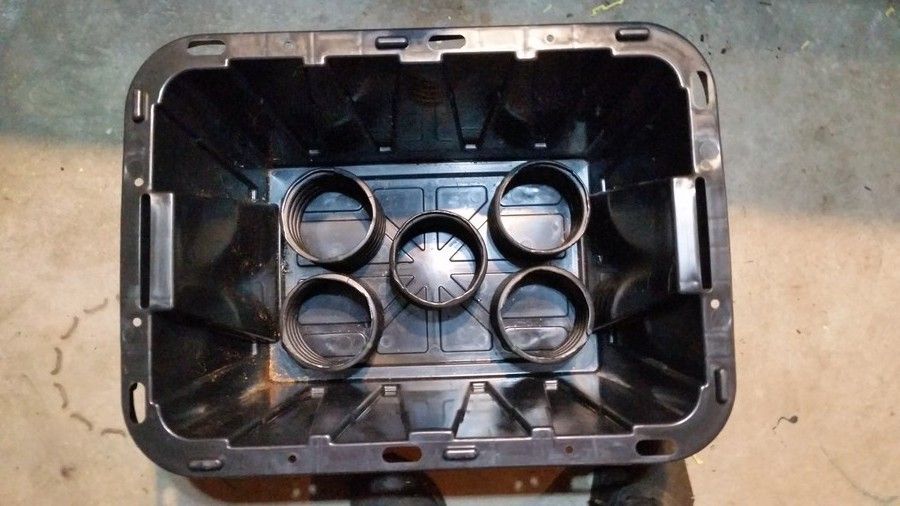 4" ID perforated drain pipe supports.
Perforated support plate.
Well / basket opening.
Need to be neater with the landscape fabric, but it gets the idea across.
How are 6 unidentified, every bearing, strawberry plants going to do in this?
________________________________________________________________________________
First plants to place in the container once I get the mix thing figured out. Trimmed about 50 runners of the half whiskey barrel plants Halloween night and they rooted up nicely under LED "day light" bulbs @ 16 hours of light a day and super saturated with water. (Not so bad for a whole 16 watts of power consumption.)
The progenitor plants.
runners I rooted up last June or July.
The window boxes I am trying to improve upon.
Trimmed they down before I put them in the garden to be mulched after they shut down for the year. They sent out more runners which are taking root in the compost on top of the garden, Funny, I never considered November in New England as a growing time.