Branch cuttings root easily - you have to make sure you've got wood, though, not just greens. I'm actually kind of notorious for carrying a pocketknife and taking slips off of interesting boulevard Hibiscus in this city.
When you get back to winter, be careful to watch your plant for spider-mites. A bit of prevention, like misting the plant daily, goes a long way to health and survival.
I had no problems moving this far - I'd always travelled within Canada (in the summertime, I had no fixed address) so it was just one more adventure. I actually came down here originally on vacation with my parents, and we all fell in love with the country so we decided that when they retired, we were coming back to stay. The bonus for me is that I'm the only representative of my profession in the country (scenographer) so I've got 100% employment without taking a job from a local. Ecuador is the Canada of this continent, although it's a very tiny country - the people are incredibly friendly, the government is reasonably sane, and it's known for being peaceful and free of terrorism.
Here's one of the most famous plantings of Hibiscus in Quito, in the Parque Carolina (the equivalent of Central Park for the city) - it's one of about 150 that are planted along Av. Amazonas. These are standard-trimmed pink Hibiscus, and are almost always in bloom. The trees are about 20 feet tall.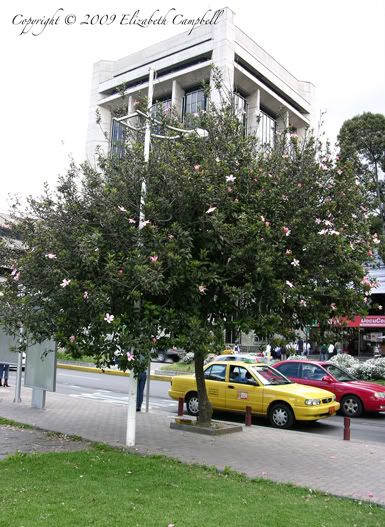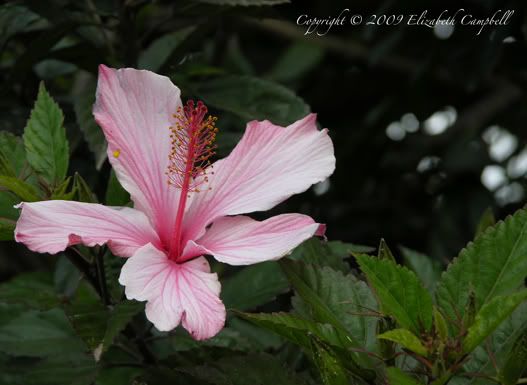 And here's one of my favourite colour combos, which grows in a friend's yard. She has left her canes uncut, which means that this is a large shrub with multiple stems, rather than a tree. It's about 10 feet tall.