My boyfriend bought me an Orchid about a month ago, and since then I've acquired quite a few plants. I have some questions on a few of them.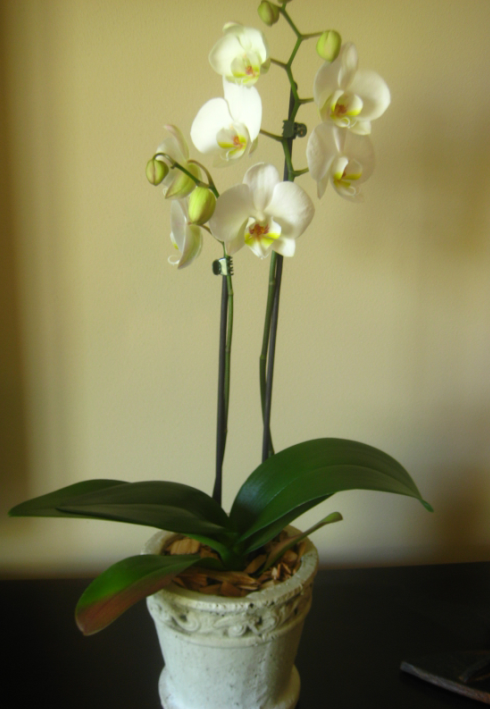 This was when I first got it. After about a week the lower leaf with the brown looking spot turned yellow and fell off soon after. When the second leaf started turning yellow I did a bit of googling, I thought it might just be getting too much sun, so I moved it to a spot getting less light, but the other leaf on the bottom has gotten worse and looks like it'll fall off any day now.
I fertilize it once every two weeks with Orchid food from Miracle-Gro (30-10-10).
The rest of the leaves are all still green and healthy, and the flowers all seem healthy and normal too.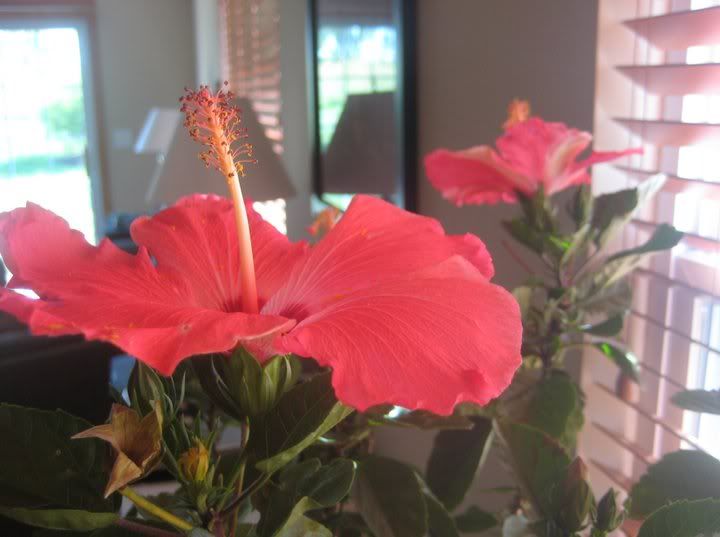 My second question is about my recently purchased Hibiscus. It doesn't seem to be adjusting well to indoor life. I'd keep it outside, but we have a lot of Japanese beetles here that seem to love nibbling on it (I tried keeping it outside, but within a few hours I found about 5 beetles on it).
Anyway- The problem I'm having is that the leaves in the center of the plant are turning yellow. Is it just not getting enough light? I've had it about a week now and fertilized it yesterday with a 10-10-10 fertilizer. It seems to need water every 4 days or so, the dirt drains rather quickly. I always make sure to empty the dish the pot drains into after watering it so it's not sitting in water.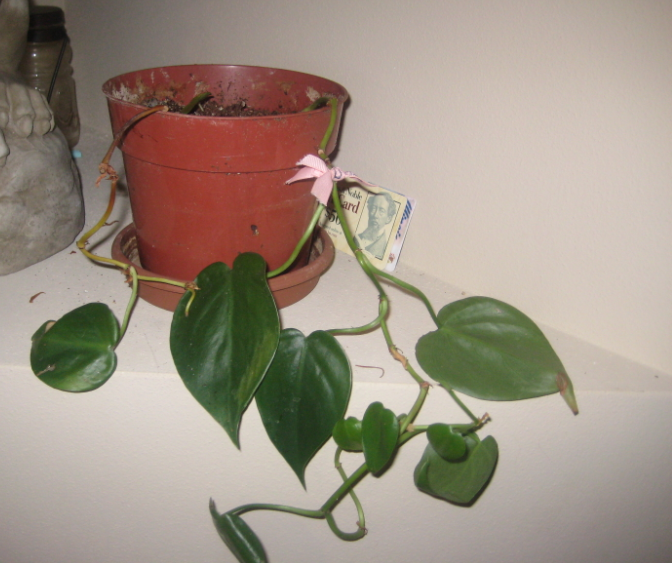 And finally, the bane of my existence. I've had this guy for about a year and a half and he's just been slowly dying since the day I got him. I've never done much of anything with him other than water him when I notice the dirt is dry. I gave him a bit of the 10-10-10 fertilizer yesterday.
I have no clue what kind of plant it is. I'd like to repot him in a better pot tomorrow with better soil. Any tips?
I also bought a bamboo plant ("lucky bamboo") what kind of fertilizer (if any) should I use for him?
And then I have 8 Bird of Paradise seeds I got two days ago. Following some instructions from online I soaked them in water and stuck them in the fridge (they're supposed to stay in there for two weeks, then scarify them and plant them). Any tips for growing these?
Thanks in advance for any info/tips

:edit:
one more question!
I have some very large marigolds in my outdoor garden right now. If I were to dig some up and bring them inside would the survive the winter?