I bought this online last summer and put it in a bucket till fall. It is a Chinkapin oak tree. I got 2 at the time and the larger one died in the bucket. This one is only about 10 inches tall. It made it through the late freezes this spring and lost its first set of leaves then. It now has a very nice limb coming off the side and is going to out run the main stem that came out late due to the freeze.
I picked this kind of tree because it is supposed to tolerate alkaline soils. We will see how it does.
I am hoping it will grow 2 or 3 feet this year. This will be the third tree I have tried in this place in the front yard. The two previous trees were Pin oaks.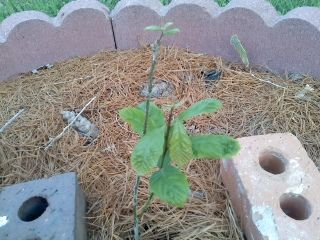 Does anyone here have one of these in a bigger size