So we just bought our house and the yard is boring! I was wanting to plant some sort of bushes along the front of the porch but here is the issue I am having. My fiance is allergic to bees and from what I have noticed most bushes attract bees nests so I am trying to find an alternative. I know there will always be bees around plants but I would like to find something they don't actually nest in. I have considered maybe some sort of grass bush, our old landlord had these gorgeous large grass bushes in front of his porch and I don't remember any problems with bees nests in those but I think the same ones would be a little large for our porch, I want something that will just about meet or go just a couple inches above the railing not completely grow up to the awning. I am looking for something probably around 3-5' tall and would like something that looks really pretty, just something to block that empty space from the ground to the railing of the porch so it doesn't look so bare.
Also I was thinking of putting in a tree in front of the porch, there is a pile of gravel rocks someone has put in a circle in front of the porch where I think there may have been a small tree at one time and I would like to remove those rocks and put one in. I want something that flowers gorgeously in the spring(yes I know this will attract bees). I would like something smaller, maybe meet or just go above the porch roof, probably 7-10' tall. I was thinking of a small cherry tree or I actually saw a small almond tree in one of those plant magazines that looks like it gets beautiful pink flowers on it in the spring and the almonds would be a plus. Any ideas?
If you could attach pictures or give me the plant names I would really appreciate it. I will attach a photo of our front porch so you can get a better idea of what I have to work with.
Our zones are around the 5-6 range.
The house is a duplex and we own both sides so we will be adding the bushes/grass to the whole front part of the porch. The tree will go inside the fenced side of the yard in the corner of the fence between the fence and the porch.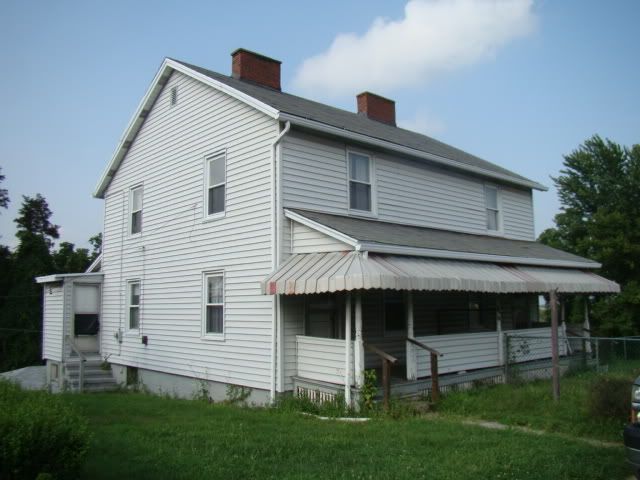 I am pretty sure this is what our landlord had in front of his porch, Japanese silver grass.