OK, no need to panic.....
I've read that this happens, but I can't remember what causes it.
One of those intriguing moments of gardening

BTW, the plant is about 7' tall, and the tom in subject is on the bottom as can be seen- it is riddled with early blight (I think).
Still in - trussed.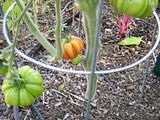 After the cut...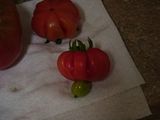 One of those odd moments... help! I'm stuck. But if you look close, it doesn't appear to be touching the left side stem??? LOL But is this San Marzano Redorta.

4" long stuck sideways.