I just moved to California a little while ago and I'm not used to taking care of plants in such warm, dry weather so I decided to cheat a little this year and buy my tomato plants instead of starting them from seed. I got to the store and found the perfect plant, it looked well taken care of, lush, you know healthy. So I took it and a thyme plant home. I don't know which plant was the culprit but one of them had aphids (I'm thinking the thyme) and it spread to all my plants. I promptly searched the internet for home remedies (I'm a very poor college kid). I found one consisting of one part oil, one part water, and one part dish soap. The directions said to spray it onto the plants once a day until the aphids had suffocated and were gone.
I think it suffocated my plants. My thyme plants, mint, and other herbs died. The only survivor is my tomato plant and she looks dreadful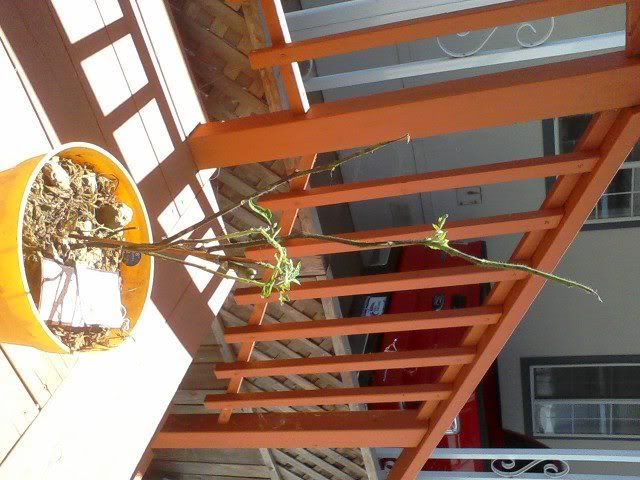 <p>
Those were from about a week ago. I really really want this plant to survive. Is there anything I can do to help her or is she recovering well enough on her own? As you can see, most of the leaves fell off and parts of the stem look burnt (i tried to keep it out of any direct sunlight because of the oil...).
Also, the leaves that are growing back are starting to curl a lot. Is there a reason for this? Too much sunlight, water, ect.
And, my tomato plant is about 2ft tall and living in a pot that holds 22 cups of soil (about a gallon and a third). Is my pot big enough? The lady at the store said it was big enough. I think she might have been mistaken.
Thanks a lot for your help