I got a little over anxious.....as usual. I decided to try a little something. I thought maybe if I planted a tomato plant in the ground and kept it covered at night maybe it would survive the rest of the 40 degree nights we have.
so first things first, I re dug a hole where I had buried fresh kitchen scraps. You can see all the banana peels, apple cores and egg shells where I dug it out!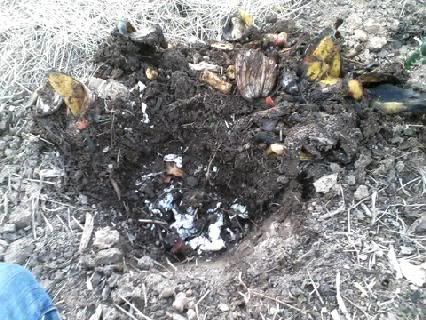 Here's the tomato plant ready to be stripped down and placed in that composting hole. I figured this one was a good candidate because I am only half expecting it to live and somewhere amongst potting up this one didn't get labeled. So I don't even know what kind it is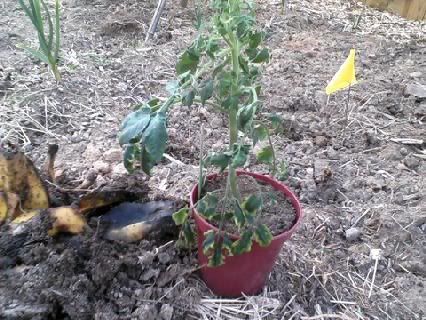 I stripped the lower growth on the plant and buried it deep, but didn't mess with the roots any. I figured the potting soil would give a little bit of buffer between the new compost and the the roots. AT least for now. I also added even more egg shells in the bottom of the hole. If anything goes wrong with this plant, IT WILL NOT be blossom end rot!!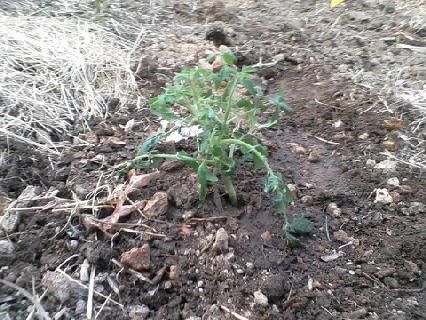 Then I cut the bottom off of an apple juice bottle and put it over the plant. I'm hoping it will give me sort of a greenhouse/cold frame effect and the compost in the ground should add some heat to the roots and such. I'm keepin my fingers crossed! The plant was wilting a bit when I put it in because I missed watering it for a while.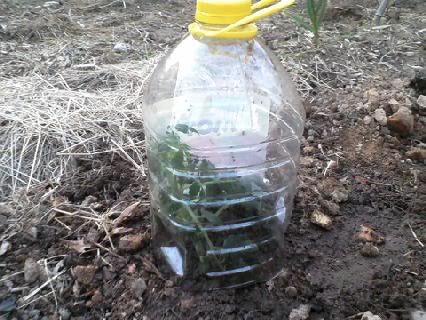 Update....I planted that yesterday evening. It definitely made it through the night and perked up quite a bit! Last night's temps hit about 45. Today is supposed to go up to 87 and then back down to 60s during the day and 45-55 at night for the next few days. So we'll see. The cover is off for today because of the high temps. But will go back on tonight. But for now she looks happy.