I've been growing
Principe Borghese
-- listed as sun-drying tomatoes. They're the small pointy ones in the photos. I've been leaving them on the vine until they "couldn't get any redder" before picking them.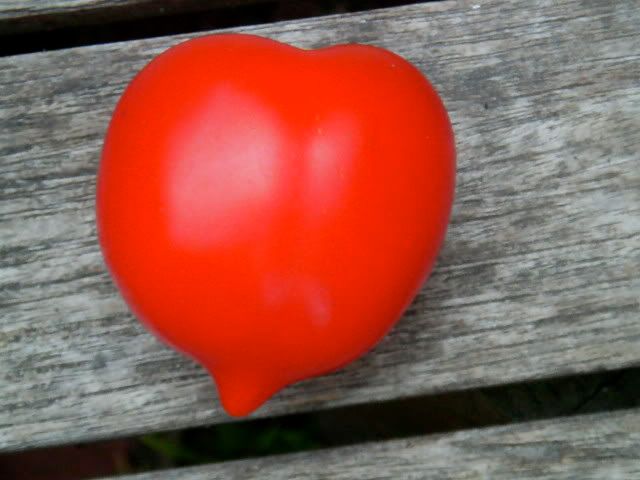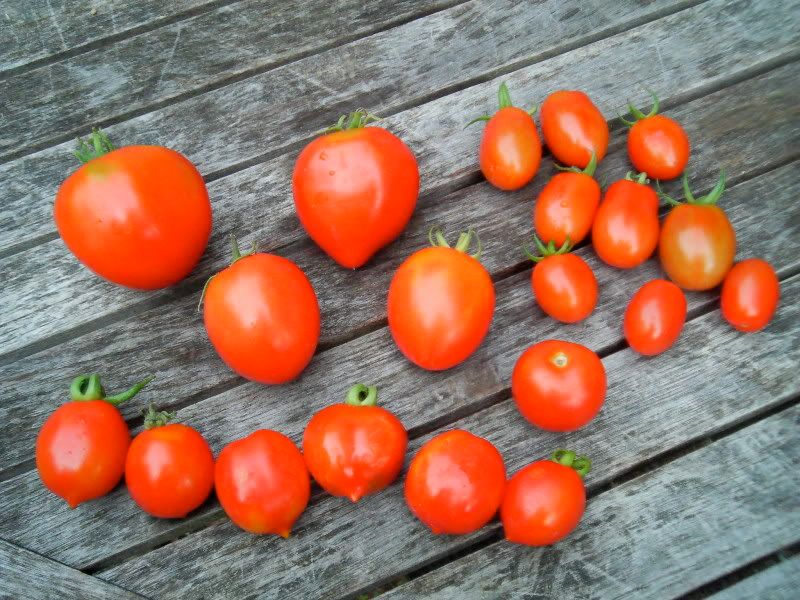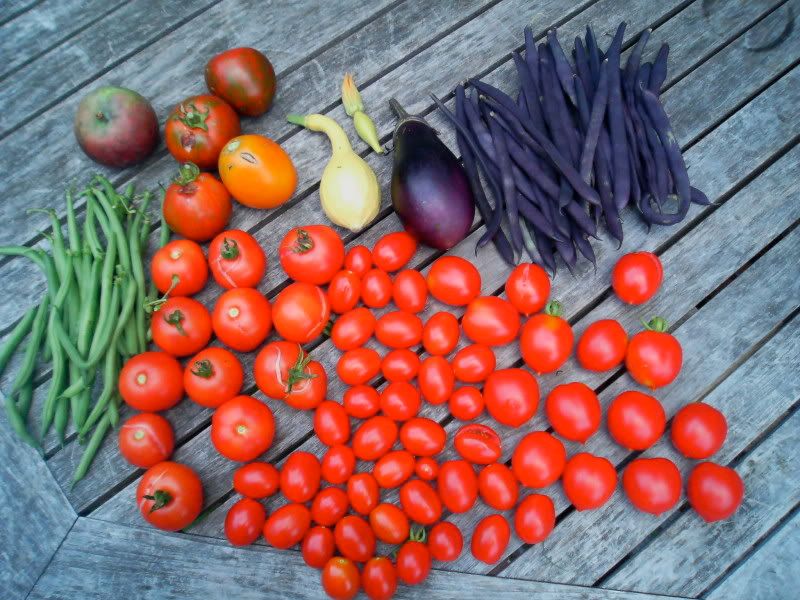 I tried slicing, salting and sun-drying on a cooling rack. It took 3 days under picnic netting (inside during the night) resulting in salt encrusted tomatoes that tasted like salt. (I had to reluctantly acknowledge that sun-drying was just not going to happen around here in the humid/muggy mid-Atlantic) Since then I've frozen a whole bunch already, but I finally decided to dig out the $15 Walmart food dehydrator out of the garage and try dehydrating them.
So I tried a batch last night. 10~20 second dip in boiling water, peel and remove stem end, cut in half lengthwise, arrange on the drying trays. Ran the machine overnight (about 8 hours) until leathery. MMM-MMM YUM!
WHY didn't I do this sooner!

I also dried a sample of the already sweet and DD7 is eating them as soon as I can pick'em
Sugar Plum
children (shriveled up to the size of a pinky nail but they taste like candy now). The lackluster
Lynn's Mahogany Garnet
that was picked "as ripe as can be" skinned, sliced, and dried has regained some of it's lost luster.
I checked out some past threads on the topic.
I wish I COULD sun-dry. I'm sure it's much more nutritious than air drying. I AM going to try making zucchini chips next.

http://www.helpfulgardener.com/forum/v ... php?t=8586
I didn't salt -- that's why mine taste like candy (DD7 will love it. I wonder if I can get DD10 to try -- she doesn't like fresh tomatoes) but if I have any left

I think I'll freeze mine like Alex said here. I'm out of EVOO at the moment (unbelievable!) but I've got to try brokenbar's recipe for dried tomato in olive oil too:
http://www.helpfulgardener.com/forum/v ... hp?t=10072
Don't know how I missed this thread last year. But something to keep in mind, although TZ's input was invaluable.

:
http://www.helpfulgardener.com/forum/v ... hp?t=10642