My husband and I bought this house. The backyard is gorgeous but the front is sad.
BEFORE:
I do not have a green thumb. This is my first gardening project so I would love it if you could give me some feedback here. This is what I have done so far:
This is just 1/3 of the whole project. I am only focusing on the area in front of the patio for now. Inch by inch...
Another view:
If you're wondering about the water in the hole: I began digging up the hole to start planting, freaked out, and stopped. Then, it started raining so of course the hole filled up with water.
I don't think these pictures do any justice. The curve looks a lot better in person. Really, trust me. Even my husband likes the curve.
I'm going to put Star Jasmines as hedges in front of the concrete. It won't be boring old hedges because they will have pretty flowers in the summer.

It'll be kind of like the hedge in this picture: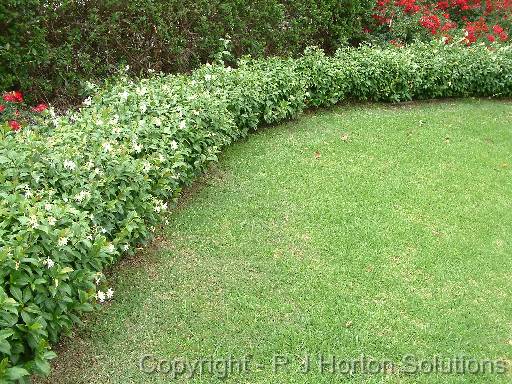 In front of the hedges I'm going to plant 7 daylilies.
What do you think?
Oh, I'm going to put rocks as a border around the whole garden area. I'm excited about the rock idea.