I'm planning on fixing up our large garden bit by bit and wanted to ask about some planting possibilities.
We have a long raised bed at the top of the stairs and along the stairs we have 3 (around 1m by 2 m) terraces - each 1m below the next.
Here's a simple computer drawing: minus all the plants we have in it: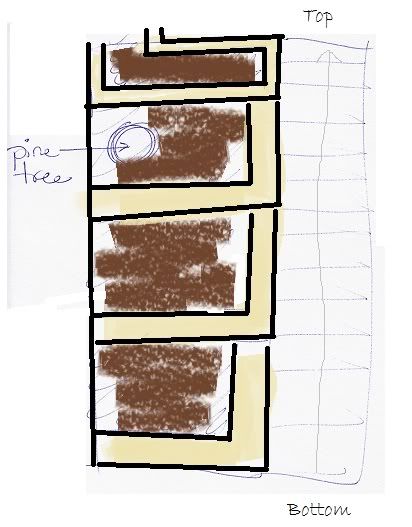 The whole point of this is to ask whether raspberries (or anything similar) will work here.
The spot technically gets south eastern sun but due to the actual terraces the walls of the terraces don't get any direct sun light; only the middle and the edges do.
I actually asked around and supposedly raspberries will benefit from a harsh cold winter, which we don't get at my house, so it wouldn't be the best idea to plant them.
I was also checking out the large companion planting reference gixxerific posted and I thought of planting the edges with pest repellent herbs like thyme, rosemary, lavender, medicinal geranium; while planting the berry mound closer towards the wall of the terrace.
Now for the weather situation:
I live in Lebanon (zone 10), midway between the coastal area and the mid mountainous area so we get HOT and DRY summers and relatively cool and wet winters. The temperature rarely goes below 10 degrees Celsius in winter.
When it does (like it has this year) it's only every 7 years when the weather goes through it's "rough cycle".
This winter, it actually rained over 3 times as much as last winter and the temperature got to around 5 degrees Celsius last week!
But cases like these are miracles I wish we had every year.
Does planting raspberries seem logical? Or should I opt for some other alternatives?
P.S. I forgot to mention that we already have an old pine tree in the first terrace. So basically, I need to work with that since cutting it down is out of the question.
Thanks for any help!!!