Over the last fews days I've been a busy boy. I put together my first above ground beds, one from some scrap wood from a buddy and another from an old drawer. Below are pics from a few days ago when I built the bed and planted 6 sundance squash. Today I added 6 cucumbers to the box then built some A frame trellises. I added to drawer planter but haven't put any dirt in it yet, I know its late but I'm planning on sowing some basil and chices seeds and crossing my fingers. Today I also had to toss 2 heirloom tomato plants and a eggplant, I had them in containers that just weren't draining

But on a plus side I planted 6 sweet 100 tomato seedings and a dozen jalapenos (I have a problem, lol never enough jalapenos) all in containers, I'll post more pics of what I did today, tomorrow lol.
My box, I staked in some crepe myrtle branches around the side just incase something broke hopefully it would somewhat hold together until I got home from work/school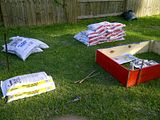 I put down thick newspaper since I just don't have time to pull up the grass... Not worried about drainage because I am on solid clay, any drainage is better than my drainage.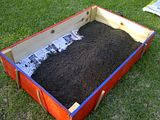 I mixed 70% topsoil, 20% compost and 10% manure... I also added a bin of dirt that about 2 dozen earthworms have been living in for about a month.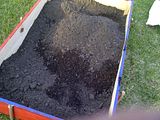 Finished with happy squash!