---
Was it a "Foley's" food mill, last month, Gary?
An adze and a weed whacker most recently ..?
I once considered work with an adze when I was building a floor in a log cabin (years ago). Pretty much gave up on the idea and just whacked at some pine poles with a sharp ax before laying plywood and subfloor.
Bought a grubbing hoe way back then but it has never been very useful. Later, I found a Pulaski in the woods near my gardens (many years later

). The Pulaski has been handy at times for cultivating tasks but I'm getting a little olde for those kinds of things.

Steve
---
Super Green Thumb
Posts: 7201
Joined: Mon Mar 23, 2009 1:59 pm
Location: TN. 50 years of gardening experience.
Has anyone used one of these. I checked into buying 1 once but decided not to. You need some place to keep this all winter. It also takes a while to set it up to do the job. By the time you get it set up to do a small job you could have done the job by hand and moved on to something different.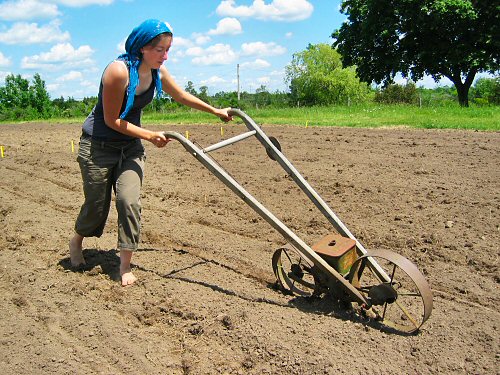 ---
Greener Thumb
Posts: 1938
Joined: Tue Apr 14, 2009 2:13 pm
Location: wnc - zones 6/7 line
Last year I used a grass whip (like in the pic at the top of this page) quite a bit. Then some friends got together and got me a big brush blade for the scythe snath that we found here at the farm when we bought it, so that's been my go-to mower this year.
---