I was running out of room, well not so much right now but it's coming. Here's the skinny: The original light, which is from the previous owner, had T8 fluorescent bulbs in it, the skinny bulbs, which I replaced with 2 T8 6500K 2700 Lumen bulbs and 2 T8 5000k 2800 Lumen bulbs (32 watts). I get the other one down from the garage and find out that I could run T12's the bigger bulbs. I actually bought a set of T8's and took them back for the T12's. The T12's are 6500K and 3050 Lumens (40 watts). So the big bulbs put out more light at the same color temp as the 2 T8 daylights above. Now I need to change out the original light with the brighter bulbs. Live and learn.
While getting the light ready to be put up I thought I would cover the white frame with tinfoil. It should give me some more light through reflection. I also took the white board that was behind it originally and put that on the table surface, again hoping for a little more reflection. I than took a piece of scrap pegboard and covered that tightly with more tinfoil, you can only imagine what for.
The recently put up light is
much
brighter than the other. Due to brighter lights and the foil I'm sure has a part in that. Just so you know the entire cost of this system to me was under $30 for the lightbulbs and a few feet of foil. I had everything else.

Original setup
New setup
Putting the foil on the light
With the bulbs in it and foil finished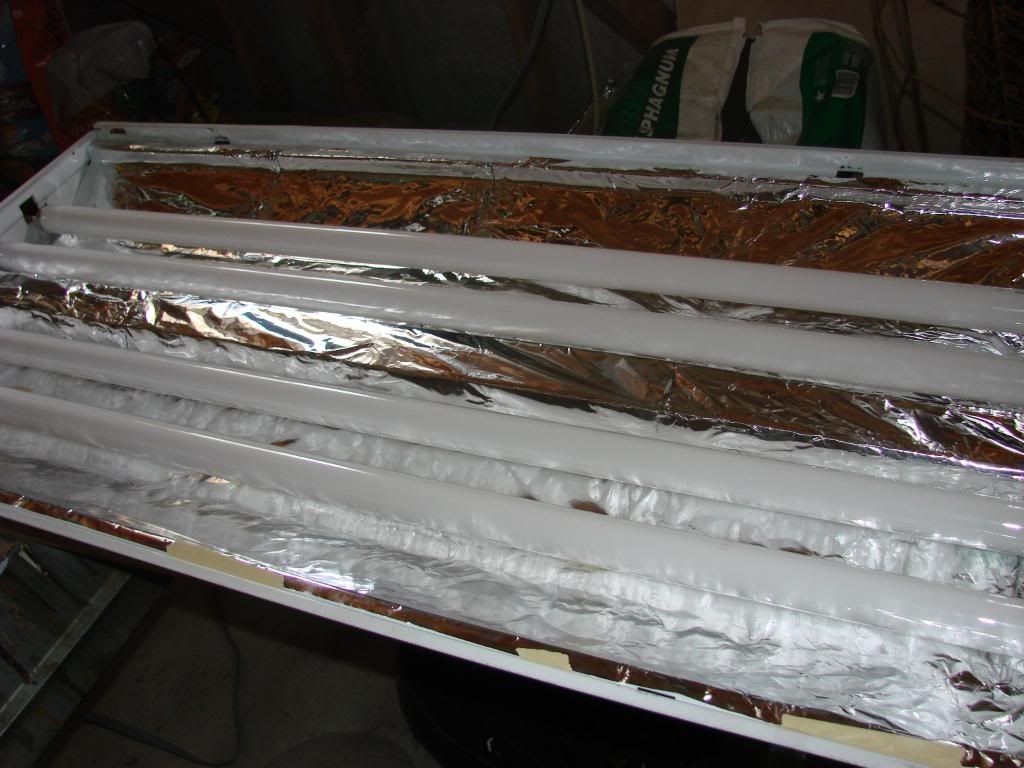 With the lights on (they are a bit dull yet, only ran maybe 40 sec since opening the package before this pic they need some time to get going when new)